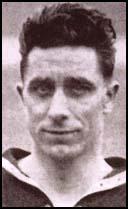 James (Jimmy) Collins was born Brentford in 1903. When he was a child the family moved to East Ham. A talented inside-forward he was so impressive in a game for East Ham Boys at Upton Park that he was selected to play for England Schoolboys against Scotland Schoolboys in 1917. Unfortunately, the game was cancelled and he failed to win an international cap as a schoolboy.
In 1921 Collins signed for West Ham United. The team at the time included Edward Hufton, Jack Young, Billy Henderson, George Kay, Syd Puddefoot, Jack Tresadern, Sid Bishop, George Carter, Billy Brown, Tommy Hodgson, William Thirlaway, Vic Watson, Billy Williams and Jimmy Ruffell and he remained in the reserves for the next couple of seasons.
Collins made his debut against Tottenham Hotspur on 9th February, 1924. At that time, the club had three outstanding inside-forwards, Billy Moore, Stanley Earle and Billy Brown, as a result he rarely made the first-team. It was therefore decided to convert Collins to wing-half.
It was not until Jack Tresadern moved to Burnley that Collins established himself as a first-team regular. In the 1926-27 season West Ham United finished in 6th place in the First Division. Collins was ever present that year in a team that included Jim Barrett, Sid Bishop, George Carter, Alfred Earl, Stanley Earle, Vivian Gibbins, Jack Hebden, Tommy Hodgson, Edward Hufton, Billy Moore, Jimmy Ruffell, Vic Watson, Billy Williams and Tommy Yews.
Collins was also involved in training greyhounds with his brother, Ted Collins. In 1931, his dog, Golden Hammer, reached the Greyhound Derby final. He was beaten into second-place by Seldom Led. The favourite, the famous Mick the Miller, finished fourth.
Collins remained a regular member of the West Ham United side for the next seven seasons. When he retired in 1936 he had played in 336 games for the club.
Jimmy Collins died in May 1977.