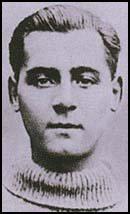 Thomas (Tommy) Hodgson was born in Hetton, County Durham, on 19th January 1903. A coalminer, he played for Hetton Colliery before signing for West Ham United in 1921. He joined a squad that included Edward Hufton, Jack Young, Billy Henderson, George Kay, Jack Tresadern, Sid Bishop, George Carter, Billy Brown, William Thirlaway, Jack Hebden, Dick Richards, Billy Moore, Vic Watson, Billy Williams and Jimmy Ruffell.
Hodgson made his debut against Blackpool on 6th May, 1922. He played in only 5 league games in the 1922-23 promotion winning season. He also failed to make the 1923 FA Cup Final team. The good form of regular full-backs, Billy Henderson and Jack Young, restricted Hodgson to only one league game in the 1924-25 season. However, Henderson suffered a serious knee injury in the 1925 and Hodgson played in 15 games in the 1925-26 season.
Hodgson was a regular in the first-team in the 1928-29 season. However, his appearances were restricted the following season and in 1930 he joined Luton Town. While at West Ham United he played in 92 cup and league games.
Hodgson remained a first-choice full-back for the next three seasons. He was also team captain. After retiring from playing he served the club as director, chairman and president.
Tommy Hodgson died in 1989.