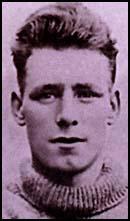 George Carter was born in West Ham on 19th October 1900. A talented wing-half, Carter played for the West Ham Boys team that beat Sheffield Boys in the 1914 Schools Shield Final.
During the First World War he joined the Royal Air Force. However, the armistice was signed before he reached the front-line.
In 1919 Carter joined West Ham United. He made his debut against Fulham on 22nd November, 1919. He played 15 games that season and usually deputized for George Kay, Jack Tresadern and Sid Bishop in the team. The good form of this trio restricted his appearance in the first-team over the next few seasons.
Carter played in only 10 league games in the 1922-23 promotion winning season. He also failed to make the 1923 FA Cup Final team. An injury to Jack Tresadern gave Carter the opportunity to play in 16 games during the 1923-24 season in the First Division. The first-team squad that year included Edward Hufton, Jack Young, Billy Henderson, George Kay, Sid Bishop, Billy Brown, Tommy Hodgson, William Thirlaway, Jack Hebden, Dick Richards, Billy Moore, Vic Watson, Billy Williams, Tommy Yews and Jimmy Ruffell.
In October 1924 Jack Tresadern was transferred to Burnley. Carter now became a first-team regular until he suffered a serious knee injury against Blackburn Rovers on 14th February 1927. Despite having a cartilage operation he was unable to regain full fitness. He had played 155 cup and league games for the club.
Carter found employment at Tate & Lyle where he also coached the company football team.
George Carter died in 1981.