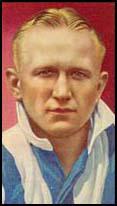 Walter (Wally) Boyes was born in Kilamarsh, Sheffield, on 5th January 1913. He played football for Woodhouse Mills United until signing for West Bromwich Albion in February 1931.
A versatile player he occupied three different positions: left-half, inside-left and outside-left, while playing for WBA.
Boyes won his first international cap for England against Holland on 28th May 1935. The England team that day also included Eddie Hapgood, George Male, Ray Westwood, Henry Hibbs and Fred Worrall. Holland won the game 1-0.
After scoring 35 goals in 151 games for West Bromwich Albion, Boyes was transferred to Everton for £6,000 in February 1938. He joined a team that included Tommy Lawton, Joe Mercer, Cliff Britton, Ted Sager, Albert Geldard, John Jones, Alex Stevenson and Gordon Watson. The 5 foot 4 inch Boyes made his debut in a game against Leeds United later that month. Tony Matthews in Who's Who of Everton points out that Boyes "was a diminutive but well-built footballer... who always gave 100 per cent".
Boyes won his second international cap on 22nd October 1938 against Wales. The England team that day also included: Tommy Lawton, Wilf Copping, Len Goulden, Eddie Hapgood, Stanley Matthews and Alf Young. Lawton and Matthews both scored goals but Wales surprisingly won the game 4-2. Four days later Boyes played in the 3-0 victory over FIFA.
In the 1938-39 season Everton won the First Division league title, by beating Wolverhampton Wanderers by four points. Tommy Lawton was the club's top marksmen with 34 goals in 38 games. Boyes, who was mainly a provider rather than a scorer, contributed four in 36.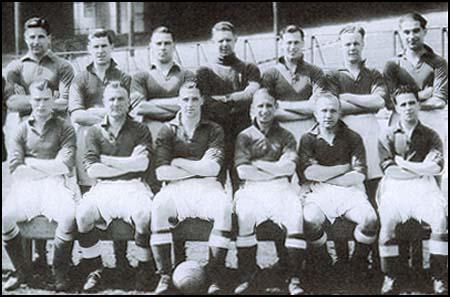 The outbreak of the Second World War brought a halt to the Football League. The British Army invited some of the best footballers to became Physical Training instructors at Aldershot. This included Walter Boyes. Other top players at Aldershot included Joe Mercer, Cliff Britton, Matt Busby, Don Welsh, Billy Cook, Arthur Cunliffe, Archie Macaulay, Norman Corbett, Tommy Lawton, Bert Sproston and Eric Stephenson.
Boyes returned to Everton after the war and stayed at the club until signing for Notts County in June 1949. He joined forces with Tommy Lawton and the two men were largely responsible for the club winning the Third Division championship in the 1949-50 season.
In 1950 Boyes became a player at Scunthorpe United and scored two goals in 13 games before retiring from professional football. Boyes worked as a sports teacher at Oakwood Collegiate School (1952-58) and as a coach at Swansea Town (1959-60).
Walter Boyes died in September 1960.