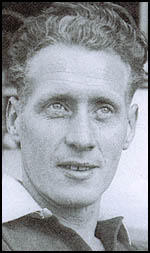 Archibald (Archie) Macaulay was born in Falkirk, Scotland, on 30th July 1915. A talented footballer he joined Glasgow Rangers in 1933. Despite his young age he soon found himself playing as inside-right in the first-team. Macaulay won a Scottish Cup medal in 1935-36 and the following season a Scottish League Championship medal.
In 1937 Charlie Paynter managed to persuade Macaulay to join West Ham United for a fee of £6,000. He made his debut for the Second Division side against Aston Villa on 28th September 1937.
Macaulay joined a team that included Charlie Bicknell, Joe Cockroft, Ted Fenton, Benny Fenton, George Foreman, Stan Foxall, Len Goulden, Norman Corbett, John Morton, Ted Fenton, Sam Small, Charlie Walker and Dick Walker.
West Ham United finished in 9th place that season and Macaulay finished up joint top-scorer with 10 goals in 39 games. On 24th September 1938 he scored a hat-trick in a 6-1 victory against Tranmere Rovers. He ended the 1938-39 season as top-scorer with 16 goals in 36 games. His form was so good that there was talk of him being selected to play for Scotland.
On Friday, 1st September, 1939, Adolf Hitler ordered the invasion of Poland. The football that Saturday went ahead as Neville Chamberlain did not declare war on Germany until Sunday, 3rd September. The government immediately imposed a ban on the assembly of crowds and as a result the Football League competition was brought to an end.
The government imposed a fifty mile travelling limit and the Football League divided all the clubs into seven regional areas where games could take place. London clubs arranged for their regional competition to begin on the last Saturday in October. One group was composed of Arsenal, Brentford, Charlton, Chelsea, Fulham, Millwall, Tottenham Hotspur and West Ham United.
Some of the players had already joined the armed forces. Macaulay for example, joined the Essex Regiment and eventually he became a Physical Training instructor at Aldershot. West Ham decided that this was unfair on those players who were unavailable for selection. The club decided to pay all their players thirty shillings a week whether or not they played. Shortly afterwards, the Management Committee of the Football League passed a resolution instructing all clubs to follow West Ham's example.
After the declaration of war in September 1939, Adolf Hitler did not order the attack of France or Britain as he believed there was still a chance to negotiate an end to the conflict between the countries. This period became known as the Phoney War. As Britain had not experienced any bombing raids, the Football League decided to start a new competition entitled the Football League War Cup.
The entire competition of 137 games including replays was condensed into nine weeks. West Ham reached the final by beating Chelsea (3-2 and 2-0), Leicester City (1-1 and 3-0), Huddersfield Town (3-3 and 3-1), Birmingham City (4-2) and Fulham (3-2). By the time the final took place, the Phoney War had come to an end. On 10th May, 1940, Adolf Hitler launched his Western Offensive and invaded France. In the days leading up to the final, the British Expeditionary Force was being evacuated from Dunkirk.
In the final held at Wembley on 8th June, 1940, West Ham United beat Blackburn Rovers 1-0. Despite the fears that London would be bombed by the Luftwaffe, over 42,300 fans decided to take the risk of visiting Wembley. The only goal was scored by Sam Small after a shot from George Foreman had been blocked by James Barron, the Blackburn Rovers goalkeeper. Macaulay had won the third medal in his football career.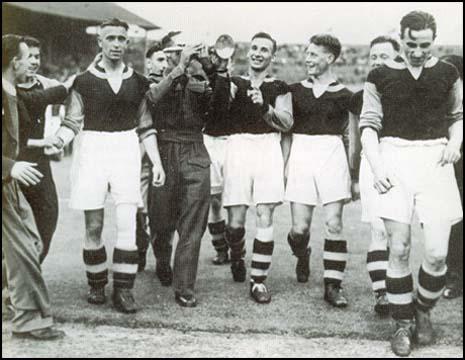 As he was based in England for the duration of the war Macauley was able to play in 59 games for the club, scoring 17 goals, during this period. He also played in five unofficial wartime internationals for Scotland.
In the 1945-46 season he played for West Ham United in the First Division South league. However, he only played in 8 games the following season before being transferred to Brentford in the First Division in October 1946 for a fee of £7,500. He was converted to right-half and his form was so good that he won his first international cap for Scotland on 12th April 1947. The following month he played right-half for Great Britain against the Rest of Europe at Hampden Park. However, he was unable to prevent his club from being relegated and in July 1947 he was sold to Arsenal for £10,000.
Macaulay joined a team that included Joe Mercer, George Swindin, Laurie Scott, Bernard Joy, Reg Lewis, Bryn Jones, Leslie Compton, Dennis Compton and Ted Platt. The manager, Tom Whittaker, had tried to sign Macaulay when he played for West Ham United. He later recalled: "Macaulay, a brilliant ball player and magnificently balanced, had the reputation of a temper in keeping with his red hair, but while he was at Highbury he was a loyal club servant and a fine footballer." Whittaker led the club to the First Division championships that season and Macauley had won another medal. He also won six more international caps for Scotland.
In his book, Forward Arsenal (1954) Bernard Joy argues that "Mercer and Macaulay were the best club pair of wing-halves in the country." Macaulay was eventually replaced in the team by his great friend, Alex Forbes. The two men had played for Scotland together and lived in the same house when they moved to London. Joy pointed out: "Apart from the striking physical likeness, he had the same vigour, traditional Scottish skill at ballwork and fine distribution... He had the same weakness, a sharp temper and an inclination to over-elaborate when the situation called for a quick pass."
Macauley played in 108 games for Arsenal before signing for Fulham in June 1950. He played in 48 games for his new club before joining Guildford City as player-manager.
In 1957 he replaced former Arsenal player, Tom Parker, as manager of Norwich City. He successfully led the Third Division side to the FA Cup semi-final. The following season the club won promotion to the Second Division. In 1961 he moved on to West Bromwich Albion. However, this was not a success and after winning only 26 matches in 67 games he was sacked in 1963.
Macauley's next appointment was as manager of Brighton & Hove Albion. In 1965 he led the club to promotion from the Fourth Division. Macaulay left football management in 1968 and later he worked as a traffic warden in Chelsea.
Archie Macaulay died on 10th June 1993.