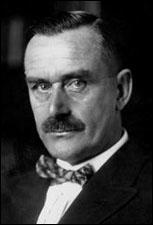 Thomas Mann, the son of Thomas Johann Mann and Júlia da Silva Bruhns, was born in Lübeck, Germany, on 6th June, 1875. He later wrote that his "childhood was sheltered and happy". (1)
Mann's father was an energetic and successful businessman. In 1863, at the age of 23, had inherited the ownership of the Johann Siegmund Mann firm, a granary and shipping business dating back to the previous century. (2) His brother, Heinrich Mann, remembered his father as "young, gay, and carefree." (3)
Thomas Mann later recalled his father's "dignity and good sense, his ambition and industry, his personal and intellectual distinction, his social talents and his humor... he was not robust, rather nervous and susceptible to suffering; but he was a man dedicated to self-control". (4)
Júlia Mann had been born in South America and was the daughter of a German planter who had married a Creole woman of Portuguese and Indian ancestry. (5) She was considered to be Lübeck's most beautiful woman and was described as "a much admired beauty and extraordinarily musical". (6) Thomas claimed that "with the ivory complexion of the South, a nobly sculpted nose, and the most attractive mouth I ever encountered". (7)
Thomas Mann attended Dr. Bussenius's private elementary school from 1882 to 1889. He then progressed to the Lübeck Gymnasium. Mann later recalled that he "loathed school". Thomas spent his time reading, writing or dreaming. However, he found school much more difficult than his brother, Heinrich, who received consistently good grades but upset his father by refusing to go to university. (8)
Although less talented than his brother, Thomas received praise from his father: "My second son (Thomas) is responsive to calm admonishments; he has a good disposition and will find his way to a practical vocation. I feel justified in expecting that he will be a support to his mother." (9)
Heinrich Mann refused to join the family business and in October 1889, he was employed by the Dresden book shop of Jaensch & Zahn as an apprentice. Thomas Johann Mann was deeply upset by this rejection and when he died in June 1891 he left instructions for the family granary and shipping business to be liquidated. (10)
During the First World War Thomas Mann had banged triumphantly on the drum of German nationalism; less than a decade later he'd written a novel in which all the death and disease festering in the wound of postwar Europe was laid bare. From declaring democracy to be "foreign and poisonous to the German character," he emerged as an unlikely defender of the embattled Weimar Republic.

Mann's embrace of liberalism in the 1920s owed something to his discovery of Walt Whitman. During his 1938 lecture tour of America, it was the famous German novelist who reminded his audiences of the importance of Whitman's celebration of American pluralism. "The world has probably never produced a master of words who has known so well as Whitman how to elevate and translate a social principle such as democracy into intoxicating song," he said, "or how to endow it with such powerful emotional content, representing a magnificent fusion of spirituality and sensuousness."

Before encountering the epiphany that was Whitman, Mann had insisted that the spiritual life - the proper realm of the artist - existed separately from the brouhaha of politics. In his rambling, unwieldy Reflections of a Nonpolitical Man (1918), he'd criticized democratic and pacifistic writers like his brother, Heinrich, as progressive, civilized authors pedantically educating their readers in being progressive and civilized... "an astounding, remarkable example," Mann wrote, "of how far, still today, in post-Bismarckian Germany, the German can succeed in self-disgust and alienation, in cosmopolitan devotion and self-renunciation." Many years later, Mann came to see just how wrong he had been; he described a speech by Joseph Goebbels on the future of the German nation as "roughly how I was writing thirty years ago."

Following the debacle of his support for Germany during the First World War, which suspended his relationship with his brother for almost a decade, Mann was reluctant to step back into the political fray. And though he married a Jewish woman and hated everything about the rise of National Socialism, he, like so many of his countrymen, was slow to take its threat seriously. Financially dependent on the German sales of his books, he remained supportive of his Jewish publisher Bermann Fischer's cautious position toward the new German authorities - a stance deemed unconscionable by a number of émigré writers, including Mann's own children, Klaus and Erika.

Shortly before Hitler consolidated his power as Führer of Germany, Mann and his family moved to Switzerland, where they remained until the invasion of Czechoslovakia in 1939, when they immigrated to the United States. In those first years of exile Mann feared losing direct access to his German readership, without whom he could not imagine writing. (His first novel, Buddenbrooks, had sold almost six million copies.) He was a German author writing in the German language for German readers - or so he felt. In truth, of course, the Germany he knew and loved was being eroded from within by a termitary of men with somewhat different ideas of what constituted German Kultur.
Thomas and Katia Mann had six children. It was clear from early on that Katia most loved the second child, Klaus, who was born in 1906, and that Thomas loved Erika, the eldest, born in 1905, and also Elisabeth, born in 1918. The other three – the barely tolerated ones – were Golo, born in 1909, Monika, born in 1910, and Michael, born in 1919. Erika remembered a time during the shortages of the First World War when food had to be divided but there was one fig left over. "What did my father do? He gave this fig just to me alone... the other three children stared in horror, and my father said sententiously with emphasis: "One should get the children used to injustice early."

Some things ran in the family. Homosexuality, for instance. Thomas himself was gay most of the time, as his diaries make clear. So were three of his children: Erika (also just most of the time; she made an exception for Bruno Walter, among others), Klaus and Golo. Suicide was a family theme too. Both of Thomas Mann's sisters committed suicide, as did his sons Klaus and Michael, as did the second wife of his brother Heinrich. Also, gerontophilia. Bruno Walter was almost as old as Erika's father; and in 1939 Elisabeth married the literary critic Giuseppe Antonio Borgese, who was 36 years her senior.

And then there is the small matter of incest. Much interest in this was fuelled by incidents in Thomas Mann's own work. In her useful and sympathetic book about the Mann family, In the Shadow of the Magic Mountain, Andrea Weiss writes: "Just how much Katia and Klaus Pringsheim loved each other was the subject of public gossip and private distress, especially when Thomas Mann, married to Katia for only a few months, used his wife's relationship with her brother as the basis for one of his novellas." The novella, Blood of the Walsungs, dealt with the incestuous relationship between a twin brother and sister; Katia's father attempted to have the story suppressed.

Such rumours also existed about Erika and Klaus, much encouraged by Klaus's play on the subject, The Siblings, and made their way into Gestapo reports when the siblings went into exile and FBI reports about them once they arrived in America. (In the mid-1920s Klaus helped to keep things in the family by having an affair with Erika's first husband, Gustaf Gründgens.) In his novel The Volcano, Klaus allowed the character based on his sister to marry the character based on his father. In Thomas Mann's The Holy Sinner, the hero, Pope Gregorius, marries his mother – who is also his father's sister.

In his diaries Thomas Mann made clear his own sexual interest in Klaus: "Am enraptured with Eissi," he wrote in 1920, when Klaus was 14 (Eissi was his nickname), "terribly handsome in his swimming trunks. Find it quite natural that I should fall in love with my son... It seems I am once and for all done with women? Eissi was lying tanned and shirtless on his bed, reading; I was disconcerted." Later that year he "came upon Eissi totally nude and up to some nonsense by Golo's bed" and was "deeply struck by his radiant adolescent body; overwhelming". He used some of this same language to describe Jacob's interest in the young Joseph in Joseph and His Brothers, and in the novella Disorder and Early Sorrow, written when Elisabeth was seven, the relationship between the bookish father and his young daughter, clearly based on Mann's relationship with Elisabeth, is heated and fervid enough to make any reader marvel at what a wonderfully daring imagination the old magician was in possession of.
(9) Thomas Johann Mann, statement in his will (June, 1891)
(16) Thomas Mann, letter to Paul Ehrenberg (June, 1900)
(18) Thomas Mann, letter to Heinrich Mann (February, 1901)
(22) Thomas Mann, letter to Heinrich Mann (17th January, 1906)
(32) Thomas Mann, letter to Philip Witkop (July, 1911)
(38) Thomas Mann, letter to Heinrich Mann (18th September, 1914)
(42) Heinrich Mann, letter to Thomas Mann (5th January, 1918)
(47) Heinrich Mann, letter to Thomas Mann (27th August, 1927)
(51) Thomas Mann, letter to Ernst Bertram (December, 1924)
(64) Thomas Mann, diary entry (April, 1933)
(72) Thomas Mann, The New Republic, (1st April 1936)
(74) Time Magazine (27th December, 1937)
(77) Thomas Mann, radio broadcast (27th June, 1943)
(78) Thomas Mann, diary entry (5th October, 1947)
(80) Thomas Mann, statement (31st October, 1947)
(83) Klaus Mann, diary entry (1st January, 1949)
(85) Klaus Mann, letter to Erika Mann (20th May, 1949)
(87) Thomas Mann, diary entry (May, 1949)