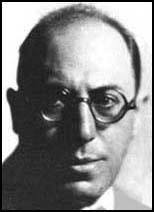 Samuel Ornitz, the son of a prosperous New York dry-goods merchant, was born on 15th November, 1890. By the age of 12 Ornitz was a committed socialist and used to give speech on politics in Lower East Side streets. Unlike his brothers, he rejected the business world and was employed as a social worker by the New York Prison Association (1908-14) and the Brooklyn Society for the Prevention of Cruelty to Children (1914-20).
Ornitz began writing and his first play, The Sock, was performed in 1918. His next work, Deficit, was performed by the People's Playhouse in New York City in 1919. Ornitz obtained national success with the publication of his novel, Haunch Paunch, a witty memoir of Jewish immigrant life, in 1923.
Ornitz moved to Hollywood in 1928 and over the next few years wrote The Case of Lena Smith (1929), Chinatown Nights (1929), Hell's Highway (1932), Imitation of Life (1934), Mark of the Vampire (1935), Follow Your Heart (1936), Army Girl (1938), Little Orphan Annie (1938), They Live in Fear (1944) and Circumstantial Evidence (1945).
Along with Lester Cole and John Howard Lawson, Ornitz helped to establish the Screen Writers and Authors Guild. A supporter of the communist government in the Soviet Union, Ornitz was one of the most outspoken political figures in Hollywood.
After the Second World War the House of Un-American Activities Committee began an investigation into the Hollywood Motion Picture Industry. In September 1947, the HUAC interviewed 41 people who were working in Hollywood. These people attended voluntarily and became known as "friendly witnesses". During their interviews they named several people who they accused of holding left-wing views.
Ornitz appeared before the HUAC on 29th October, 1947, but like Alvah Bessie, Herbert Biberman, Albert Maltz, Adrian Scott, Dalton Trumbo, Lester Cole, Edward Dmytryk, John Howard Lawson and Ring Lardner Jr, he refused to answer any questions. Known as the Hollywood Ten, they claimed that the 1st Amendment of the United States Constitution gave them the right to do this. The House of Un-American Activities Committee and the courts during appeals disagreed and all were found guilty of contempt of Congress and Ornitz was sentenced to twelve months in Springfield Prison and fined $1,000.
Blacklisted by the Hollywood studios, Ornitz spent the rest of his life writing novels. This included the best-selling Bride of the Sabbath (1951).
Samuel Ornitz died of cancer at the Motion Picture Country Home, Los Angeles on 10th March, 1957.