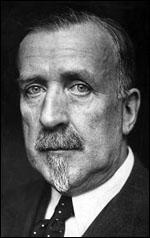 Heinrich Mann, the oldest child of Thomas Johann Mann and Júlia da Silva Bruhns, was born in Lübeck, on 27th March 1871. His father was an energetic and successful businessman. In 1863, at the age of 23, had inherited the ownership of the Johann Siegmund Mann firm, a granary and shipping business dating back to the previous century. (1) Heinrich remembered his father as "young, gay, and carefree." (2)
Heinrich's brother, Thomas Mann, later recalled his father's "dignity and good sense, his ambition and industry, his personal and intellectual distinction, his social talents and his humor... he was not robust, rather nervous and susceptible to suffering; but he was a man dedicated to self-control". (3) His mother was described as "a much admired beauty and extraordinarily musical". (4)
Thomas Johann Mann was often in conflict with his son who he described as having a "dreamy loss of self-control and lack of consideration for others". (5) He hated school and although he spent most of his time reading he refused to conform to the requirements of his teachers. He still passed his exams with high grades but refused to go to university. (6)
Heinrich Mann refused to join the family business and in October 1889, he was employed by the Dresden book shop of Jaensch & Zahn as an apprentice. His employer was not impressed with his new apprentice and accused him of being "apathetic, indolence and truculence". (7)
Heinrich published his first novel, Within a Family, when he was twenty-two. His first important novel, In the Land of Cockaigne, appeared in 1900. Compared to the Tolstoyan achievement of Buddenbrooks, Heinrich's novel may seem comparatively light, but contemporaries like Rilke felt it had ushered both expressionism and social criticism into the German novel. For his admirers Heinrich's early work, more topical, vivacious, and unfinished than his brother's - as the journalistic rate of production might guarantee - provides a more useful guide to the era as well as prophetic views of Germany's future. (These readers would contend that Buddenbrooks points backward.)
In May 1933, when "un-German" books were being burned, Heinrich Mann's were on the bonfire. Thomas Mann's were not. He was still being protected by Bertram, among others. But his main protection was his own silence. In September the first issue of Die Sammlung appeared, with a provocative essay by Heinrich Mann and an editorial by Klaus: "The true, valid German literature... cannot remain silent before the degradation of its people and the outrage it perpetrates on itself... A literary periodical is not a political periodical... Nevertheless, today it will have a political mission. Its position must be unequivocal." Goebbels, in retaliation, stripped Heinrich of his citizenship, and the following year Klaus, too, was declared stateless...

In March 1937, the entire Mann family, including Heinrich, was granted Czechoslovak citizenship. Klaus could now travel to Budapest to seek a cure for his heroin addiction. Six months later he returned to the US and to Erika, who took him with her on what became joint lecture tours. Their titles included 'What Price Peace?', 'What Does the Youth of Europe Believe in Today?' and 'Our Father and His Work'. They wrote two books together.
One day in May 1937, dignified Thomas Mann shinnied self-consciously down the Ivory Tower and announced that a writer's business is to be political as well as literary. Elder Brother Heinrich Mann might have snickered in his lush Van Dyke beard, for Brother Thomas was only preaching what Brother Heinrich has spent a lifetime practising. For some 40 of his 68 years he has been writing a series of historical novels which constitutes a political and sociological record of the German people from Kaiserdom to "folkdom." If there is no Magic Mountain among his collected works, Brother Heinrich might well claim that they form a whole mountain chain with respectable, and occasionally imposing, literary heights.

To those heights Author Mann last week added a peak in the shape of massive, craggy, 786-page Henry, King of France, crammed with up-to-the-minute politics in 16th-Century dress, royal venery, papist deviltry and a necessary quota of ruffs and ruffians.

Europe's crisis in the 16th Century looked much like Europe's crisis in the 20th. The line-up then was the Habsburgs' medieval world reich and the Catholic Church v. the collective-security front of Protestant England, Holland and France. Protestantism and Catholicism were in the balance. The curious instrument that tipped this balance for Protestantism was shifty, sentimental, sensual Henry IV of Navarre. He did it by turning Catholic but ruling in the interests of Protestantism. Jesuits finally succeeded in murdering him as he was planning a Protestant crusade against the Habsburgs which had all the earmarks of a Stop Hitler Drive.

Far too sound a craftsman and too good a storyteller to point up obvious present-day implications, Author Mann lets his political chips fall where they may, lets his readers pick up whatever chips they prefer. Some readers will find that Henry's intriguing enemies, disgruntled Protestants, priests, Jesuits, Spaniards, resemble Nazis; others will be reminded of Communists. Fussed historians will throw up their hands at the free-&-easy handling of history. But few will deny that thoroughgoing German Heinrich Mann, in seasoning this lump of historical data into a right royal and highly spiced narrative, has produced, if not a first-rate novel, a monster tour de force.
In 1916, the novelist Thomas Mann wrote to his friend Ernst Bertram that he believed the tragedy of Germany was "symbolised and personified by my brother and myself". He may have been correct. The story of the strained relationship between Thomas and Heinrich Mann - characterised by a lifelong hate-envy - is a familiar part of German literary history. According to the German critic Marcel Reich-Ranicki, in his book Thomas Mann and his Family (1989), Thomas Mann "was as sensitive as a prima donna and as vain as a tenor". Reich-Ranicki hits exactly the right note: the Mann family story is the stuff of German opera.

Thomas and Heinrich were from Lübeck in northern Germany. Heinrich was the elder by four years. He dropped out of school, gave up work, and became a writer. His little brother Thomas wanted to be just like him. With the publication of his very first novel, Buddenbrooks (1901) – a fictional account of the Mann family – he succeeded. The book became a sensation. Thomas became rich and famous. "I was swept up in a whirl of success," he wrote. In 1912 he wrote Death in Venice and in 1929, he won the Nobel prize for literature. Meanwhile, Heinrich disappeared in his brother's wake.

Among his many works, Heinrich wrote only one novel that is now remembered, Professor Unrat (1905), and that only because in 1930 it was made into a film - The Blue Angel – starring Marlene Dietrich. Heinrich's books were not merely bad, wrote Thomas, but "bad in such an extraordinary way as to provoke passionate antagonism". "My brother-problem", he wrote in a letter in 1917, "is the real, in any case the most difficult, problem of my life... At every step kinship and affront." Kinship and affront: not only Thomas Mann's themes as a writer, but the story of his life.

In 1905, Thomas married Katia Pringsheim and they had six children, despite the fact that Mann was gay, or rather, in Colm Toíbín's nice phrase, "gay most of the time". One biographer, Andrea Weiss, has argued that Mann did not care at all for Katia, only for her "cultured background, her family's position in Munich society, and no doubt the prospect of regaining the privileges of wealth which had eluded him since the death of his father".

His relations with his children were similarly complex. "When a man has six children, he can't love them all equally," Mann claimed. He loved the eldest, Erika, the most. She was an actor, and eventually became his assistant. Only one of his children, Klaus, became a novelist and he faced the same problem as Heinrich: how to compete with Thomas? He couldn't, and on 21 May 1949, in Cannes, he killed himself with an overdose of sleeping pills. Mann interpreted his son's death as a consequence of exile from Germany. But Klaus had faced other, more obvious challenges: he was a drug addict, he was gay and he was the son of Thomas Mann.

Another son, Michael, also killed himself (as did Mann's two sisters, and Heinrich's second wife). A third son, Golo, became an eminent historian, without a good word to say about his father. Only the two younger daughters, Monika and Elisabeth, seemed to have escaped their father's long, dark shadow.

On close inspection, great artistic dynasties often seem to be made out of other people's agony. Katia supported her husband, and raised their children at great personal cost. Late in life, she remarked: "I just wanted to say, I have never in my life been able to do what I would have liked to do."
(8) Thomas Johann Mann, statement in his will (June, 1891)
(13) Thomas Mann, letter to Heinrich Mann (17th January, 1906)
(20) Heinrich Mann, letter to Thomas Mann (27th August, 1927)
(28) Thomas Mann, diary entry (29th April, 1942)
(29) Nelly Kroeger, letter to Heinrich Mann (30th January, 1944)
(31) Thomas Mann, diary entry (20th December, 1944)
(32) Thomas Mann, diary entry (5th October, 1947)
(33) Thomas Mann, diary entry (14th September, 1949)
(34) Thomas Mann, diary entry (14th March, 1950)