Thomas Howard, 3rd Duke of Norfolk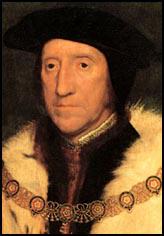 Thomas Howard, the eldest son of Thomas Howard, 2nd Duke of Norfolk, was born in 1473. He married Anne of York, the daughter of Edward IV and sister-in-law of Henry VII, in 1495. He was a good soldier and in 1497 he served first against the Cornish rebels and then, in September, against the Scots.
In April 1510, following the accession of Henry VIII, he was made a knight of the Garter, After her death in December 1511, Howard married Elizabeth Stafford, the daughter of Edward Stafford, 3rd Duke of Buckingham. On 22nd May 1512 he was appointed lieutenant-general of an army sent to Spain to co-operate with Ferdinand of Aragon in an Anglo-Spanish invasion of southern France. Lack of Spanish support caused the expedition to return home. (1)
On 4th May 1513 Howard became lord admiral and on 9th September he was prominent in the defeat of the Scots at the Battle of Flodden. The English army was commanded by Thomas Howard, who appointed his son to lead the vanguard ahead of the rest of the army and his own artillery. During the fighting King James IV was killed. According to Jasper Ridley the "Scottish losses were heavy" including "nearly all the Scottish nobility". (2)
As a reward for his achievements at Flodden he was created the Earl of Surrey and granted two castles and eighteen manors in Lincolnshire. He also became a member of the king's council. On 10th March 1520, he was appointed Lord Lieutenant of Ireland. It was a difficult time for "England's control of that island, never very secure, was slipping from royal hands". Surrey's was unable to pacify the island and suggested that Henry VIII should attempt a military conquest. He rejected the idea and instead wanted to concentrate on his "continental enterprises". (3)
Thomas Howard might have been brutal and callous in hiss domestic life, but his male contemporaries considered him to be a man of the utmost wisdom, solid worth and loyalty. His portrait by Holbein shows a granite-faced martinet, and it is difficult to imagine him being the prudent, liberal, astute and affable man he was reputed to be. Nevertheless he had the common touch, and associated with everybody regardless of rank. What made Norfolk valuable to Henry VIII was his astute judgement and his ruthless expediency. He had great experience in the administration of the kingdom, and could discuss affairs of state in depth. Like all his clan, he was ambitious.

Norfolk, like most of the older nobility, hated Wolsey. Because he and several other lords believed the Cardinal was preventing them from enjoying the power that should rightly be theirs, they meant to use Anne Boleyn as "a sufficient and apt instrument" to bring what Cavendish calls "their malicious purpose" to fruition. To this end, they very often consulted with her as to what was to be done, and she, `having a very good wit, and also an inward desire to be revenged upon the Cardinal, was as agreeable to their requests as they were themselves'. Thus Anne began her long campaign to discredit Wolsey in the King's eyes, and then bring about his ruin, not only for the sake of her pride but also in the interests of her family.
In May 1520, when he arrived in Ireland as the King's Lieutenant, a more prestigious title than Deputy Lieutenant, England's control of that island, never very secure, was slipping from royal hands. Traditionally, English monarchs had selected Anglo-Irish lords, most recently the earls of Kildare, as deputies to rule the Pale, the area around Dublin that was under the crown's direct control, and to keep order in the remainder of the island by a combination of force of arms and local political associations. From September 1519, Gerald Fitzgerald, ninth earl of Kildare, who had most recently served as deputy, was retained in England, while Surrey was sent to the island to pacify it. In one of his "spasmodic fits of reforming energy," Henry VIII had decided through the agency of his Lieutenant to reorganize the government, the church, and the bureaucracy of Ireland. After spending only a few months in Dublin, a frustrated Surrey, who was unable to pacify the island or to obtain needed legislation from its parliament, such as a salt monopoly for the king, became persuaded that the proposed reforms could be implemented only after a military conquest, a solution that was not a viable possibility because it would require the use of resources that were scarce and that the crown would prefer to apply to its continental enterprises.