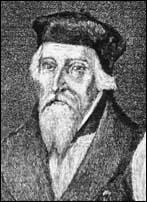 Hugh Latimer was born at Thurcaston, a village north of Leicester, in about 1485. He later recalled: 'My father was a yeoman, and had no lands of his own, only he had a farm of three or four pound by year". Among his earliest memories was of buckling his father's armour in 1497 before the battle of Blackheath Field. (1)
John Foxe claims that he was sent to school at the age of four. He entered Cambridge University at fourteen "to study divinity, becoming a scrupulously observant Catholic priest." Foxe goes on to argue that at first he was a strong opponent of Martin Luther and Philip Melancthon. (2) He later recalled that "I was as obstinate a papist as any was in England". (3)
Latimer was a regular visitor to the White Horse tavern that had been nicknamed "Little Germany" as the Lutheran creed was discussed within its walls, and the participants were known as "Germans". Those involved in the debates about religious reform included Thomas Cranmer, William Tyndale, Nicholas Ridley, Nicholas Shaxton and Matthew Parker. Latimer also went to hear the sermons of preachers such as Robert Barnes and Thomas Bilney. (4) Latimer's biographer, Susan Wabuda, has argued that "many of his early opinions may have been shaped less by Luther than by the Swiss reformers". (5)
Bishop Latimer was the son of Hugh Latimer of Thurcaston Leicester, a farmer with a good reputation. At the age of four, he was sent to school and trained in literature; at fourteen, he entered the University of Cambridge to study divinity, becoming a scrupulously observant Catholic priest. At first Latimer was a bitter enemy of the Protestants, opposing the works of Philip Melancthon and Master Stafford. But Thomas Bilney felt pity for Latimer and decided to try to win him to the true knowledge of Christ. Bilney asked Latimer to hear his confession of faith, and Latimer was so moved by what he heard that he left his study of the Catholic doctors to learn true divinity. Where before he was an enemy of Christ, he now became a zealous seeker of Him, even asking Stafford's forgiveness before that man died.

In 1529 a great number of friars and doctors of divinity from all schools at Cambridge began to preach against Latimer and his new beliefs. Dr. West, bishop of Ely, forbade him to preach within the churches of that university, but Dr. Barnes, the prior of the Augustine friars, licensed Latimer to preach in his church. Like a true disciple, Latimer spent the next three years working to convert his brothers of the university and the parishioners of his church, speaking Latin to the educated and English to the common people.

Latimer and Bilney stayed at Cambridge for some time, having many conversations together; the place they walked soon became known as Heretics' Hill. Both of them set a good Christian example by visiting prisoners, helping the needy, and feeding the hungry.

After preaching and teaching at Cambridge for three years, Latimer was called before the cardinal for heresy. At this time he bent to the will of the church and was allowed to return to the university, where he met Dr. Buts, Henry VIII's doctor and supporter. Latimer joined Buts in Henry's court for some time, preaching in London, but became tired of court life and accepted a position in West Kingston that was offered him by the king. There he diligently instructed his parish and everyone in the nearby countryside. It didn't take Latimer long to infuriate a good number of country priests and higher church doctors with his beliefs on reform.

Latimer was called before William Warham, archbishop of Canterbury, and John Stokesley, bishop of London, on January 29, 1531. He was kept in London for some time, being called for examination three times a week, until he wrote to the archbishop and said he was too ill to see him anymore. In the same letter, Latimer complained that he was being kept from his parish without just cause, for preaching the truth about certain abuses within the church. Eventually Latimer seems to have accepted the charges against him (although there is no proof of this), and he was freed through the efforts of Buts, Cromwell, and the king.

In time, Henry VIII made Latimer the bishop of Worcester, where he served faithfully, although the dangerous times prevented him from doing everything-he wanted to. He wasn't able to rid his diocese of superstitions but did what he could within the Catholic Church, helping his parishioners exclude as much superstition as possible from their lives and worship. Even then, he continued to be harassed by other members of the clergy.

When the Six Articles were passed, Latimer voluntarily resigned his post, as did Shaxton, the bishop of Salisbury. Latimer went to London, where he was harassed by the bishops and imprisoned in the Tower of London until King Edward took the throne. On his release, Latimer went back to work, preaching twice every Sunday and once every weekday, unlike many clergymen who ignored their duties during Edward's reign. He was now sixty-seven years old and suffering from an injury received by the fall of a tree.

Not long after King Edward's death, Latimer was arrested on Queen Mary's command and thrown back into the Tower of London, where he suffered greatly. He was transferred to Oxford with Cranmer, the archbishop of Canterbury, and Ridley, bishop of London, to answer charges made by Gardiner, the bishop of Winchester.
From the beginning of the 1530s he and his friends attacked the papacy, non-preaching bishops, and the influential mendicant orders. The doctrine of purgatory, never mentioned by name in the Bible, became one of his favourite targets, and with it the elaborate traditional economy of salvation. He began to argue that if votive masses could not assist the departed in purgatory then the institutions which existed largely to celebrate masses for the dead, including the religious houses and chantries, were redundant, and should be dismantled so that their wealth could be redirected, especially towards relief of the poor and to the universities for the training of good preachers.
(33) Anne Askew, letter smuggled out to her friends (29th June, 1546)