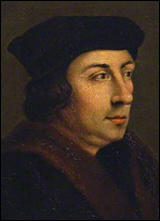 Thomas Cromwell was born in London, in about 1485. His father, Walter Cromwell, was a blacksmith, fuller, and cloth merchant, as well as the owner of both a hostelry and a brewery.
Walter Cromwell's success in business resulted in him being appointed as a constable in Putney. "Walter Cromwell's modest success as a tradesman is reflected by his frequent service as a juryman and his appointment as constable of Putney in 1495. He secured good marriages to local men for his daughters: the elder, Katherine, married Morgan Williams, an aspiring Welsh lawyer; her younger sister, Elizabeth, married a farmer, William Wellyfed. Katherine and Morgan's son Richard changed his name to Cromwell and worked in his uncle's service." (1) Richard's great-grandson was Oliver Cromwell, the lord protector.
Walter Cromwell developed a drink problem and was fined 6d. by the manor court on forty-eight occasions for breaches of the assize of ale, and he was also often reprimanded for allowing his cattle to graze too freely on public land. On another occasion he was convicted of assault and fined 20d. This seemed to have an impact on Thomas and later admitted that in his youth he was a "ruffian" and was said to be imprisoned for a short while.
In his late teens Cromwell travelled to Italy. He became a soldier and fought at the Battle of Garigliano on 28th December 1503. The following year he joined the household of the merchant banker Francesco Frescobaldi. (2) The Italian novelist Matteo Bandello tells how the destitute Cromwell confronted Frescobaldi in Florence, begging for his assistance. "Frescobaldi is said instantly to have taken pity on him and invited him to stay in his household, where he provided clothes and money. Bandello also records that when Cromwell decided to return to England, Frescobaldi gave him sixteen gold ducats and a strong horse." (3)
(8) Goldwin Smith, The North American Review (Volume 176, No. 557, 1903)
(13) Thomas Cromwell, letter to Thomas Wolsey (2nd April 1528)
(19) Stephen Vaughan, letter to Thomas Wolsey (29th October, 1529)
(63) Anne Boleyn, statement on the scaffold at Tower Green (19th May, 1536). Quoted by Edward Hall, in his book, History of England (1548) page 268-269