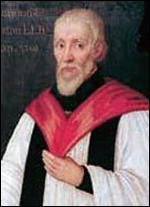 Nicholas Wotton was the fourth child and second son of Sir Robert Wotton and Anne Belknap Wotton, was born in Boughton Malherbe in about 1497.
Wotton's father was a local administrator and a full-time crown official in Calais. His sister Margaret, married to Thomas Grey, marquess of Dorset. Nicholas is believed to have studied at Oxford University where he probably acquired a doctorate in both canon and civil law.
Archbishop William Warham appointed Wotton to the vicarage of Sutton Valence. He spent time in Perugia and Rome where he witnessed the imperial sack of the city in 1527. He returned to England in 1528 and was appointed official principal to Cuthbert Tunstall, the bishop of London. (1)
During this period he met Henry VIII and in June 1530 he was employed towin favourable verdicts from French universities on the king's right to divorce Catherine of Aragon. Wotton also acted as a proctor for Anne Boleyn in the divorce proceedings brought by the king. Alison Weir points out that it was Wotton who heard Archbishop Thomas Cranmer "pronounce that her union with the King was invalid and therefore null and void, and her daughter (Mary) a bastard." (2)
After a decade as an ecclesiastical lawyer, Wotton began his career as a diplomat properly in 1539. Four years after Henry VIII's renunciation of papal supremacy England was politically isolated in Europe, and faced the combined onslaught of France and the emperor. Thomas Cromwell's response was to seek alliances with the German protestant states. In March 1539 Wotton was one of a three-man delegation sent to Cleves, to negotiate a marriage between Henry VIII and one of the duke's sisters, and to establish a defensive league with the German princes. Following the arrival in London of a Cleves delegation to negotiate the marriage treaty Wotton was left as resident ambassador in Cleves. That summer Wotton's services were rewarded with another ecclesiastical sinecure, the archdeaconry of Gloucester, to which he was admitted in 1540. In the wake of the marriage treaty with Cleves (October 1539), the king offered Wotton a bishopric. He declined, and in November privately wrote to his friend Anthony Bellasis, 'if it be possible yet, assay as far as you may to convey this bishopric from me' (LP Henry VIII, 14/2, 501). Wotton was one of the English party that accompanied Anne of Cleves to England in December 1539, and he returned to Cleves as resident in 1540, where he attempted, unsuccessfully, to discourage the duke from restoring good relations with the emperor and with France, and had to inform the duke of the annulment of the king's marriage to Anne of Cleves. He was not recalled until June 1541.
She (Anne of Cleves) occupieth her time most with the needle... She can read and write her own language but of French, Latin or other language she hath none... she cannot sing, nor play any instrument, for they take it here in Germany for a rebuke and an occasion of lightness that great ladies should be learned or have any knowledge of music.

In March, Nicholas Wotton and Richard Beard began the negotiations at Cleves but were frustrated by the stalling tactics of Wilhelm, who was still attempting to conciliate the emperor. By late summer the ambassadors had achieved success, and Hans Holbein the younger was commissioned to paint a portrait of Anne, which Wotton swore was a faithful representation of her. Many contemporaries, including Wotton, praised her beauty. The first writer to ridicule her as a 'Flanders mare' and to insist that Holbein had flattered her was Bishop Gilbert Burnet, writing late in the seventeenth century.