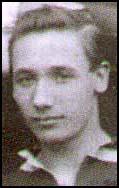 Albert Cadwell was born in Edmonton, London. on 1st November, 1900. A talented left-half he joined West Ham United in 1923. He joined a team that included Edward Hufton, Jack Young, Billy Henderson, George Kay, Jack Tresadern, Sid Bishop, George Carter, Billy Moore, Billy Brown, Tommy Hodgson, William Thirlaway, Vic Watson, Billy Williams, Norman Proctor, Tommy Yews and Jimmy Ruffell and he remained in the reserves for the next couple of seasons.
Cadwell made his debut against Chelsea on 23rd October, 1923. That season he played in 29 games, mainly as a replacement for the injured Jack Tresadern. Cadwell played in 40 of the 42 league games in the 1924-25 season.
Tony Hogg argues in Who's Who of West Ham United (2004): "Although small in stature, his superb ball control, allied to his tenacious tackling and work-rate, won him a fine reputation."
West Ham United finished in 6th place in 1926-27 season. Cadwell was a member of the squad that included Jim Barrett, Sid Bishop, George Carter, Alfred Earl, Stanley Earle, Vivian Gibbins, Jack Hebden, Tommy Hodgson, Jimmy Collins, Edward Hufton, Billy Moore, Jimmy Ruffell, Vic Watson, Billy Williams and Tommy Yews.
Cadwell continued to hold his place in the first-team and in 1930 he represented the Football League against the Irish League. He retired in 1932 after playing 272 games for the club.
Albert Cadwell died during the Second World War on 13th July, 1944.