Coaching and Training 1870-1918
In the 19th century the main role of the trainer was to ensure that players in the team were fit for the start of the season. This type of training involved a great deal of sprinting, running and fast walking.
George Ramsay, who joined Aston Villa in 1874, was an example of a coach rather than a trainer. Archie Hunter, who joined the club in 1876, later described the important role that Ramsay played in the coaching of the players. Hunter argued that Ramsay introduced what was known as the "passing game" or "combination play" . This was the main style used in Scotland whereas in England most teams relied on what was known as the "dribbling game".
As Graham McColl pointed out in his book, Aston Villa: 1874-1998: "The influence of Ramsay, then Hunter, led Villa to develop an intricate passing game, a revolutionary move for an English club in the late 1870s. It was a style of play modelled on that which was prevalent in Scotland at the time and which had been pioneered by Queen's Park, the Glasgow side. This type of sophisticated teamwork had rarely been employed in England. Instead, individuals would try to take the ball as far as they could on their own until stopped by an opponent."
Jack Hunter, the former England international who joined Blackburn Olympic as player coach in 1882. Hunter, who was a local pub landlord, introduced training methods that encouraged combination play. Hunter persuaded the Blackburn Olympic management committee to enter the FA Cup for the first time. Blackburn beat Lower Darwen 9-1 in the second round of the competition. This was followed by victories against Darwen Ramblers (8-0), Church (2-0) and Druids (4-0). Hunter, who also played at centre-half for Olympic, led his team to a 4-0 victory over Old Carthusians in the semi-final of the competition.
Jack Hunter decided to take his team away to Blackpool to prepare for the Cup Final against Old Etonians. As Marc Keech pointed out in the Encyclopedia of British Football : "This was the first recorded occasion of sustained systematic training, with players leaving home for a period of time to live communally. The planned tactics of sideline runs and cross-field passes resulted in Olympic winning the Cup." Blackburn Olympic had become the first northern team to win the FA Cup.
Billy Gorman, a former sprint champion, trained Aston Villa during their successful 1886-87 season. Like Jack Hunter, Gorman took the team away to stay at a hotel before important FA Cup games. Archie Hunter described the training methods of Gormon in his book, Triumphs of the Football Field (1890): "We got up each morning at eight o'clock prompt and breakfasted. Afterwards we strolled about as we pleased for an hour or so... we were allowed the use of the ground behind the hotel for sprint running and long distance running... Well, so the morning went. Sometimes the team walked along the delightful lanes for eight or ten miles, in charge of one or two of the members of the committee and myself and then we returned to dinner.
Ernest Needham, who played for Sheffield United and England in the 1890s, published a book, Association Football, in 1901 that included a chapter on training: "Well-directed exercise is the chief factor in training for any sport. Here I might warn against a most common error. Too many youths and men play football to obtain exercise, but this is quite wrong: exercise should, nay, must precede match football, or harm from exposure and over-straining is bound to ensue. Still more, the untrained man blunders about the football field, throwing himself blindly into danger, and proving a frequent source of accident to himself and others. This is so well known to professional players that trainers take charge of first-class men at least a month before their first public appearance of the season. To get into condition at the beginning of the season is hard work, for while resting superfluous fat has accumulated, some muscles of locomotion have become more or less flabby, the circulatory system is torpid, and the chest muscles and organs of respiration are slow in their action. To counteract all this, we must at first have plenty of football practice to bring the muscles into obedience to the will, skipping, walking, and running to strengthen them, sprinting to cultivate speed, and three-quarter and mile runs to tone up heart and lungs. Indian clubs and dumbbells are occasionally used. These various exercises, used lightly at first, and gradually increased under experienced direction, will produce the necessary vigour and hardness, and bring the player into condition for match playing."
Tom Robinson, the West Ham United trainer between 1896 and 1912. According to the reports at the time, on the Monday following a match, the West Ham players would go on a brisk walk to free up stiff joints. Later that week they would spend time sprinting and running long distances to build up their stamina. Players also used a punchball and weights to strengthen the upper body. Only a short period was spent training with the ball.
Robinson also believed that diet was an important factor in the training of players. John Powles, the author of Iron in the Blood points out that Robinson "often invited a number of players from both the Ironworks and then West Ham United for breakfast at his home in Benledi Street, Poplar. Whether the fare provided was of any benefit when they took the field is not known, but Tom must have been a popular man at the time."
Trainers and coaches spent very little time was spent on developing the skills of the players. Billy Bassett, the famous England and West Bromwich Albion player, complained in 1906 that not enough was done in training to improve the quality of play. He also expressed the view that it was up to individual players to improve their own game.
Frederick Wall, the president of the Football Association, argued in his book, 50 Years of Football, that British coaches and trainers, took the game to the rest of the world. For example, on the outbreak of the First World War, several former professional footballers were coaching in Germany. This included Steve Bloomer, Fred Pentland, John Cameron, Fred Spiksley and Sam Wolstenholme. These men were interned at Ruhleben Detention Camp until 1918.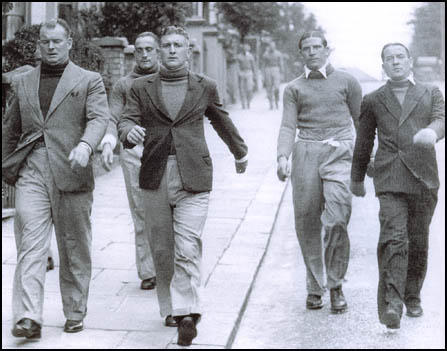 In December, 1936, Everton signed Tommy Lawton for a fee of £6,500. One of the attractions of the deal was that Lawton now had the opportunity to play with Dixie Dean. When they met for the first-time, Dean put his arm round Lawton and said: "I know you've come here to take my place. Anything I can do to help you I will. I promise, anything at all." Dean was thirty years old and after suffering several serious injuries, he knew that there was not much time left for him at the top. Dean kept his promise and spent a lot of time with Lawton on the training field. Gordon Watson, who played at inside-left for Everton, later recalled: "Lawton and Dean used to work together under the main stand, Dean throwing up a large cased ball, stuffed with wet paper to make it as heavy as a medicine ball".
John Jones, Everton's young full-back, later argued that it was Dixie Dean who was the main coach at the club: "Dixie was the boss. Young players at Everton had to keep in order otherwise they were pretty soon stepped on... It was Dixie, along with a couple of England centre-halves, Charlie Gee and Tommy White who ran the show. Occasionally they'd call a meeting and they'd be telling the youngsters what to do. It was the best method of coaching I ever experienced." Lawton agreed but claimed that: "All they ever said was make sure you pass it to a man in the same shirt."
Walter Winterbottom was appointed national director of coaching in 1946 and manager of England in May 1947. He attempted to bring in new training methods. Some of the players objected to Winterbottom's approach. For example, Wilf Mannion argued: "All that happened pre-war was they took a trainer to games, basically to look after the kit. The captain used to gather the players together and decided on how to play, but there weren't really tactics." He disliked the idea of Winterbottom working on set routines like free-kicks and throw-ins. "He (Winterbottom) thought it was all going to be dead smooth, the way we were practising on the training pitch. But in a game it's all about the opposition and where they're going to be situated and what they're doing. That's why you need a footballing brain, to adapt to the situation."
However, Stan Mortensen, who was also a member of the England team coached by Walter Winterbottom disagreed: "In recent years there has been a good deal of controversy about coaching. The Football Association have been encouraging the development of a coaching system, but from time to time I have heard criticism of their policy. Was this or that great player ever coached? Didn't the best players learn their own football on waste ground and by hard experience? And so on. It may be true that some of the finest players who ever donned boots never took part in organised football lessons, but I believe that if we could probe their lives, we would find that every great footballer had some lessons in his early days. No matter how gifted a boy may be, it is in my opinion important for him to come under some sort of guidance as soon as possible. But the coach must be a fellow who knows: who can develop the natural ability and guide the young player into the right channels."
In June 1948 Stan Cullis was appointed manager of Wolves. Cullis insisted that his team should play at a higher tempo than the opposition. He believed that this would pressure them into making mistakes during the game. For this strategy to work, the Wolves players had to be fitter than other clubs. Cullis introduced a new training regime that involved tackling commando-like assault courses. Each player was given specific targets. Minimum times were set for 100 yards, 220 yards, 440 yards, 880 yards, 1 mile and 3 miles. All the players had to be able to jump a height of 4 feet 9 inches. Cullis gave his players 18 months to reach these targets. In his first season at the club, Cullis led Wolves to FA Cup victory over Leicester City. The following season Wolves finished in 2nd place in the First Division. Wolves finished 3rd in 1952-53 and won the title in 1953-54 season. He repeated the feat in the 1957-58 and 1958-59 seasons.
In 1949 Peter Doherty became player-manager of Doncaster Rovers. In his first season he led them to the Third Division North title. Doherty had strong opinions on training. He argued that at his previous clubs: "Most training at clubs is a slow form of torture. We need more variation. Altogether too much emphasis is placed on lapping the pitch. Ball practice should figure prominently and often in all training schemes." As manager Doherty used volley-ball, "to promote jumping, timing and judgement" and basket-ball, "to encourage split-second decision-making and finding space".
Cyril Robinson played in the 1953 FA Cup Final. He claimed that Joe Smith, the Blackpool manager "was never very tactical, he was very blunt with his instructions". According to Stanley Matthews he said: "Go out and enjoy yourselves. Be the players I know you are and we'll be all right."
In 1976 the Daily Mail recruited Wilf Mannion as a football journalist. Mannion was of the opinion that modern players were over-coached. In an article on a match between Middlesbrough and Birmingham City, Mannion wrote: "There's so little natural skill and so many manufactured robots out there nowadays. This match was like watching a third division match in the thirties. Why do they keep passing back? They don't seem able to use both feet anymore. Why do they have to stop it every time, instead of keeping the ball running? Why so much bunching? They seem afraid to move into gaps and no one is playing off the ball. Football has brought many problems on itself. In my days there was no coaching or even team-talks on the scale of today. My style of play didn't alter one bit from the day I began playing at school to the time I finished. Now they are over-coached. There should be much more free expression. I get the impression that players now are instructed to such as extent that they don't even think of doing anything different, whatever the circumstances."