Archibald (Archie) Hunter was born in Joppa, Ayrshire, on 23rd September 1859. A talented centre-forward, he played for Third Lanark.
Hunter moved to Birmingham in search of work in August, 1878. Hunter found a job and a fellow-workmen, George Uzzell, suggested he should join local club, Aston Villa.
The captain of the club was another Scotsman, George Ramsay. The two men introduced what was known as the "passing game". This was the main style used in Scotland whereas in England most teams relied on what was known as the "dribbling game".
As Graham McColl pointed out in his book, Aston Villa: 1874-1998: "It was a style of play modelled on that which was prevalent in Scotland at the time which was prevalent in Scotland at the time and which had been pioneered by Queen's Park, the Glasgow side. This type of sophisticated teamwork had rarely been employed in England. Instead, individuals would try to take the ball as far as they could on their own until stopped by an opponent."
Another Scotsman, William McGregor, joined Aston Villa in 1877. Although he was only a moderate footballer he was a great organizer. With his encouragement, Aston Villa entered the Football Association Challenge Cup in the 1879-80 season.
In the 1880-81 season Aston Villa won 21 of their 25 games. They also won the Staffordshire Cup that year. In 1882 George Ramsay retired from playing and Hunter replaced him as captain of the club. Ramsay now became club secretary. Under the guidance of Hunter, Ramsay and William McGregor, the club reached the quarter-finals of the FA Cup in 1883 and 1884.
In 1884 the great Scottish team, Queen's Park, was invited to Birmingham to play a friendly game against Aston Villa. Archie Hunter later recalled "no sooner had we begun to take up our positions (for the match) than pigeons could be seen flying from all parts bearing away the news that the battle had begun." Aston Villa won 2-1 and Hunter commented that "I was followed home by a multitude roaring as if I had won the Battle of Waterloo".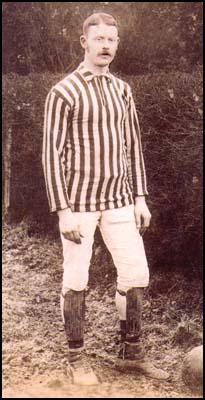 Hunter was known as the "Old Warhorse". In his book, Who's Who of Aston Villa, Tony Matthews argues that Hunter "was an individualist with a commanding personality; he was robust yet decidedly fair and never committed a foul in anger... he was a mixture of toughness and cleverness, a player who often ran down the touchline, pulling defenders all over the field."
Aston Villa did very well in the 1886-87 season. They lost very few games and scored over 130 goals in the process. Stars of the team included Archie Hunter, Albert Brown, Dennis Hodgetts and Howard Vaughan. Aston Villa also had a good run in the 1886-87 FA Cup. They beat Wolverhampton Wanderers (2-0), Horncastle (5-0), Darwen (3-2) and Glasgow Rangers (3-1) to reach the final for the first time. Their local rivals, West Bromwich Albion, also reached the final.
The FA Cup final was to be played at the Kennington Oval. The experienced Archie Hunter believed that this ground would be to the advantage of Aston Villa: "Our style of play is suited to a big ground, and the Albion with their long passing have the advantage on a small field. On the Oval we both shall have an equal chance, and where things are equal the short passing game is always the best. These are my reasons for thinking we will win on Saturday."
Aston Villa beat West Bromwich Albion, 2-0, with goals from Hunter and Hodgetts. In fact, Hunter became the first player to score in every round of the FA Cup competition.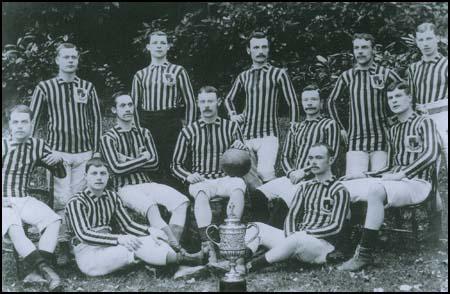 The first season of the Football League began in September, 1888. Preston North End won the first championship that year without losing a single match and acquired the name the "Invincibles". Eighteen wins and four draws gave them a 11 point lead at the top of the table. Aston Villa finished in second place with 29 points. Hunter scored seven goals in 19 games.
On 4th January, 1890, Hunter collapsed of a heart attack while playing for Aston Villa against Everton. He accepted medical advice and retired from football. Hunter had scored 42 goals in 73 first-class games, 33 of which came in the FA Cup.
In 1890 Archie Hunter wrote a series of articles for the Birmingham Weekly Mercury about his time as an Aston Villa player. This material was later published as a book, Triumphs of the Football Field.
Archie Hunter died of heart failure in a Birmingham hospital on 29th November 1894. He was 35 years old. In their book, The Essential Aston Villa, Adam Ward and Jeremy Griffin pointed out: "Archie Hunter was a Victorian sporting celebrity. He was Aston Villa's first truly great footballer and was the idol of the Perry Barr supporters for more than a decade. Archie was a forward who played the game with a rare blend of power and skill, and his strength was a particularly useful quality at a time when barging and kicking were often considered legitimate defensive tactics."