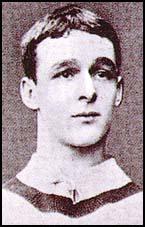 Joseph (Harry) Hampton was born in Wellington, Shropshire, on 21st April, 1885. After leaving school he played football for Lilleshall Ironworks and Wellington Town before joining Aston Villa in April 1904.
Aston Villa finished 4th in the 1904-05 season. Harry Hampton had a great first season scoring 22 goals in 28 games. That season Villa reached the FA Cup Final. Over 100,000 people watched Villa beat Newcastle United 2-0. Both goals were scored by Hampton.
Hampton continued to be a regular goalscorer for Aston Villa: 1905-06 (20), 1906-07 (21) and 1907-08 (19). Hampton formed a great partnership with Joe Bache who also scored a lot of goals for Aston Villa during this period. They reached their peak in the 1909-10 season when Aston Villa won the First Division title. That season Hampton scored 29 goals in 35 games.
The following season Aston Villa finished as runners-up to Manchester United. Hampton was again top scorer with 21 goals in 35 games. He repeated the feat in 1911-12 (28 in 36) and 1912-13 (30 in 39).
Tony Matthews described Hampton in his book, Who's Who of Aston Villa as: "Afraid of no one, his strong, forceful, determined and appreciated by plenty. The idol of the Villa Park faithful, Hampton was robust in the extreme. He often barged the goalkeeper... and the ball (if he had it in his possession) into the back of the net, sometimes taking a co-defender along for good measure with one almighty shoulder-charge." It is recorded that on one occasion Hampton was able to barge the 22 stone William Foulke over the line.
In their book, The Essential Aston Villa, Adam Ward and Jeremy Griffin pointed out: "In an age when burly centre forwards ruled the football fields of Britain and goalkeepers lived in fear of the lawful shoulder charge, Harry Hampton was the most deadly marksman in the Football League.... He was an aggressive, whole-hearted competitor who, though often unpopular with opposing fans, was adored by the Villa faithful."
Hampton's style did not go down very well with the England selectors who preferred forwards such as Steve Bloomer, Vivian Woodward, Joe Bache, Edwin Latheron, George Holley, Alf Common, George Hilsdon, Harold Halse and George Wall.
Despite his great goalscoring record, Harry Hampton did not win his first international cap until 17th March 1913. England beat Wales 4-3 and Hampton scored one of the goals. The following month he scored the only goal in England's 1-0 victory over Scotland. The England team that day also included Bob Crompton, Joseph McCall, George Holley and Jock Simpson.
Hampton remained the club's top scorer for the next two seasons: 1913-14 (24) and 1914-15 (19). His career was halted by the First World War. He served on the Western Front and was a victim of poison gas and was unable to regain his place in the team after the war. During his time at Aston Villa he scored 242 goals in 376 appearances.
Despite the damage to his lungs he played football after the war for Birmingham City (1920-22), Newport County (1922-23) and Wellington Town (1924-25).
Hampton also worked as a coach for Preston North End (1925-26) before running the Carlton Cafe in Rhyl.
Harry Hampton died in Rexham on 15th March 1963.