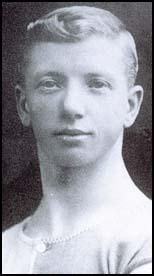 Edwin Gladstone Latheron was born in Grangetown in 1887. After leaving school Latheron, a gifted inside forward, played football for Grangetown in the Lancashire Combination League.
Robert Middleton, the secretary/manager of Blackburn Rovers signed Latheron, in 1906. At the time the club was playing in the First Division of the Football League.
Middleton made several significant signings that year, including Jack Martin and Wattie Aitkenhead. Blackburn Rovers finished in 12th place in the 1906-07 season. They were knocked out of the FA Cup by Tottenham Hotspur but won the Lancashire Cup when they beat Liverpool 3-0. Martin proved to be a great buy and ended up the club's leading scorer with 17 goals. Latherton, who was only a teenager, only got a few games.
1907-08 season was very disappointing. Blackburn Rovers was knocked out of the FA Cup in the first round when they were defeated by Second Division Leicester Fosse. They also had a first round exit in the Lancashire Cup. Blackburn's league form was little better and after a late rally they finished in 14th place. Edwin Latherton, Billy Davies, and Jack Martin, ended up as joint top scorers with 9 goals each.
Blackburn's new signings failed to shine. The Blackburn Times commented: "The second-rate players might advantageously be reduced and the money thus saved be utilized in paying the maximum wage to first-class men."
Robert Middleton appointed the former Preston North End star, Bob Holmes, as trainer. This had a good impact on the team as they obtain 4th place in the 1908-09 season. Billy Davies scored 19 goals in 27 league appearances. This included four goals against both Bristol City and Everton. Ellis Crompton (10) and Edwin Latheron (9) added to the impressive number of goals scored that season. Blackburn also won the Lancashire Cup and the East Lancashire Charity Cup that season.
Blackburn continued their good form the following season and by October 1909 they became leaders of the First Division of the Football League. They lost their position in January 1910 and finally finished in 3rd place behind Aston Villa and Liverpool. Blackburn's 45 points was the best total they had ever accumulated in a season. Blackburn's defence was outstanding but an injury to Billy Davies caused the club serious problems in front of goal. Wattie Aitkenhead was top scorer with 14 goals and Edwin Latheron added 10 more.
Blackburn's away form in the 1910-11 season was disastrous with their only win coming on the last day of the season. Although they won 12 games at home they could only finish in mid-table. This was very disappointing considering their 3rd and 4th positions in the previous two seasons. Top scorers were Billy Davies (16), Wattie Aitkenhead (13) and Edwin Latheron (11).
Jock Simpson joined Blackburn from Falkirk in 1911 for a fee of £1,800. The 1911-12 season began badly with Blackburn Rovers losing two of its first three games. Blackburn's form gradually improved and the team went on an unbeaten run that lasted three months. This took them to the top of the league. Despite being defeated by Bolton Wanderers and Arsenal, Blackburn went on another good run and by the end of the season they had three more points than main challengers, Everton. It was the first time in Blackburn's history that they had won the Football League title. Latheron was the star of the team and got vital goals against Everton and Oldham Athletic in the last couple of weeks of the season.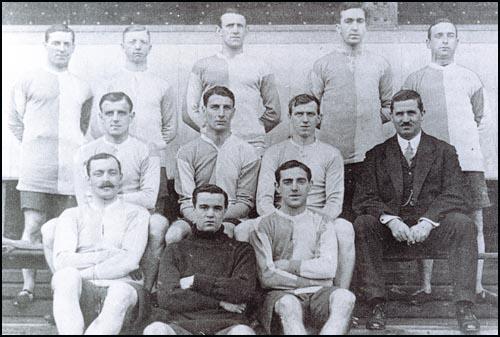 Blackburn started the 1912-13 season very well and were undefeated until December. This was followed by five successive defeats. In an attempt to regain the championship, Robert Middleton broke the British transfer record by buying Danny Shea from West Ham United for £2,000. He also purchased another forward, Joe Hodkinson for £1,000. Shea scored 12 goals but it was not enough and Blackburn finished 5th that season. Edwin Latheron (14) and Wattie Aitkenhead (13) were the club's top scorers.
Latheron continued in fine form and on 17th March 1913 he won his first international cap for England against Wales. He scored a goal in his country's 4-3 victory. He also played in the next international against Ireland on 14th February 1914.
The following season Blackburn broke the transfer record again when they bought Percy Dawson for £2,500 from Heart of Midlothian. Blackburn Rovers scored 83 goals in 1914-15 season. However, their defence was not as good and Blackburn finished 3rd behind the champions, Everton. Dawson was top scorer with 20 goals. He was followed by Edwin Latheron (17), Danny Shea (13) and Wattie Aitkenhead (8). In his eight years at the club Latheron scored 94 goals in 258 games.
On the outbreak of the First World War Latheron joined the British Army and served on the Western Front with the Royal Field Artillery. Edwin Latheron was killed during the offensive at Passchendaele on 14th October 1917 and is buried at the Vlamertinge New Military Cemetery.