John (Jock) Simpson was born in Pendleton, Manchester, on 25th December 1886. As a child he moved to Scotland and played outside right for for Falkirk in the Scottish League.
Jock Simpson's good form resulted him winning his first international cap playing for England against Ireland in February 1911. This was followed by games against Scotland against Wales.
Jock Simpson joined Blackburn Rovers in 1911 for a fee of £1,800. The 1911-12 season began badly with Blackburn losing two of its first three games. Blackburn's form gradually improved and the team went on an unbeaten run that lasted three months. This took them to the top of the league.
Despite being defeated by Bolton Wanderers and Arsenal, Blackburn went on another good run and by the end of the season they had three more points than main challengers, Everton. It was the first time in Blackburn's history that they had won the Football League title.
Jock Simpson also played for England against Ireland (6-1), Wales (2-0) and Scotland (1-1) in 1912. Blackburn Rovers started the 1912-13 season very well and were undefeated until December. This was followed by five successive defeats. In an attempt to regain the championship, Robert Middleton broke the British transfer record by buying Danny Shea from West Ham United for £2,000. He also purchased another forward, Joe Hodkinson for £1,000. Shea scored 12 goals but it was not enough and Blackburn finished 5th that season. Edwin Latheron (14) and Wattie Aitkenhead (13) were the club's top scorers.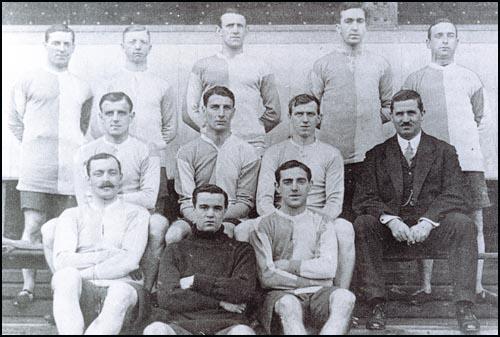 In the 1913-14 season Blackburn once again won the league title. Danny Shea was in great form scoring 27 goals. Edwin Latheron also did well that season with 13 goals. Both men also won international caps for England that season. They joined other Blackburn players, Jock Simpson, Billy Bradshaw, Bob Crompton and Joe Hodkinson in the England team.
The following season Blackburn broke the transfer record again when they bought Percy Dawson for £2,500 from Heart of Midlothian. Blackburn Rovers scored 83 goals in 1914-15 season. However, their defence was not as good and Blackburn finished 3rd behind the champions, Everton. Dawson was top scorer with 20 goals.
Although he was only 28 years old, Jock Simpson retired from football on the outbreak of the First World War.
Jock Simpson died in 1959.
The Rovers were overwhelming favourites to lift the trophy as all of their team, bar Jimmy Southworth and Jack Horne, were of international status. Jack Southworth, Jack Barton, Jimmy Forrest, Joe Lofthouse, Billy Townley and Nat Walton were all English internationals, while John Forbes, Geordie Dewar and Henry Campbell had represented Scotland.

The rovers looked immaculate when they took to the field, being attired in white dress shirts that had been hastily acquired from a London outfitters once it was realised that Sheffield would be turning out in blue jerseys. Prior to the match a representative of the Blackburn Times spoke to someone who had been in the dressing room area and he had reported that while the Rovers players were singing and laughing the men from Sheffield were fraught with nerves. He predicted an easy victory for the Rovers and so it turned out. Billy Townley was undoubtedly the star of the show and he became the first man to score a hat-trick in the FA Cup Final as the Rovers romped to a 6-1 win.
It was generally agreed that Blackburn had a little too much FA Cup experience for Wednesday, for whom Morley, Brayshaw, Mumford and Bennett performed splendidly. However, the Blackburn side had given one of the finest exhibitions of attacking football in an FA Cup Final, with England internationals, Walton, Townley, Lofthouse and John Southworth at the peak of their form.