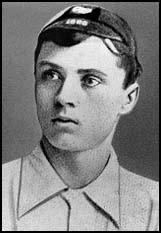 Steve Bloomer was born in Cradley on 20th January, 1874. His parents, Caleb Bloomer and Merab Dunn, and the rest of the family moved to Derby soon after he was born.
Bloomer played football for St. James' School in the Derbyshire Minor Football League. He soon developed a reputation as a fine marksman. In one game he scored 14 goals.
In 1888 Bloomer joined Derby Swifts. He also briefly played for Tutbury Hawthorn before being discovered by the English international centre-forward, John Goodall. Bloomer later said that "Goodall took the greatest interest in me when I was a kid. He coached me, secured me for Derby County, played with me and never failed to give me valuable hints and advice." Bloomer added: "Johnny Goodall was a wonderful footballer, brilliant captain and Nature's gentleman, but little did I think when all the fuss was made over his arrival from Preston what an influence for good was being brought into my life. I always maintain that no player has ever known as much about football and its methods than this old friend of mine."
Bloomer signing for Derby County in 1892 and scored four goals on his debut in a friendly match against Darley Dale. He played his first game in the First Division of the Football League against Stoke City on 3rd September, 1892. Bloomer was an immediate success and that year scored 11 goals in 28 games. Although his club struggled that season and only narrowly avoided relegation.
Steve Bloomer's 18 league goals helped Derby County finish in 3rd place in the 1893-94 season. The following year he won his first international cap playing for England against Ireland. Also in the England team was his mentor John Goodall, Bob Holmes, Jimmy Crabtree and Billy Bassett. Bloomer, Goodall and Bassett scored two goals each in England's 9-0 victory. He retained his place in the team for the game against Scotland on 6th April, 1895. England won 3-0 and once again Bloomer was on the score-sheet.
Frederick Wall, the president of the Football Association, considered Bloomer the best goal scorer he ever saw: "He was a great marksman, and his splendid passes were generally made with one touch. He had no time for fancy work. Bloomer, of course, made mistakes like everyone else, but he was the superior of everyone I ever saw as a scorer. A great volleyer in front of goal, he placed his ground shots at a fast pace, out of the reach of the keeper and slantwise. But the keepers used to say that it was difficult to tell which foot he would use for a shot."
Bloomer's England captain, Ernest Needham, later recalled: "Another great forward is Stephen Bloomer, who is said by a good many judges to stand in a class by himself. He plays to get goals, and when he is in form woe to the back and half-back who may have to tackle him. He has a good turn of speed, and at the present time he is, without doubt, the quickest man to receive the ball and make for goal."
In the 1895-96 season Derby County finished runner-up to Aston Villa in the First Division league championship. Bloomer also scored five goals for England against Wales on 16th March, 1896. However, it was a tragic year for Bloomer as his younger brother, Philip Bloomer, who played left-back for Derby, died of peritonitis. Bloomer ended up that year as the First Division's top goal scorer with 22 goals in 25 games. He also repeated the feat the following season (24 in 29 games) and Derby finished in 3rd position in the league.
Derby County had a good FA Cup run in the 1897-98 season. They beat Aston Villa (1-0), Wolverhampton Wanderers (1-0), Liverpool (5-1) and Everton (3-1) on the way to the final against Nottingham Forest. Bloomer scored for Derby but they lost the game 3-1.
Bloomer continued to play well for England and developed a good partnership with centre-forward, Gilbert O. Smith. According to Frederick Wall, the president of the Football Association, "Smith used to call out "Steve," and he made the position so favourable that in the twinkling of an eye the ball was in the net."
Bloomer was in great form in the 1898-99 season. Once again he was the First Division's top goal scorer with 24 goals in 28 games. Derby County also reached the FA Cup Final but this time they lost 4-1 to Sheffield United. Bloomer continued to play for England and at the end of that season he scored two goals against Ireland (13-2) and Wales (4-0).
Derby County continued to struggle in the First Division of the Football League in the 1900-01 season. However, Bloomer retained his good form and once again ended up as the league's top scorer (24 goals in 27 games). On 18th March, 1901 he scored four goals against Wales. A few weeks later he played in the game against Scotland. According to the journalist, J. A. H. Catton, Bloomer scored the most dramatic goal of his career in this match: "It was a damp day, the ground was heavy, and the ball was heavier. Ten minutes from the conclusion Scotland were leading by 2-1, and I had given up the game as lost. The struggle was drawing to a close when I left my seat in the Press box and stood on a grass bank outside so as to get away quickly at the close. Bloomer, who afterwards said that he was nearly "pumped out," got the ball and saw a chance. He touched his reserves of strength, ploughed along over the mud, and steered the ball into the net. He said that this was the hardest job he ever did, and never was he so tired as at the end of that match. So the honour of England was saved."
The following season Derby County once again reached the FA Cup Final. This time Bury beat them 6-0. and for the third time in his career Bloomer failed to get a winning medal. In 1903-04 season, Bloomer became the league top scorer for the fifth time (20 goals in 29 games).
Bloomer continued to play well for England and developed a good partnership with Vivian Woodward. The England team at this time also included Fred Blackburn, Bob Crompton, Alec Leake, Sam Wolstenholme, William Balmer, Richard Bond, Charlie Roberts, Colin Veitch and William Wedlock.
In March 1906 Bloomer, now aged 32, joined Middlesbrough for a fee of £750. Bloomer had scored 240 goals in 376 games for Derby County. He was considered to be nearing the end of his career but he was the club's leading scorer in the 1906-07 and 1907-08 seasons.
Bloomer played his last international game on 6th April, 1907. He scored the only goal in the 1-1 draw with Scotland. Bloomer had scored an amazing 28 goals in only 23 games and at that time was the only player to score four goals for England twice.
In 1910 Bloomer returned to Derby County who were now in the Second Division of the Football League. During his four years with Middlesbrough he scored 59 goals in 125 games. In his first season he scored 20 goals in 28 games. The following season Bloomer, now aged 37, helped Derby win the league title and promotion to the First Division of the Football League.
Steve Bloomer retired from first-class football in 1914 (he played his last game eleven days after his fortieth birthday). Bloomer scored 392 goals in 599 games for Derby County and Middlesbrough. Bloomer took up a coaching job in Berlin. However, three weeks after arriving in Germany, the First World War broke out and Bloomer was interned at Ruhleben Detention Camp. Fellow detainees included Fred Pentland, John Cameron, Fred Spiksley and Sam Wolstenholme.
After the Armistice Bloomer continued to coach in Europe. In 1923 he became coach of Real Unión in Spain and in 1924 he guided them to victory in the Copa del Rey. The following year he returned to England and became a coach at Derby County.
Steve Bloomer died in Derby on 16th April 1938. He remains a hero at Derby County and the song Steve Bloomer's Watching, is played before every home game.