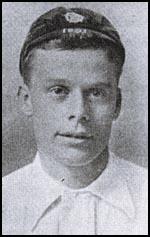 Frederick (Fred) Blackburn was born in Mellor, near Blackburn, in 1879. A talented footballer he joined Blackburn Rovers when he was 17 years old. The team had been highly successful, winning the FA Cup five times in eight years. However, the previous year, Tom Mitchell, Blackburn's club secretary/manager resigned. His replacement was Joseph Walmsley, a local cotton mill manager. It seemed Blackburn missed Mitchell as they slumped to 14th place in the First Division of the Football League.
In his first season at the club Blackburn Rovers finished second from bottom. Only a decision to increase the size of the First Division of the Football League to 18 clubs saved Blackburn from relegation.
Blackburn found itself in another relegation struggle in the 1899-1900 season. The club had to win one of its last two games against Notts County and Preston North End in order to avoid the drop to the Second Division. Blackburn lost to Preston but managed to beat Notts County 2-0. As the Blackburn Times pointed out: "There can be no such thing as standing still in the football world as in many other things, and as the Rovers have not made headway they must have been going backwards. Alas, this is only too plain. The rovers of today are not the Rovers of yore, when their fame spread far and wide".
Despite the form of his team, Fred Blackburn continued to play well and on 30th March, 1901, Blackburn won his first international cap in a game against Scotland. Blackburn, playing at outside left, scored a goal in the 2-2 draw. Blackburn also played in the game against Ireland the following year.
The 1901-02 season saw a major improvement in the form of Blackburn Rovers. For a while it looked like they would win the First Division title. However, Sunderland beat them 1-0 at Ewood Park and this started a poor run that left them in fourth place by the end of the season.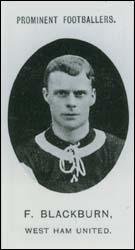 The next two seasons saw Blackburn Rovers involved in relegation struggles: 1902-03 (16th) and 1903-04 (15th). Blackburn continued to play well and on 9th April 1904 he won his third international cap against Scotland. A game that England won 1-0.
Blackburn scored 25 goals in 192 games and won three Lancashire Cup medals for his club before joining West Ham United in the Southern League in 1905. Blackburn played at outside-left when he first joined the Irons. He was not a prolific scorer but made plenty of chances for fellow forwards, Harry Stapley, Billy Grassam, Lionel Watson, Fred Harrison and Danny Shea.
Blackburn eventually switched to wing-half and by the time he left the club in 1913 he had scored 28 goals in 237 league and cup games. Blackburn served in the merchant navy during the First World War and afterwards worked as a coach at Barking.