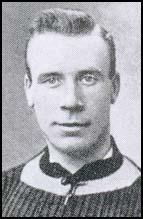 Joseph (Joe) Bache was born in Sourbridge on 8th February 1880. He played local football for Bewdley Victoria and Stourbridge before joining Aston Villa in December 1900.
Bache, an inside-forward, made his debut in the 1900-01 season. He became a regular in the team the following season and formed a great partnership with the Villa centre-forward, Harry Hampton.
Bache won his first international cap for England against Wales on 2nd March, 1903. The England team included Bob Crompton, Billy Garraty, Albert Houlker and Vivian Woodward. England won 2-1 and Bache scored one of the goals.
Aston Villa finished 4th in the 1904-05 season. Bache scored 12 goals in 31 games. Harry Hampton was top scorer with 15 in 22 appearances. That season Villa reached the FA Cup Final. Over 100,000 people watched Villa beat Newcastle United 2-0. Both goals were scored by Hampton.
In the 1907-08 season Aston Villa finished as runners-up to Manchester United in the First Division of the Football League. That year Bache ended up as the club's top scorer with 24 goals in 32 games.
Tony Matthews described Bache in his book, Who's Who of Aston Villa as: "A cultured inside-forward... Bache had few equals in the art of dribbling, although at times he could be somewhat selfish. A good tempered, brainy footballer he displayed a masterly technique on the pitch."
The Bache and Harry Hampton partnership reached its peak in the 1909-10 season when Aston Villa won the First Division title. That season Hampton scored 29 goals in 35 games, whereas Bache managed 22 in 35.
Bache won his last international cap for England against Scotland on 1st April, 1911. The game was drawn 1-1. Over a eight year period Bache score four goals in seven games.
In the 1912-13 season Aston Villa finished as runners-up to Sunderland. The club scored 86 goals with the main contributors being Harry Hampton (25), Harold Halse (21) and Clem Stephenson (14).
Aston Villa beat Derby County (3-1), West Ham United (5-0), Crystal Palace (5-0), Bradford City (5-0), Oldham (1-1) to reach the FA Cup Final against Sunderland in 1913. Over 120,000 saw Aston Villa win the game 1-0.
Bache's playing career was brought to an end by the First World War. He worked as a player/coach for Grimsby Town (1920-21) before moving to Germany where he trained Rot-Weiss and Mannheim. Bache was also Aston Villa's reserve-team coach (1927-28).
Bache was also the landlord of the Traveller's Rest (Aston) and the Coaching House (Evesham).
Joseph Bache died on 10th November 1960.