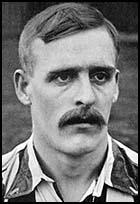 Alfred Common was born in Millfield, Tyne and Wear on 25th May, 1880. He played local football for South Hylton and Jarrow before joining Sunderland in 1900.
In the 1900-01 season Sunderland finished 2nd to Liverpool in the First Division championship. Common scored 5 goals in 20 appearances that year. However, he was considered one of the best young goalscorers in England and Sheffield United paid Sunderland £350 for his services. He repaid the investment by scoring the only goal in Sheffield's 1902 FA Cup Final win.
On 29th February, 1904, Common obtained his first international cap when he played for England against Wales. Common scored in the 2-2 draw. He also hit the target in the 3-1 victory over Ireland in March, 1904.
Alf Common continued to do well for Sheffield United (23 goals in 63 league matches) and in the summer of 1904, Sunderland bought him back for a new record transfer fee of £520. However, he only played in 21 games before he was on the move again.
In February, 1905, Middlesbrough, who were in danger of being relegated from the First Division, purchased Common from Sunderland for another record breaking fee of £1,000. One journalist described the transfer of Common as "flesh and blood for sale". Another sports writer wrote: "We are tempted to wonder whether Association football players will eventually rival thoroughbred yearling racehorses in the market."
Once again the transfer of Alf Common had the desired impact on the fortunes of the club. On 25th February, Common scored the only goal of the game against Sheffield United. It was Middlesbrough's first away victory for over two years. Common helped to save Middlesbrough from relegation and the following season was the club's top scorer with 24 goals.
Common developed a good partnership with Steve Bloomer. Common was made captain of the side but this honour was withdrawn after he was charged with drunkenness and violent behaviour. During his time with Middlesbrough, Common scored 58 goals in 168 league games. However, despite these goals, Middlesbrough were unable to challenge for any major honours. Common also lost his place in the international side.
In 1910, the 30 year old Common signed for Arsenal. The previous season Arsenal had finished in 18th place and only just survived being relegated to the Second Division. With Common in the side, Arsenal finished 10th in the next two seasons. During this period he scored 23 goals for the club. However, he was less successful in the first-half of the 1912-13 season and was sold to Preston North End for £250. Common scored 7 goals in 21 games and helped Preston win the Second Division title.
Common scored against Sunderland on the opening day of the 1913-14 season. He was now 33 years old and only played in 13 more games before retiring from football.
Alf Common, who ran a public house in Darlington, died on 3rd April, 1946.
While at Plumstead, the slide still continued, despite an attempt to boost the gates with the import of one or two famous players like Alf Common and L. R. "Dick" Roose. Unfortunately they were already past their prime. Common was the first £1,000 fee man, the sum being paid by Middlesbrough to Sunderland for him in 1905. The public astonishment at such a "fantastic" fee is matched by that when Tommy Lawton's move from Chelsea to Notts County in 1947 made the ceiling £20,000. Common had been capped three times for England and was equally at home at centre or inside-forward. A natural humorist and most loquacious, Common had a jovial, ruddy face that was straight out of a Christmas pantomime, as were the practical jokes he was always playing. He was troubled by weight difficulties and in road walks, conscientious Joe Shaw would lead the way home while Common invariably brought up the rear. He used to return in the afternoon for wrestling and shadow boxing in further efforts to reduce his weight.