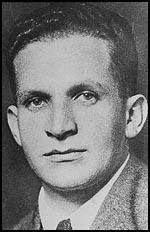 Arnold Deutsch was born in Czechoslovakia in 1903. He moved to Austria as a child. Deutsch studied psychology, philosophy and chemistry at the University of Vienna and obtained his PhD in 1927. He was a supporter of the theories of Wilhelm Reich and ran clinics designed to bring birth control and sexual enlightenment to workers in Vienna. "Though his thesis had been on chemistry, Deutsch's religious faith had been replaced by an ardent communist to the Communist International's vision of a new world order which would free the human race from exploitation and alienation." (1)
Soon after leaving university he married an Austrian woman, Josefine. The couple were both recruited by Comintern and worked for OMS, its international liaison department. Over the next couple of years they travelled around the world working as couriers. In 1932 he was sent to Moscow where he was trained as an NKVD agent. He was given the codename Stefan and used the pseudonym Otto. "A handsome man with twinkling blue eyes and fair curly hair, Deutsch was far from the stereotype middle-European trader's son raised in the Orthodox Jewish quarter of Vienna." (2)
Deutsch was employed by the Foreign Department (INO) of the NKVD responsible for overseas operations. Alexander Orlov the Chief of the Economic Department for Foreign Trade helped to change policy concerning spies. Up until this time, most Soviet agents were usually diplomats. In this way NKVD officers enjoyed the protection of diplomatic immunity. However, the opposing intelligence service had little difficulty identifying the agents and therefore could minimize their effectiveness. Orlov's idea was to employ what became known as "illegals" as agents. Deutsch became a NKVD officer and joined other "illegals" such as Richard Sorge, Walter Krivitsky, Ignaz Reiss, Leopard Trepper and Theodore Maly working in Europe. Senior MI5 agent, Peter Wright, pointed out: "They were often not Russians at all, although they held Russian citizenship. They were Trotskyist Communists who believed in international Communism and the Comintern. They worked undercover, often at great personal risk, and traveled throughout the world in search of potential recruits. They were the best recruiters and controllers the Russian Intelligence Service ever had. They all knew each other, and between them they recruited and built high-grade spy rings." (3)
Deutsch met Cairncross in May 1937 and reported to Moscow that he "was very happy that we had established contact with him and was ready to start working for us at once". KGB files credit Deutsch with the recruitment of twenty agents during his time in Britain. The most successful, however, were the Cambridge Five: Philby, Maclean, Burgess, Blunt and Cairncross. The Security Service had no suspicions about any of them until 1951. (After the release of the enormously popular Western The Magnificent Seven in 1960, some in the Centre referred to them as the "Magnificent Five".) All were committed ideological spies inspired by the myth-image of Stalin's Russia as a worker- peasant state with social justice for all rather than by the reality of a brutal dictatorship with the largest peacetime gulag in European history. Deutsch shared the same visionary faith as his Cambridge recruits in the future of a human race freed from the exploitation and alienation of the capitalist system. His message of liberation had all the greater appeal for the Five because it had a sexual as well as a political dimension. All were rebels against the strict sexual mores as well as the antiquated class system of inter war Britain. Burgess and Blunt were gay and Maclean bisexual at a time when homosexual relations, even between consenting adults, were illegal. Cairncross, like Philby a committed heterosexual, later wrote a history of polygamy which prompted his friend Graham Greene to comment: "Here at last is a book which will appeal strongly to all polygamists."


Michael Straight's examination success marked him as an academic high-flyer, with money and social position. He was a perfect target for Soviet recruitment, for the odds were that Straight would reach the highest echelons of the profession he chose. What made him even more interesting was the fact that his background meant he could, if willing, be pushed to the top in either the British or U.S. establishment. Yet to be assessed were his temperament and commitment: in KGB terms the extent to which he would be willing to go and how far he could be directed. Arnold Deutsch, the Jewish Austrian Comintern agent, was already aware of him. Yet Straight was still a raw 18-year-old and could not be simply signed up like a football recruit. He had to be tested, indoctrinated, and inspired before being approached by a Comintern representative a process that took years in peacetime. Once a new agent was in place, Stalin and the Moscow Center would not accept anything short of a lifetime's commitment to their cause, unless he or she were found to be incompetent. A burnt out agent who was of no further use would be pensioned off at a rate commensurate with performance. Rebellion or defection would see the agent marked for assassination.
Straight's initial steps toward a consolidation of his communist links came when two gowned, second-year Trinity students-the bird-like and clever James Klugman and the dark, brooding, and intense John Cornford-came unannounced to his modest lodgings one chilly evening in November 1934. Klugman was from a wealthy Jewish family and had been educated at Gresham's, an old and unconventional public school, as had his friend Donald Maclean, a member of the Cambridge ring of Soviet spies then being formed. Klugman had "spotted" and helped recruit John Cairncross, a brilliant scholarship winner from a poor Glasgow background, to the ring. Cornford was the son of Charles Darwin's granddaughter and a Trinity classics don. He had been a Marxist at Stowe School before he won an open scholarship to Trinity at age 17 in 1932.

The two visitors the leaders of the Cambridge Communist movement wanted Straight to become a member of the communist controlled Cambridge University Socialist Society. The controllers were directed by the British Communist Party, headquartered in King Street, London, which in turn took its orders from Moscow. His name, he was told, had been mentioned to them by comrades at the LSE. Straight had no hesitation in joining; he regarded it as a major turning point in his life. He went to society meetings and discussed issues with Klugman and Cornford, who set about ironing out what they believed to be his naivete concerning the class struggle. Straight was an eager, willing, and quick student He was passed from "A" to "B" then "C" contacts each successive person more important in the secret system-until March 18, 1935, four months after meeting them. Then he moved from being one of fifty avowed communists in the society to one of twelve students in the Trinity College "cell" or communist group. It was his introduction to the clandestine world; the cells kept quiet about their membership.

Cells were split into three groups. The first included those interested in communist ideology. The second worked openly for the party and carried green membership cards. The third group of "moles" was more sinister. They prepared themselves for influential posts in British life and later infiltrated the professions and government. Not even close friends or family were aware of their communist affiliations...

Several communists, including those at the Soviet Embassy in Kensington Gardens, the British party's headquarters in King Street, and many on the Cambridge campus, were now aware of Straight's potential. Reports filtered back to key recruiter Deutsch, who was orchestrating a trip to Russia for a group of young communists. He made sure Straight was to be included. The three-week trip was meant to give them a sanitized, controlled look at the "workers' paradise." The holiday was also a chance for Russian intelligence to assess each student's suitability for future recruitment. A list was passed on to Trinity's Charles Rycroft (later a distinguished psychiatrist) and John Madge, who organized the students to pay £15 each for the Intourist round-trip by steamer to Leningrad. Also on board the ship in August 1935 were Straight's Dartington chum, Michael Young; Brian Simon (another member of the Trinity cell and a future member of the British Communist Party); Charles Fletcher-Cooke, also at Trinity (then a Union radical, later a Tory member of Parliament); Christopher Mayhew (a future Labor minister and lord) and his friend, Derek Nenk, both of Oxford University; art academic and French tutor at Cambridge Anthony Blunt (a member of the university's growing ring); and his brother Wilfrid, an art teacher. The trip would build Straight's relationship with the tall, lean Anthony Blunt with the cutaway mouth and aloof demeanor.

The two had a link from 1935, the first year they met. They didn't fraternize much after hours. Blunt was a predatory homosexual, and Straight had hopes of being a hunter in the opposite camp. Blunt was a KGB recruiter, and Straight was intrigued by the secret communist milieu at the university, thus making himself available. Straight tried to make out that their backgrounds and circumstances were similar, but he was clutching at straws to explain away the ease of their relationships...

Blunt and Straight met for the last time in Blunt's rooms in New Court in mid-June 1937. He had cleared his desks and was disgruntled. The university would not be reinstating Blunt as a don. It meant that both were prematurely leaving an environment they loved. The Moscow Center had wanted Blunt to stay on recruiting the best and brightest for the cause. But his stubbornness in repeating in almost all his art analysis the communist dictum that art had to be socially useful (and then attempting to reinforce it with nonsensical deductions) had upset too many of the established academic hierarchy.

Blunt, however, still had to carry on as a recruiter for Burgess and Maly and his ultimate employers in Moscow. It was time for Straight to be introduced to the 32-year-old KGB control Arnold Deutsch. Straight, it was hoped, was ready for his first step into the demimonde of espionage for the cause.

Straight was nervous at the prospect of meeting his first major KGB contact. Blunt added to the drama by explaining that strict methods had to be followed before they made a rendezvous with Deutsch. A few days later they went to London, Straight in his car and Blunt by train.

Straight was instructed to make his way to a location on Oxford Street mid-morning. On the way, he felt excited, but there was also a sense of foreboding. What if he were followed and apprehended? Blunt had assured him that nothing would happen if they followed detailed procedures to avoid detection. Even if they were tailed, Blunt had explained, they were not giving the Russian anything, nor were they receiving written information. A meeting as such was not against the law; in any case, Blunt would have a cover story should anything happen. Despite his mentor's calm, Straight could not alleviate the fear of the unknown as he picked up Blunt near Oxford Circus.

It was crowded and a stiflingly hot day. Traffic was heavy, which was just what Blunt wanted. It would be more difficult to follow them. Straight was ordered on a circuitous route. Blunt monitored the side and rearview mirrors, watching for "watchers" - the name for M15 agents assigned to follow suspects. Blunt was aware that his art criticisms and communist sympathies may have been drawn to the attention of British intelligence. He could be tailed for a while just to see what his movements were now that his Cambridge days were over.

Straight was a more prominent target, especially with his recent support for Selassie. He had been marked down as a radical student to be watched since his LSE days. His post university activities in England would most likely also be of interest to British intelligence. It was, in fact, a reason for Moscow's pushing Straight to the United States.

After an hour's drive around the roads of London's western outskirts, they stopped at a roadhouse on the Great West Road where Heathrow is now located. They parked the car and were met by the solidly built, dark-haired Deutsch. He had become the senior controller for the Cambridge ring after Theodore Maly had been ordered back to Moscow during Stalin's purges.

Deutsch was introduced to Straight as "George." He suggested they go for a swim at a nearby public pool and have a drink and talk. Blunt and Straight sat in silence and watched as "George" went swimming in the crowded pool. After drying off his ample frame, he ordered beers and lit up a cigarette.

He looked Straight up and down. He did not seem interested as Blunt explained that Straight would be going to the United States. He would be I working in Washington, D.C., George was informed. His disinterest may have been because the new recruit would not be under his control. George was not like the urbane, cultured Hungarian Maly. His manner was gruff, and he did not choose to reason with his agents. He gave orders and expected results.

The agent complained about the heat and jumped in the pool again while the others waited. Later George started explaining tradecraft - the way an agent should behave when making contact, phoning, keeping appointments, avoiding a tail, and so on. Blunt would later write a book on procedures for British intelligence, which would also be used by their Russian counterparts. He had already been through the basics with the new recruit. Straight's attitude had moved from awe to surprise and disappointment at being treated in such an offhand and patronizing manner.

He left the meeting with Blunt feeling let down. This agent had not been the expected urbane individual full of verve and ideals. Straight thought he seemed more like a small-time smuggling operator than a representative of a new international order.") Blunt sensed his disappointment at the time and explained that the meeting was an administrative detail - a formality to establish contact and to see that the new recruit was acceptable. A brief assessment would be recorded, passed back to Moscow, and placed in a Russian intelligence vault.
(3) Arnold Deutsch, report on Michael Straight (June 1937)
Straight differs very much from people we have dealt with before. He is a typical American, a man of wide-ranging enterprise, who thinks he can do everything for himself.... He is full of enthusiasm, well-read, very intelligent, and a perfect student. He wants to do much for us, and, of course has all possibilities for this.... But he also gives the impression of being a dilettante, a young guy who has everything he wants, more money than he can spend, and therefore in part who has a restless conscience.... I think, under experienced guidance, he could achieve a lot. However, he needs to be educated and to have control over his personal life. It is precisely contact with people in his future profession which may turn out dangerous for him. So far, he has been an active member of the party and constantly surrounded by his friends.
Yagoda was superseded in July 1936 by Nicolai Yezhov, the Secretary of the Central Committee, who was given full authority to purge the Secret Service.

If Yagoda had been ruthlessly oppressive, Yezhov was even more drastic in his measures. He not only appointed more than three hundred new heads of departments, executives and agents, but ordered a drastic purge of the overseas networks of the Soviet Secret Service such as had never been carried out before. It was an attempt, mainly inspired by Stalin, to ensure that the last of the old-time revolutionaries with independent views were liquidated. Stalin developed a phobia against the internationalist, idealist type of Communist and all answering to this description were ruthlessly expelled and destroyed. At the same time he also turned against the Jewish agent, equating him with the internationalist, and declaring again and again that a Russian Jew was a Jew first and a Russian second and that a Jewish Communist was merely another man to be shadowed and distrusted.

There were indeed certain parallels between Stalin and Hitler. Both mistrusted the Jews, both loathed internationalism, both were essentially nationalists of a particularly loathsome and chauvinistic kind. Each man was convinced that neither could survive without either winning the other as an ally, or fighting to the death. The knowledge that he could not trust other Western European nations drove Stalin to make a pact with Hitler, while the conviction that he could not defeat Stalin until he had conquered Europe forced Hitler to acquiesce in such a pact. In this war of nerves Stalin's will proved the stronger, but either way the Jews suffered.

Yet the truth is that until 1948 the Jews remained Russia's best agents. However much Stalin sought to destroy their influence, Hitler's highly publicised persecution of Jewry ensured that they remained the allies of international communism: many of them saw it as their only hope. In the United States especially the Jews helped to provide the best espionage machine that Russia possessed and as soon as one cell was destroyed another sprang up.
(7) Kim Philby, memorandum in Security Service Archives (1963)
(9) Arnold Deutsch File 32826 (KGB Archives)
(25) Arnold Deutsch, report on James Klugmann (April 1937)