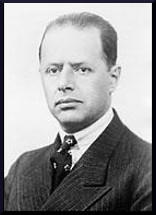 Boris Bazarov was born in Lithuania in 1893. A talented linguist he joined the All-Russian Extraordinary Commission for Combating Counter-Revolution and Sabotage (Cheka) in 1921. Over the next three years he worked in Bulgaria and Yugoslavia. Bazarov next assignment (1924-27) was in the Soviet embassy in Vienna.
In 1927 Bazarov returned to Moscow. The following year he was sent to Berlin and was involved in the recruitment of Ernest Holloway Oldham. His wife, Lucy Oldham, was also part of the network (codename MADAM). Oldham was paid $1,000 a month for the information he provided to the Soviet Union. It is believed that Oldham was the first Soviet spy recruited in Britain. Richard Deacon has argued: "There is evidence that Oldham did more harm to the USA and Canada than to Britain by providing the names of prospective agents in key positions in those countries. It is thought that he obtained some of these names from a mysterious female agent named Leonore. One of the Soviet contacts was a Russian oilman named Feldman who operated in Britain under the name of Voldarsky and who later started a Soviet network to spy on the USA from Canada."
(1) Boris Bazarov, report to headquarters (26th April, 1936)
The result has been that, in fact, Field and Hiss have been openly identified to Duggan. Apparently Duggan also understands clearly her (Hede Massing) nature... Helen Boyd (Duggan's wife), who was present at almost all of these meetings and conversations, is also undoubtedly briefed and now knows as much as Duggan himself... I think that after this story we should not speed up the cultivation of Duggan and his wife. Apparently, besides us, the persistent Hiss will continue his initiative in this direction. In a day or two, Duggan's wife will come to New York, where she (Hede Massing) will have a friendly meeting with her. At Field's departure from Washington, Helen expressed a great wish to meet her again. Perhaps Helen will tell her about her husband's feelings.