The Tudors and Religious Reforms: The Protestant Reformation
Richard II was on the throne during the Peasants' Revolt. Although he managed to defeat the peasants he had much more problems with his barons. The main problem was Richard was not a very successful military commander. His biographer, Peter Earle, points out: "Richard, son of the Black Prince, inherited only his father's outward appearance and none of his skills at war. Not that he was the coward or weakling of legend - on many occasions in his reign he was to display outstanding courage - but his was the courage of pride, not military prowess." (1)
This was reflected in a failed military expedition to Scotland in 1385. This encouraged the French to consider invading England. Charles VI assembled the largest force so far raised by either side during the Hundred Years War. This induced widespread panic and insecurity in England. Parliament met in October 1386, to consider the request from the chancellor, Michael de la Pole, for an unprecedented quadruple subsidy to cover the cost of defence against the threatened invasion. This was refused and the barons began to question the way Richard was ruling the country.
At first Parliament blamed Richard's advisors and his chancellor was impeached by the House of Commons on charges arising out of his conduct in office. De la Pole was found guilty and condemned to imprisonment, but Richard set aside the penalty and he retained his freedom. "Parliament then established a commission which was to hold office for a year and which was to conduct a thorough review of royal finances. It was to have control of the exchequer and the great and privy seals, and Richard was required to take an oath to abide by any ordinances it made." (2)
Richard raised an army against Parliament. Led by Robert de Vere, Duke of Ireland it was said to contained no more than 4,000 men. Rumours began to circulate that Richard had agreed to accept military support from France, and that he would place England under French military occupation. Thomas of Woodstock, Duke of Gloucester, and several other nobles, including Thomas Mowbray, Earl of Nottingham, and Henry of Bolingbroke, the son of John of Gaunt, the Duke of Lancaster, mobilized an army of their retainers numbering 4,500 and marched on de Vere's army. The king's army was defeated at the Battle of Radcot Bridge on 19th December 1387. (3)
Richard was arrested and Woodstock threatened to have him executed because of his dealings with France. They eventually decided against it and instead forcing him to call a session of Parliament. Henry Knighton described it as the Merciless Parliament as it resulted in several of Richard's leading advisors, including Sir Nicholas Brembre, Simon de Burley and Robert Tresilian were executed. Alexander Neville, Archbishop of York, Robert de Vere and Michael de la Pole, all managed to escape to France where they died in exile. (4)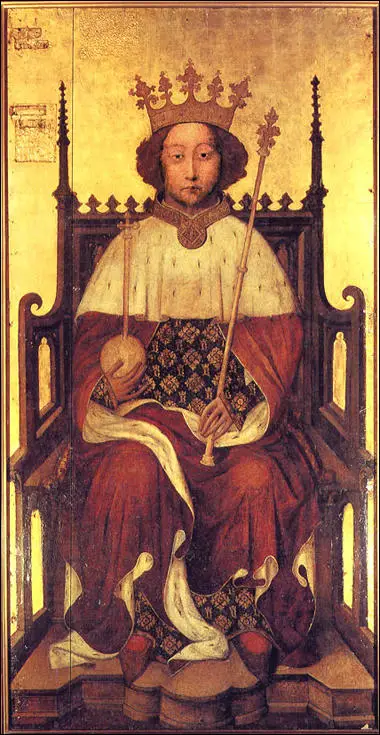 On 3rd May 1389 Richard was allowed back on the throne. This time he made no attempt to revive the style of government which had brought about the crisis of 1387 and for the time being no new inner circle of courtiers emerged to enjoy Richard's favour and patronage. John of Gaunt returned to England in November 1389 and pledged his support to Richard. The atmosphere of peace was to last for six years. During this period he had some diplomatic success. This included a settlement in Ireland in 1394 and two years later negotiated a truce with France. (5)
As soon as he felt strongly enough, Richard fought back against those who were responsible for ousting him from power in 1387. He ordered the arrest of Thomas of Woodstock, Duke of Gloucester, Richard FitzAlan, 11th Earl of Arundel and Thomas de Beauchamp, 12th Earl of Warwick. Gloucester was murdered soon afterwards and Arundel was executed on 21st September, 1397. Warwick made a full confession to attempting to overthrow the king, was banished for life to the Isle of Man. (6)
In June 1399, Henry of Bolingbroke landed at Ravenspurn in Yorkshire. As his army moved across the middle of England, all resistance disappeared. Richard and most of his household knights and the loyal members of his nobility were in Ireland and did not land in Wales until 24th July. Outnumbered, the King surrendered to Henry at Flint Castle, promising to abdicate if his life were spared. Richard was taken to London and imprisoned in the Tower of London. (7)
An assembly opened on 30th September to discuss what was to happen to Richard. His abdication was formally accepted; thirty-nine accusations against him were then read out, and it was agreed that they formed sufficient grounds for his deposition. It was argued that by his actions between 1397 and 1399 Richard had broken his oath and thus broken the legal bond between himself and his people. Article 16 claimed that the king did not "uphold or dispense the rightful laws and customs of the realm, but preferred to act according to his own arbitrary will and do whatever he wished". (8)
Henry was crowned as Henry IV on 13 October, 1399. He was the first king from the House of Lancaster, Richard remained in the Tower until he was taken to Pontefract Castle in December. It has been suggested that Henry initially intended for Richard to live. However, when he heard from Edward of Norwich, 1st Earl of Rutland, that there was a plot organized by John Montagu, 3rd Earl of Salisbury, John Holland, 1st Earl of Huntingdon, Thomas Holland, 3rd Earl of Kent and Thomas le Despenser, 1st Earl of Gloucester, to overthrow Henry and put Richard back on the throne, he arranged for him to be murdered. This took place in February, 1400. (9)
Over the next 80 years there was a struggle between two families that became known as the War of the Roses: The House of Lancaster: Henry IV (1399-1413), Henry V (1413-1422) and Henry VI (1422-71) and the House of York: Edward IV (1461-1483) and Richard III (1483-1485).
Richard III was accused of murdering Edward IV's two sons, Edward and Richard. The head of the House of Lancaster, Henry Tudor, claimed that he should become king. Margaret Beaufort began plotting with various other opponents of Richard, to place her son on the throne. (10) Negotiations took place and in December 1483, Henry took an oath in Rennes Cathedral to marry Elizabeth of York, the daughter of Edward IV, were he to be successful in making himself king of England. (11)
The regents of the young King Charles VIII saw the advantage of supporting Henry Tudor against Richard III and provided him with money, ships, and men to seek the crown. In August 1485, Henry arrived in Wales with 2,000 of his supporters. He also brought with him over 1,800 mercenaries recruited from French prisons. While in Wales, Henry also persuaded many skillful longbowmen to join him in his fight against Richard. By the time Henry Tudor reached England the size of his army had grown to 5,000 men. (12)
When Richard heard about the arrival of Henry Tudor he marched his army to meet his rival for the throne. On the way, Richard tried to recruit as many men as possible to fight in his army, but by the time he reached Leicester he only had an army of 6,000 men. Henry Percy, 4th Earl of Northumberland, also brought 3,000 men but his loyalty to Richard was in doubt. (13)
Richard sent an order to Lord Thomas Stanley and Sir William Stanley, two of the most powerful men in England, to bring their 6,000 soldiers to fight for the king. Richard had been informed that Lord Stanley had already promised to help Henry Tudor. In order to persuade him to change his mind, Richard arranged for Lord Stanley's eldest son to be kidnapped.
On 21 August 1485, King Richard's army positioned themselves on Ambien Hill, close to the small village of Bosworth in Leicestershire. Henry arrived the next day and took up a position facing Richard. When the Stanley brothers arrived they did not join either of the two armies. Instead, Lord Stanley went to the north of the battlefield and Sir William to the south. The four armies now made up the four sides of a square.
Without the support of the Stanley brothers, Richard looked certain to be defeated. Richard therefore gave orders for Lord Stanley's son to be brought to the top of the hill. The king then sent a message to Lord Stanley threatening to execute his son unless he immediately sent his troops to join the king on Ambien Hill. Lord Stanley's reply was short: "Sire, I have other sons." (14)
Henry Tudor's forces now charged King Richard's army. Although out-numbered, Richard's superior position at the top of the hill enabled him to stop the rival forces breaking through at first. When the situation began to deteriorate, Richard called up his reserve forces led by Henry Percy, 4th Earl of Northumberland. However, Northumberland, convinced that Richard was going to lose, ignored the order.
Richard's advisers told him that he must try to get away. Richard refused, claiming that he could still obtain victory by killing Henry Tudor in personal combat. He argued that once the pretender to the throne was dead, his army would have no reason to go on fighting. With a loyal squadron of his household, he swept through to Henry's immediate bodyguard, striking down his standard-bearer. At this moment his horse died under him. (15) Polydore Vergil later reported that "King Richard alone was killed fighting manfully in the thickest press of his enemies." (16)
Henry VII was crowned on the battlefield with Richard's crown. He then marched into Leicester and then, slowly, onwards to London. On 3rd September he entered the capital in triumph. Elizabeth of York was placed in the London household of his mother, Margaret Beaufort. The parliament which met on 7th November asserted the legitimacy of Henry's title and annulled the instrument embodying Richard III's title to the throne. On 10th December 1485, the House of Commons, through their speaker Thomas Lovell, urged the king to act on his promise to marry "that illustrious lady Elizabeth, daughter of King Edward IV" and so render possible "the propagation of offspring from the stock of kings". (17)
Henry married Elizabeth of York and on 19th September 1486 she gave birth to a son, Prince Arthur. He was baptized on 24th September in Winchester Cathedral and named after the famous British hero whose fabulous exploits fill the pages of Geoffrey of Monmouth. Initially he was put into the care of women and his nursery at Farnham. This was headed by Dame Elizabeth Darcy. (18)
Francis Bacon has suggested that Henry's "aversion toward the house of York was so predominant in him as it found place not only in his wars and councils, but in his chamber and bed". However, Elizabeth's biographer, Rosemary Horrox, disagrees with this assessment. She quotes from several different sources that indicate that they had a happy marriage. (19)
Henry VII inherited a kingdom that was smaller than it had been for over 400 years. For the first time since the 11th century the realm did not include one French province. The only part of France still held by the English was the Marches of Calais, a strip of territory around the town of Calais. He held the title of "Lord of Ireland" since the 12th century, but effectively governed only an area that was roughly a semi-circle forty miles deep around Dublin.
It is estimated that Henry VII had three million subjects. Nearly every summer they were hit by epidemics of the Plague or Sweating Sickness which killed many of the population and improved the standard of living of the survivors, as the shortage of tenants and agricultural labourers kept rents low and wages high. Fifty thousand people lived in the capital city, London. The second largest city in England, Norwich, had 13,000 inhabitants; but Bristol and Newcastle were the only other towns with more than 10,000. Ninety per cent of the population lived in villages and on the farms in the countryside.
According to Jasper Ridley the English were famous throughout Europe for their hearty appetite. "It was said the English vice was overeating, as the German vice was drunkenness and the French vice lechery." (20) Bishop Stephen Gardiner commented: "Every country hath his peculiar inclination to naughtiness. England and Germany to the belly, the one in liquor, the other in meat; France a little beneath the belly; Italy to vanity and pleasures devised; and let an English belly have a further advancement, and nothing can stay it." (21)
Prince Arthur & Catherine of Aragon
Spain, along with France, were the two major powers in Europe. Henry VII constantly feared an invasion from his powerful neighbour. Ferdinand of Aragon and Isabella of Castile were also concerned about the possible expansionism of France and responded favourably to Henry's suggestion of a possible alliance between the two countries. In 1487 King Ferdinand agreed to send ambassadors to England to discuss political and economic relations. (22)
In March 1488, the Spanish ambassador at the English court, Roderigo de Puebla, was instructed to offer Henry a deal. The proposed treaty included the agreement that Henry's eldest son, Arthur, should marry Catherine of Aragon in return for an undertaking by Henry to declare war on France. Henry enthusiastically "showed off his nineteen-month-old son, first dressed in cloth of gold and then stripped naked, so they could see he had no deformity." (23)
Puebla reported that Arthur had "many excellent qualities". However, they were not happy about sending their daughter to a country whose king might be deposed at any time. As Puebla explained to Henry: "Bearing in mind what happens every day to the kings of England, it is surprising that Ferdinand and Isabella should dare think of giving their daughter at all." (24)
The Treaty of Medina del Campo was signed on 27th March 1489. It established a common policy towards France, reduced tariffs between the two countries and agreed a marriage contract between Prince Arthur and Catherine of Aragon and also established a dowry for Catherine of 200,000 crowns. This was a good deal for Henry. At this time, England and Wales had a combined population of only two and a half million, compared to the seven and a half million of Castile and Aragon, and the fifteen million of France. Ferdinand's motivation was that Spanish merchants wishing to reach the Netherlands, needed the protection of English ports if France was barred to them. The English also still controlled the port of Calais in northern France. (25)
However, the marriage was not guaranteed. As David Loades points out: "The marriage of a ruler was the highest level of the matrimonial game, and carried the biggest stakes, but it was not the only level. Both sons and daughters were pieces to be moved in the diplomatic game, which usually began while they were still in their cradles. A daughter, particularly, might undergo half a dozen betrothals in the interests of shifting policies before her destiny eventually caught up with her." (26)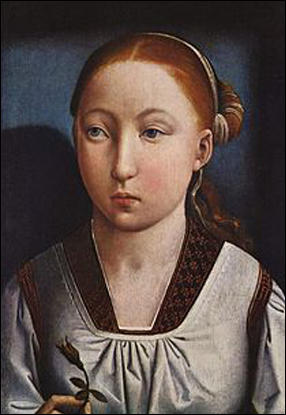 In August 1497, Catherine and Arthur were formally betrothed at the ancient palace of Woodstock. The Spanish ambassador, Roderigo de Puebla, standing proxy for the bride. Catherine arrival was delayed until Prince Arthur was able to consummating the marriage. Catherine was also encouraged to learn French as very few people in the English court spoke Spanish or Latin. Queen Elizabeth also suggested she accustom herself to drink wine, as the water in England was not drinkable. (27)
Catherine and Prince Arthur wrote several letters to each other. In October 1499 Arthur wrote to her thanking her for the "sweet letters" she had sent him: "I cannot tell you what an earnest desire I feel to see your Highness, and how vexatious to me is this procrastination about your coming. Let it be hastened, that the love conceived between us and the wished-for joys may reap their proper fruit." (28)
Catherine left the port of Corunna on 20th July 1501. Her party included the Count and Countess de Cabra, a chamberlain, Juan de Diero, Catherine's chaplain, Alessandro Geraldini, three bishops and a host of ladies, gentlemen and servants. It was considered too dangerous to allow Ferdinand of Aragon and Isabella of Castile to make the journey. The sea-crossing was terrible: a violent storm blew up in the Bay of Biscay, and the ship was tossed about for several days in rough seas and the captain was forced to return to Spain. It was not until 27th September, that the winds died down and Catherine was able to leave Laredo on the Castilian coast. (29)
Catherine of Aragon arrived in England on 2nd October 1501. Arthur was just fifteen, and Catherine nearly sixteen. (30) As a high-born Castilian bride, Catherine remained veiled to both her husband and her father-in-law until after the marriage ceremony. Henry would have been concerned by her size. She was described as "extremely short, even tiny". Henry could not complain as Arthur, now aged fifteen, was very small and undeveloped and was "half a head shorter" than Catherine. He was also described as having an "unhealthy" skin colour. (31)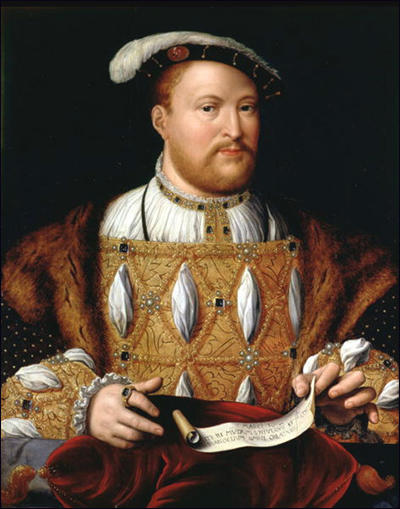 Arthur and Catherine married on 14th November 1501, at St Paul's Cathedral in London. That night, when Arthur lifted Catherine's veil he discovered a girl with "a fair complexion, rich reddish-gold hair that fell below hip-level, and blue-eyes". (32) Her naturally pink cheeks and white skin were features that were much admired during the Tudor period. Contemporary sources claim that "she was also on the plump side - but then a pleasant roundness in youth was considered to be desirable at this period, a pointer to future fertility". (33)
The couple spent the first month of their marriage at Tickenhill Manor. Arthur wrote to Catherine's parents telling them how happy he was and assuring them he would be "a true and loving husband all of his days". They then moved to Ludlow Castle. Arthur was in poor health and according to William Thomas, Groom of his Privy Chamber, he had been over-exerting himself. He later recalled he "conducted him clad in his night gown unto the Princess's bedchamber door often and sundry times." (34)
Alison Weir has argued that Arthur was suffering from consumption: "There was concern about the Prince's delicate health. He seems to have been consumptive, and had grown weaker since the wedding. The King believed, as did most other people, that Arthur had been over-exerting himself in the marriage bed." (35) Almost thirty years later Catherine deposed, under the seal of the confessional, that they had shared a bed for no more than seven nights, and that she had remained "as intact and incorrupt as when she emerged from her mother's womb". (36)
Antonia Fraser, the author of The Six Wives of Henry VIII (1992) has argued that she believes the marriage was unconsummated. "In an age when marriages were frequently contracted for reasons of state between children or those hovering between childhood and adolescence, more care rather than less was taken over the timing of consummation. Once the marriage was officially completed, some years might pass before the appropriate moment was judged to have arrived. Anxious reports might pass between ambassadors on physical development; royal parents might take advice on their offsprings' readiness for the ordeal. The comments - sometimes remind one of those breeders discussing the mating of thoroughbred stock, and the comparison is indeed not so far off. The siring of progeny was the essential next step in these royal marriages, so endlessly negotiated." Fraser goes on to argue that the Tudors believed that bearing children too young might damage their chances of having further children. For example, Henry VII's mother, Margaret Beaufort, was only thirteen when she had him and never had any other children in the course of four marriages. (37)
On 27th March 1502, Arthur fell seriously ill. Based on the description of symptoms by his servants, he appeared to have been suffering from a bronchial or pulmonary condition, such as pneumonia, tuberculosis or some virulent form of influenza. David Starkey has suggested he might have been suffering from testicular cancer. (38) Antonia Fraser, believes that as Catherine was also ill at the same time, the both might have had sweating sickness.
Prince Arthur died on Saturday, 2nd April, 1502. (39) Elizabeth of York told Henry that she was still young enough to have more children. She became pregnant again and a daughter, Katherine was born prematurely on 2nd February 1503. She never recovered and died nine days later on 11th February, her thirty-seventh birthday, of puerperal fever. (40) Henry took her death very badly and "departed to a solitary place and would no man should resort unto him." (41)
Christopher Morris, the author of The Tudors (1955) has argued: "Henry VII... was an extremely clever man, possibly the cleverest man who ever sat on the English throne.... Henry's genius was mainly a genius for cautious manoeuvre, for exact timing, for delicate negotiation, for weighing up an opponent or a subordinate, and not least, a genius for organisation. It was allied to great patience and great industry. He was a competent soldier, but always chose peace instead of war as being so much cheaper and so much safer. These are admirable and invaluable qualities for a political leader in troubled times." (42)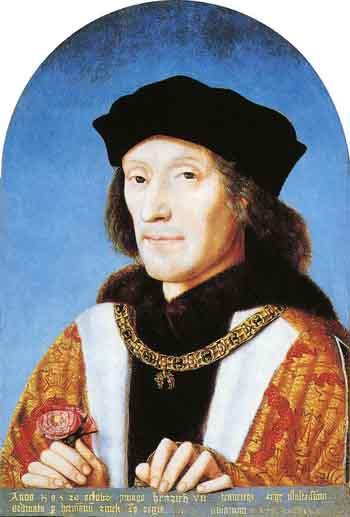 Henry VII was keen to maintain his alliance with Ferdinand of Aragon and recently widowed, offered to marry Catherine of Aragon himself. As he was 46 years-old and in poor health, this idea was rejected and on 23rd June 1503, he signed a new treaty betrothing Catherine to Henry, his only surviving son, then aged twelve. The treaty also contained an agreement that, as the parties were related, the signatories bound themselves to obtain the necessary dispensation from Rome. At that time, Christians believed it was wrong for a man to marry his brother's wife. It was also agreed that the marriage would take place as soon as Henry completed his fifteenth year. In the meantime Henry allowed Catherine £100 a month, and appointed one of his own surveyors to oversee the management of it. (43)
Ferdinand wrote on 23rd August 1503: "It is well known in England that the Princess is still a virgin. But as the English are much disposed to cavill, it has seemed to be more prudent to provide for the case as though the marriage had been consummated... the dispensation of the Pope must be in perfect keeping with the said clause to the marriage treaty... The right of Succession (of any child born to Catherine and Henry) depends on the undoubted legitimacy of the treaty." (44)
Henry VII died on 21st April 1509. His personal fortune of £1.5 million illustrated the success of his foreign policy and the commercial prosperity that England enjoyed under his rule. Six weeks later, on 11th June, 1509, Henry VIII married Catherine of Aragon. It has been argued that since the age of ten "Henry had looked up to and admired his pretty sister-in-law; and, as he had grown to manhood, and had seen how well Katherine had coped with the adversity and humiliations she had suffered, his admiration had deepened, not to passion - it would never be that - but to love in its most chivalrous form, blended with deep respect." (45) He was just about to be eighteen (on 28th June) and she was twenty-three. The ceremony was small and private. Describing the wedding night which followed, liked to boast that he had found his wife a "maiden" (virgin). Although years later he would attempt to pass off these boasts as "jests", there seems little doubt that he had made them. (46)
According to letters to her father, Catherine was very happy during the first few months of marriage. She enjoyed wandering in leisurely stages from "palace to palace and park to park". Catherine explained how Henry "diverts himself with jousts, birding, hunting and other innocent and honest pastimes, also in visiting different parts of his kingdom". (47) It was claimed that they were a well-matched couple. Their intellectual tastes and educational background were similar and they both rode well and hunted with enthusiasm. (48)
In November, 1509, Henry informed Ferdinand of Aragon that his daughter was pregnant: "Your daughter, her Serene Highness the Queen, our dearest consort, has conceived in her womb a living child and is right heavy therewith." (49) On 31st January, 1510, Catherine miscarried a daughter. Her confessor, Fray Diego reported that the miscarriage was kept a secret "that no one knew about it... except the King... two Spanish women, a physician and I". According to Diego the "swelling continued and increased enormously". This was probably the result of infection, but her physician persuaded himself that "the Queen remained pregnant of another child". However, this was untrue. (50)
Queen Catherine was soon pregnant again and a son was born on 1st January, 1511. The child was christened Henry, and his proud father took him to Shrine of Our Lady of Walsingham to give thanks for the greatest gift that a king could receive. A mighty tournament was staged, not only to celebrate the birth of an heir, but also "to demonstrate that loving accord between Henry and Catherine which promised a bountiful harvest for the future". (51) Just seven weeks later the latest Henry Tudor died in his nursery at Richmond Palace. Henry and Catherine were devastated. The customary wisdom of the time suggested that infant mortality was punishment for sin.
Henry VIII recovered more quickly than Catherine from the shock of losing a son. He was only 21-years-old and was considered the most attractive young man in Europe. Sebastian Giustinian, a Venetian diplomat, commented that Henry "is the handsomest potentate I have ever set eyes on" and had "a round face so beautiful that it would become a pretty woman". In a later dispatch he wrote: "Nature could not have done more for him. He is very fair, his whole frame admirably proportioned." (52)
It is claimed that Henry resembled his grandfather Edward IV, being measured at a height of 6 feet 2 inches, with a waist of 32 inches. "He could dominate any gathering and was extrovert, affable, and charming. Full of energy and proud of his athleticism, Henry cast himself above all in a military role and had a passion for weapons and fortifications. A fine horseman and an excellent archer, he was an enthusiast for those two substitutes for war: hunting and the tournament." (53)
Thomas Wolsey worked for Richard Foxe, bishop of Winchester. Foxe was very impressed with Wolsey and recommended him to Henry VIII. As a result he became the king's almoner in November 1509. George Cavendish claims that Wolsey soon gained the appreciation of the young monarch as he was the "most earnest and readiest in all the council to advance the king's only will and pleasure. Peter Ackroyd points out that Wolsey was a generation younger than the old bishops of the council. "Here was a man whom the young king could take into his confidence, and upon whom he could rely. Wolsey rose at four in the morning, and could work for twelve hours at a stretch without intermission... When he had finished his labours he heard Mass and then ate a light supper before retiring." (54)
Henry continued to try to produce a male heir. Catherine miscarried in the autumn of 1513, and in December 1514 another boy was born, but born dead. (55) In the summer of 1515 he discovered that Catherine was pregnant again. On 18th February 1516 she gave birth to a daughter, Mary. (56) Henry and Catherine gave Mary "unusually close attention during her early years because she was the only survivor of Catherine's many pregnancies and because the pretty and precocious child obviously delighted both parents". (57)
Henry VIII had several mistresses. The most important was Bessie Blount, a maid of honour to Catherine of Aragon. Bessie was described at this time by John Barlow, the Dean of Worcester, as being "renowned for her skill in music and dancing, she was a frequent player in court masques." (58)
On 15th June 1519, she gave birth to a son, Henry FitzRoy. Although illegitimate, as the king's only male son at the time of his birth he was a valuable asset. He was given the Anglo-Norman surname "Fitzroy" meaning "son of the king" which had been used by several kings of England for their illegitimate children. As Kelly Hart has argued that he wanted it to be known he was the father of the child: "A healthy boy was a sign of the king's virility; it was clear now that the lack of a strong son could be blamed on his wife." (59)
After the child's birth, the affair ended. Henry now became involved with Mary Boleyn. The historian, Antonia Fraser, has argued: "The affair repeated the pattern established by Bessie Blount: here once again was a vivacious young girl, an energetic dancer and masker, taking the fancy of a man with an older, more serious-minded wife, no longer interested in such things." (60)
In 1526 Anne Boleyn become a maid of honour to Catherine. She was a good musician and a talented singer. She was also extremely intelligent and her time in the French court provided her with a great deal of interesting conversation. Anne was according to contemporary sources not a conventional beauty. One member of Henry's court wrote that Anne was "not one of the handsomest women in the world" she had a "swarthy complexion, long neck, wide mouth, bosom not much raised, and in fact had nothing but the king's great appetite, and her eyes, which are black and beautiful and take great effect"
Boleyn's biographer, Eric William Ives, has claimed: "Her complexion was sallow and she was noted only for her magnificent dark hair, her expressive eyes, and her elegant neck.... The reason why she was such a sensation was not looks but personality and education. Having been brought up in the two leading courts in Europe she had a continental polish which was unique in the provincial court of Henry VIII. She could sing, play instruments, and dance and she led female fashion." One member of court claimed that "no one would ever have taken her to be English by her manners, but a native-born Frenchwoman". (61)
Henry VIII seemed to find her very entertaining and was often seen dancing with her. Hilary Mantel has pointed out: "We don't know exactly when he fell for Anne Boleyn. Her sister Mary had already been his mistress. Perhaps Henry simply didn't have much imagination. The court's erotic life seems knotted, intertwined, almost incestuous; the same faces, the same limbs and organs in different combinations. The king did not have many affairs, or many that we know about. He recognised only one illegitimate child. He valued discretion, deniability. His mistresses, whoever they were, faded back into private life. But the pattern broke with Anne Boleyn." (62)
For several years Henry had been planning to divorce Catherine of Aragon. Now he knew who he wanted to marry - Anne. At the age of thirty-six he fell deeply in love with a woman some sixteen years his junior. (63) Henry wrote Anne a series of passionate love letters. In 1526 he told her: "Seeing I cannot be present in person with you, I send you the nearest thing to that possible, that is, my picture set in bracelets ... wishing myself in their place, when it shall please you." Soon afterwards he wrote during a hunting exhibition: "I send you this letter begging you to give me an account of the state you are in... I send you by this bearer a buck killed late last night by my hand, hoping, when you eat it, you will think of the hunter." (64)
Philippa Jones has suggested in Elizabeth: Virgin Queen? (2010) that refusing to become his mistress was part of Anne's strategy to become Henry's wife: "Anne frequently commented in her letters to the King that although her heart and soul were his to enjoy, her body would never be. By refusing to become Henry's mistress, Anne caught and retained his interest. Henry might find casual sexual gratification with others, but it was Anne that he truly wanted." (65) Historians have suggested that Anne was trying to persuade Henry to marry her: "Henry found her not easily tamed, for it is clear that she had the strength of will to withhold her favours until she was sure of being made his queen... All the same it must remain somewhat surprising that sexual passion should have turned a conservative, easy-going, politically cautious ruler into a revolutionary, head-strong, almost reckless tyrant. Nothing else, however, will account for the facts." (66)
Anne's biographer, Eric William Ives, has argued: "At first, however, Henry had no thought of marriage. He saw Anne as someone to replace her sister, Mary (wife of one of the privy chamber staff, William Carey), who had just ceased to be the royal mistress. Certainly the physical side of his marriage to Katherine of Aragon was already over and, with no male heir, Henry decided by the spring of 1527 that he had never validly been married and that his first marriage must be annulled.... However, Anne continued to refuse his advances, and the king realized that by marrying her he could kill two birds with one stone, possess Anne and gain a new wife." (67)
Catherine of Aragon became concerned when Henry's son, Henry FitzRoy, was brought to court in 1527. (75) According to Peter Ackroyd: "Henry no longer frequented her bed." He had clearly given up hope that she would produce a son and heir. Henry also began consulting the Bible about his marriage. He had read the text in Leviticus that prohibited any man from marrying the widow of a dead brother. Henry now became convinced that God had denied him a royal heir as a punishment for marrying Arthur's widow. (76)
Rumours soon began circulating about Henry's plan to divorce Catherine of Aragon in order to marry Anne Boleyn. It was reported by Cardinal Jean du Bellay in May 1529 that Catherine had the support of the majority of women living in England at the time. "If the matter were to be decided by women, he (Henry VIII) would lose the battle, for they did not fail to encourage the queen (Catherine of Aragon) at her entrance and departure by their cries, telling her to care for nothing, and other such words." (77)
Lodovico Falier reported to King Charles V, that an attempt had been made to kill Anne Boleyn: "It is said that more than seven weeks ago a mob of from seven to eight thousand women of London went out of the town to seize Boleyn's daughter, the sweetheart of the king of England, who was supping at a villa on a river, the king not being with her; and having received notice of this, she escaped by crossing the river in a boat. The women had intended to kill her; and amongst the mob were many men, disguised as women. Nor has any great demonstration been made about this, because it was a thing done by women." (78)
The following year there was "a great riot and unlawful assembly of women" at Great Yarmouth in Norfolk. Sir Thomas Audley, a senior figure in Henry VIII's household was asked to investigate. He later reported that the women had apparently rioted to show their opposition to Anne Boleyn. Audley suggested that their protests were downplayed, because it was thought that the riot "could not have been held without the connivance of their husbands." (79)
George Cavendish, who was a member of Cardinal Wolsey's household later wrote that "the world began to be full of wonderful rumours not heard of before in this realm". This mainly concerned "the long hid and secret love between the king and Mistress Anne Boleyn" and this "began to break out into every man's ears". (80) The chronicler, Edward Hall, confirmed this and commented that there was growing hostility towards a "gentlewoman in the court called Anne Boleyn". (81)
It has been argued that Catherine of Aragon was an extremely popular queen. "The main reason for it lay in her personal qualities, her unfailing graciousness and dignity and her kindness... The English had taken her to her hearts; they rejoiced on her marriage, grieved with her in her sorrows, and... were ready to champion her cause in the face of the King's displeasure." (82)
Queen Catherine also had strong support from senior figures in the government. This group included Sir Thomas More, Bishop John Fisher and Bishop Cuthbert Tunstall. Her leading advocate in the House of Commons was Sir George Throckmorton. This group was united against heresy and were determined to defend both Catherine and the Catholic Church. Throckmorton later confessed to engaging in parliamentary opposition at the behest of More and Fisher. (83)
In May 1527, Henry VIII ordered Cardinal Thomas Wolsey to arrange his marriage to Catherine to be annulled. As papal legate, Wolsey could not make this decision and had to discuss the matter with Pope Clement VII. However, at that time, the troops of King Charles V of Spain had sacked Rome and the pope had become a virtual prisoner in the Castle of the Holy Angel in the city. (84)
On 13th April 1528, Pope Clement appointed Cardinal Wolsey and Cardinal Lorenzo Campeggi to examine all the facts and pass a verdict without possibility of appeal. (85) Wolsey wrote to Campeggi and pleaded with him to visit London to sort the matter out: "I hope all things shall be done according to the will of God, the desire of the king, the quiet of the kingdom, and to our honour." (86)
Campeggi eventually arrived in England on 8th October 1528. He informed Wolsey that he had been ordered by Pope Clement not to do anything that would encourage King Charles V of Spain to attack Rome. He therefore ordered Campeggi to do all in his power to reconcile Henry and Catherine. If this was not possible, he was to use delaying tactics. (87)
Anne Boleyn had strong opinions about religion that were in direct contrast to those of Catherine. She tried to persuade Henry to give permission for bibles to be published in English. Anne also introduced Henry to the books of Protestant writers such as William Tyndale. She pointed out that in Obedience of a Christian Man, Tyndale had argued that kings had authority over the church. Anne also became close to Thomas Cromwell, who supported the ideas of Tyndale.
Antonia Fraser, the author of The Six Wives of Henry VIII (1992) has argued that it is impossible to accurately date the time they became lovers: "The truth can never be known for sure. One can only say with certainty that Henry VIII made love to Anne - fully - some time before the end of 1532. All the rest is speculation. As to the act itself, was it a success after so many years? Once again we have no means of knowing... As has been suggested, matters had probably been going in that direction for some years, with Anne the sole focus of the King's lust, by whatever means she satisfied it." (88)
Henry discovered that Anne Boleyn was pregnant. As it was important that the child should not be classed as illegitimate, arrangements were made for Henry and Anne to get married. King Charles V of Spain threatened to invade England if the marriage took place, but Henry ignored his threats and the marriage went ahead on 25th January, 1533. It was very important to Henry that his wife should give birth to a male child. Without a son to take over from him when he died, Henry feared that the Tudor family would lose control of England.
Elizabeth was born on 7th September, 1533. Henry expected a son and selected the names of Edward and Henry. While Henry was furious about having another daughter, the supporters of his first wife, Catherine of Aragon were delighted and claimed that it proved God was punishing Henry for his illegal marriage to Anne. (89) Retha M. Warnicke, the author of The Rise and Fall of Anne Boleyn (1989) has pointed out: "As the king's only legitimate child, Elizabeth was, until the birth of a prince, his heir and was to be treated with all the respect that a female of her rank deserved. Regardless of her child's sex, the queen's safe delivery could still be used to argue that God had blessed the marriage. Everything that was proper was done to herald the infant's arrival." (90)
Although Anne Boleyn visited her daughter, for most of the time she was cared for by a large staff. Lady Margaret Bryan was Lady Mistress, the governess with day-to-day control of the nursery. Lady Margaret had also cared for Princess Mary, Elizabeth's elder half-sister. Elizabeth's earliest portraits suggest that she resembled her father in the shape of her face and her auburn hair, but had inherited her mother's coal-black eyes. (91)
The 17-year old Mary was declared illegitimate, lost her rank and status as a princess and was exiled from Court. She was placed with Sir John Shelton and his wife, Lady Anne. It has been claimed that "Mary was bullied unmercifully by the Sheltons, humiliated, and was constantly afraid that she would be imprisoned or executed." (92) Alison Plowden has concluded that the treatment Mary received "turned a gentle, affectionate child into a bigoted, neurotic and bitterly unhappy woman." (93)
In March 1534 Pope Clement VII eventually made his decision. He announced that Henry's marriage to Anne Boleyn was invalid. Henry reacted by declaring that the Pope no longer had authority in England. In November 1534, Parliament passed the Act of Supremacy. This gave Henry the title of the "Supreme head of the Church of England". A Treason Act was also passed that made it an offence to attempt by any means, including writing and speaking, to accuse the King and his heirs of heresy or tyranny. All subjects were ordered to take an oath accepting this. (94)
Sir Thomas More and John Fisher, Bishop of Rochester, refused to take the oath and were imprisoned in the Tower of London. More was summoned before Archbishop Thomas Cranmer and Thomas Cromwell at Lambeth Palace. More was happy to swear that the children of Anne Boleyn could succeed to the throne, but he could not declare on oath that all the previous Acts of Parliament had been valid. He could not deny the authority of the pope "without the jeoparding of my soul to perpetual damnation." (95)
Elizabeth Barton was arrested and executed for prophesying the King's death within a month if he married Anne Boleyn. (96) Henry's daughter, Mary I, also refused to take the oath as it would mean renouncing her mother, Catherine of Aragon. On hearing this news, Anne Boleyn apparently said that the "cursed bastard" should be given "a good banging". Mary was only confined to her room and it was her servants who were sent to prison.
On 15th June, 1534, it was reported to Thomas Cromwell that the Observant Friars of Richmond refused to take the oath. Two days later two carts full of friars were hanged, drawn and quartered for denying the royal supremacy. A few days later a group of Carthusian monks were executed for the same offence. "They were chained upright to stakes and left to die, without food or water, wallowing in their own filth - a slow, ghastly death that left Londoners appalled". (97) Cromwell told More that the example he was setting was resulting in other men being executed. More responded: "I do nobody harm. I say none harm, I think none harm, but wish everybody good. And if this be not enough to keep a man alive, in good faith I long not to live." (98)
In April 1535 the priors of the Carthusian houses, in Charterhouse Priory in London, Axholme Priory in North Lincolnshire and Beauvale Priory in Nottinghamshire, refused to acknowledge the King to be the Head of the Church of England. They were hanged, drawn and quartered at Tyburn on 4th May. (99)
In May 1535, Pope Paul III created Bishop John Fisher a Cardinal. This infuriated Henry VIII and he ordered him to be executed on 22nd June at the age of seventy-six. A shocked public blamed Queen Anne for his death, and it was partly for this reason that news of the stillbirth of her child was suppressed as people might have seen this as a sign of God's will. Anne herself suffered pangs of conscience on the day of Fisher's execution and attended a mass for the "repose of his soul". (100)
Henry VIII decided it was time that Thomas More was tried for treason. The trial was held in Westminster Hall. More denied that he had ever said that the King was not Head of the Church, but claimed that he had always refused to answer the question, and that silence could never constitute an act of high treason. The prosecution cited the statement that he had made to Thomas Cromwell on 3rd June, where he argued that the Act of Supremacy was like a two-edged sword in requiring a man either to swear against his conscience or to suffer death for high treason. (101)
The verdict was never in doubt and Thomas More was convicted of treason. Lord Chancellor Thomas Audley"passed sentence of death - the full sentence required by law, that More was to be hanged, cut down while still living, castrated, his entrails cut out and burned before his eyes, and then beheaded. As he was being taken back to the Tower, Margaret Roper and his son John broke through the cordon of guards to embrace him. After he had bidden them farewell, as he moved away, Margaret ran back, again broke through the cordon, and embraced him again." (102)
Henry VIII commuted the sentence to death by the headsman's axe. On the night before his execution, Thomas More sent Margaret Roper his hairshirt, so that no one should see it on the scaffold and so that she could treasure that link that was a secret between the two of them. He wrote to her saying: "I long to go to God... I never liked your manner toward me better than when you kissed me last; for I love when daughterly love, and dear charity, hath no leisure to look to worldly courtesy. Farewell, my dear child, and pray for me, and I shall for you and all your friends, that we may merrily meet in Heaven." (103)
On 6th July, 1535, Thomas More was taken to Tower Hill. More told his executioner: "You will give me this day a greater benefit than ever any mortal man can be able to give me. Pluck up thy spirits, man, and be not afraid to do thine office. My neck is very short; take heed, therefore, thou strike not awry for saving of thine honesty." (104)
Dissolution of the Monasteries
As Vicar-General, the King's deputy as Supreme Head of the Church, Thomas Cromwell attempted to persuade Church leaders to give their full support to Henry. He sent a letter to all the bishops ordering them to preach in support of the supremacy, and to ensure that the clergy in their dioceses did so as well. A week later he sent further letters to Justices of Peace ordering them to report any instances of his instructions being disobeyed. In the following month he turned his attention to the monasteries. In September 1535 he suspended the authority of every bishop in the country so that the six canon lawyers he had appointed as his agents could complete their surveys of the monasteries. (105)
Cromwell provided his agents with eighty-six questions. This included: "Whether the divine service was kept up, day and night, in the right hours?"; "Whether they (monks) kept company with women, within or without the monastery?"; "Whether they had any boys lying by them?; "Whether any of the brethren were incorrigible?" "Whether you do wear your religious habit continually, and never leave it off but when you go to bed?" (106)
The survey revealed that the total annual income of all the monasteries was about £165,500. The eleven thousand monks and nuns in this institutions also controlled about a quarter of all the cultivated land in England. The six lawyers provided detailed reports on the monasteries. According to David Starkey: "Their subsequent reports concentrated on two areas: the sexual failings of the monks, on which subject the visitors managed to combine intense disapproval with lip-smacking detail, and the false miracles and relics, of which they gave equally gloating accounts." (107)
Cromwell was shocked when the reports came back. It was claimed that William Thirsk, the abbot of Fountains Abbey was guilty of "theft and sacrilege, stealing and selling the valuables of the abbey and wasting the wood, cattle, etc of the estates". He was also claimed that he kept "six whores". The canons of Leicester Abbey were accused of homosexuality. The prior of Crutched Friars was found in bed with a woman at eleven o'clock on a Friday morning. The abbot of West Langdon Abbey was described as the "drunkenest knave living." (108)
Nuns were also criticised in these reports. The agent who visited the Lampley Nunnery claimed that "Mariana Wryte had given birth three times, and Johanna Snaden, six". At the religious house in Lichfield "two of the nuns were with child". Elizabeth Shelly, the Benedictine Abbess of St Mary's Abbey and Christabel Cowper, Benedictine Prioress of Marrick Priory, both received good reports but forty-three nunneries, more than one third of the whole, were threatened with being closed. (109)
Thomas Cromwell's first reaction to the reports was to remove the person in charge of the monastery. For example, when the prior of Winchester Cathedral Priory resigned, the visitor, Thomas Parry, suggested he should be replaced by William Basing, a monk of the house of the "better sort", as his replacement. Cromwell was aware that Basing was a reformer who "favoured the truth" and acted upon his advice.
William Thirsk, the abbot of Fountains Abbey was replaced by Marmaduke Bradley who was a "right apt man" for the post. However, Cromwell had difficulty finding enough monks committed to reform, to take over the running of the monasteries. As David Loades has pointed out: "Cromwell's policy towards religious houses underwent a subtle shift of emphasis. From trying to make sure that abbots and priors of a reforming disposition were appointed, he now began to seek for those who would make no difficulty about surrendering their responsibilities. Admittedly these were often the same men, because the task of converting obstinately conservative monks and friars not only proved uncongenial but usually impossible, and those religious of a reforming turn of mind were often the first to seek escape from the imprisonment of their orders." (110)
A Parliament was called in February 1536 to discuss these reports. Initially Henry VIII wanted the closure of monasteries to be done on an individual basis. However, Thomas Cromwell managed to persuade him that it would be better done by Act of Parliament. This would help to unite the country behind the king against the Church. The legislation stated: "the manifest sin, vicious carnal and abominable living is daily used and committed amongst the little and small abbeys, priories and other religious houses of monks canons and nuns where the congregation of such religious persons is under the number of 12 persons." (111)
When the issue was discussed in the House of Lords, the Lutherians, led by Hugh Latimer, recently appointed as the Bishop of Worcester, supported the measure to close the smaller monasteries. Latimer later recalled that when "when their enormities were first read in the parliament house, they were so great and abominable that there was nothing but down with them". (112) The Act for the Dissolution of Monasteries was passed and received royal assent on 14th April. This stated that all religious houses with an annual income of less than £200 were to be "suppressed". (113)
Three out of ten religious houses were closed by the 1536 Act. All precious metals, all altar furnishings and other high-value items such as bells and roofing lead, became the property of the Crown. Royal commissioners arranged for monks and nuns were relocated to religious houses that remained open. They also sold household goods and farm stock and installed new occupiers as Crown tenants. It has been claimed "that the prime interest of the government in the Dissolution was, from start to finish, in the money that could be raised." (114)
Monastery land was seized and sold off cheaply to nobles and merchants. They in turn sold some of the lands to smaller farmers. This process meant that a large number of people had good reason to support the monasteries being closed. Thomas Fuller, the author of The Church History of Britain: Volume IV (1845) has argued that dissolution of the monasteries was of great personal benefit to Thomas Cromwell, Lord Chancellor Thomas Audley, Solicitor-General Richard Rich and Richard Southwell. (115)
The Execution of Anne Boleyn
Unfortunately for Anne Boleyn she fell out with one of her main supporters, Thomas Cromwell. As Eric William Ives has pointed out: " The fundamental reason for this was disagreement over the assets of the monasteries: Anne's support for the redeployment of monastic resources directly contradicted Cromwell's intention to put the proceeds of the dissolution into the king's coffers. The bill dissolving the smaller monasteries had passed both houses of parliament in mid-March, but before the royal assent was given Anne launched her chaplains on a dramatic preaching campaign to modify royal policy.... Cromwell was pilloried before the whole council as an evil and greedy royal adviser from the Old Testament, and specifically identified as the queen's enemy. Nor could the minister shrug off this declaration of war, even though, in spite of Anne's efforts, the dissolution act became law." (116)
Henry VIII continued to try to produce a male heir. Anne Boleyn had two miscarriages and was pregnant again when she discovered Jane Seymour sitting on her husband's lap. Anne "burst into furious denunciation; the rage brought on a premature labour and was delivered of a dead boy." (117) What is more, the baby was badly deformed. (118) This was a serious matter because in Tudor times Christians believed that a deformed child was God's way of punishing parents for committing serious sins. Henry VIII feared that people might think that the Pope Clement VII was right when he claimed that God was angry because Henry had divorced Catherine and married Anne.
Henry now approached Thomas Cromwell about how he could get out of his marriage with Anne. He suggested that one solution to this problem was to claim that he was not the father of this deformed child. On the king's instruction Cromwell was ordered to find out the name of the man who was the true father of the dead child. Philippa Jones has pointed out: "Cromwell was careful that the charge should stipulate that Anne Boleyn had only been unfaithful to the King after the Princess Elizabeth's birth in 1533. Henry wanted Elizabeth to be acknowledged as his daughter, but at the same time he wanted her removed from any future claim to the succession." (119)
In April 1536, a Flemish musician in Anne's service named Mark Smeaton was arrested. He initially denied being the Queen's lover but later confessed, perhaps tortured or promised freedom. Another courtier, Henry Norris, was arrested on 1st May. Sir Francis Weston was arrested two days later on the same charge, as was William Brereton, a Groom of the King's Privy Chamber. Anne's brother, George Boleyn was also arrested and charged with incest. (120)
Anne Boleyn was arrested and was taken to the Tower of London on 2nd May, 1536. Four of the accused men were tried in Westminster ten days later. Smeaton pleaded guilty but Weston, Brereton, and Norris maintained their innocence Three days later, Anne and George Boleyn were tried separately in the Tower of London. She was accused of enticing five men to have illicit relations with her. Adultery committed by a queen was considered to be an act of high treason because it had implications for the succession to the throne. All were found guilty and condemned to death. The men were executed on 17th May.
Archbishop Thomas Cranmer declared Anne's marriage to Henry null and void on 17th May 1536, and according to the imperial ambassador, Eustace Chapuys, the grounds for the annulment included the king's previous relationship with Mary Boleyn. However, this information has never been confirmed. (121)
Anne went to the scaffold at Tower Green on 19th May, 1536. The Lieutenant of the Tower reported her as alternately weeping and laughing. The Lieutenant assured her she would feel no pain, and she accepted his assurance. "I have a little neck," she said, and putting her hand round it, she shrieked with laughter. The "hangman of Calais" had been brought from France at a cost of £24 since he was a expert with a sword. This was a favour to the victim since a sword was usually more efficient than "an axe that could sometimes mean a hideously long-drawn-out affair." (122)
Anne Boyleyn's last words were: "Good Christian people... according to the law I am judged to die, and therefore I will speak nothing against it... I pray God save the King, and send him long to reign over you... for to me he was always a good, a gentle, and sovereign Lord." (123)
When her mother was executed Elizabeth was only three years old. Patrick Collinson has argued: "Elizabeth can have had few memories of her mother... There is no profit in speculating about the psychological damage which Anne's terrible end might have had on her daughter, although many of Elizabeth's biographers have found significance in the fact that she never in adult life invoked or otherwise referred to her mother." (124)
Antonia Fraser, the author of The Six Wives of Henry VIII (1992) has pointed out: "Jane Seymour was exactly the kind of female praised by the contemporary handbooks to correct conduct; just as Anne Boleyn had been the sort they warned against. There was certainly no threatening sexuality about her. Nor is it necessary to believe that her virtue was in some way hypocritically assumed, in order to intrigue the King. On the contrary, Jane Seymour was simply fulfilling the expectations for a female of her time and class; it was Anne Boleyn who was - or rather who had been - the fascinating outsider." (125)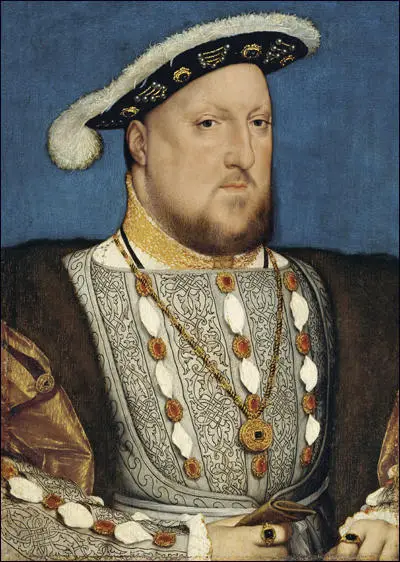 Archbishop Thomas Cranmer issued a dispensation from prohibitions of affinity for Jane Seymour to marry Henry the day of Anne's execution, because they were fifth cousins. The couple were betrothed the following day, and a private marriage took place on 30th May 1536. Coming as it did after the death of Catherine of Aragon and the execution of Anne Boleyn, there could be no doubt of the lawfulness of Henry's marriage to Jane. The new queen was introduced at court in June. "No coronation followed the wedding, and plans for an autumn coronation were laid aside because of an outbreak of plague at Westminster; Jane's pregnancy undoubtedly eliminated any possibility of a later coronation." (126)
Historians have claimed that Jane Seymour treated Henry's first daughter, Mary, with respect. "One of Jane's first requests of the King was that Mary be allowed to attend her, which Henry was pleased to allow. Mary was chosen to sit at the table opposite the King and Queen and to hand Jane her napkin at meals when she washed her hands. For one who had been banished to sit with the servants at Hatfield, this was an obvious sign of her restoration to the King's good graces. Jane was often seen walking hand-in-hand with Mary, making sure that they passed through the door together, a public acknowledgement that Mary was back in favour." (127) In August, 1536 Ambassador Eustace Chapuys reported to King Charles V that "the treatment of the princess Mary is every day improving. She never did enjoy such liberty as she does now." (128)
Jane Seymour gave birth to a boy on 12th October 1537 after a difficult labour that lasted two days and three nights. The child was named Edward, after his great-grandfather and because it was the eve of the Feast of St Edward. It was said that the King wept as he took the baby son in his arms. At the age of forty-six, he had achieved his dream. "God had spoken and blessed this marriage with an heir male, nearly thirty years after he had first embarked on matrimony." (129)
Edward was christened when he was three days old, and both his sisters played a part in this important occasion. In the great procession which took the baby from the mother's bed-chamber to the chapel, Elizabeth carried the chrisom, the cloth in which the child was received after his immersion in the font. As she was only four years old, she herself was carried by the Queen's brother, Edward Seymour, the Earl of Hertford. Jane was well enough to receive guests after the christening. Edward was proclaimed prince of Wales, duke of Cornwall, and earl of Carnarvon.
On 17th October 1537 Jane Seymour became very ill. Most historians have assumed that she developed puerperal fever, something for which there was no effective treatment, though at the time the queen's attendants were blamed for allowing her to eat unsuitable food and to take cold. An alternative medical opinion suggests that Jane died because of retention of parts of the placenta in her uterus. That condition could have led to a haemorrhage several days after delivery of the child. What is certain is that septicaemia developed, and she became delirious. Jane died just before midnight on 24th October, aged twenty-eight. (130)
Catherine Parr and the English Reformation
Catherine Parr, the daughter of Sir Thomas Parr and Maud Green, was born in 1512. Her father was a popular courtier of Henry VIII and her mother had been lady-in-waiting to the queen, Catherine of Aragon (Catherine was named after the queen).
Catherine's father died in London of the plague on 11th November 1517. In his will he left £800 to be divided between his two daughters as marriage portions. Maud was only 25 years-old at the time and was a highly desirable bride, but she did not remarry and devoted herself to the upbringing of her children. (131)
Susan E. James has pointed out: "Maud Parr was an independent, capable, and unusually articulate woman, who in the years after her husband's death managed the family estates, oversaw her children's education... and set an example of female independence that was to have a lifelong effect on her elder daughter." (132)
Catherine's educational programme was organized along the lines devised by Sir Thomas More for his own children. She was taught French, Latin, and Italian and a wide range of social skills that included "a knowledge of etiquette and good manners, an easy conversational style, the ability to sing and play music and, above all, the polish that made a gentleman or gentlewoman". (133)
Maud Parr worked hard on finding Catherine a well-connected husband. In 1523, when Catherine was only eleven, she tried but failed to arrange a marriage with Lord Dacre's grandson. In 1529, when she was seventeen, Catherine married Sir Edward Borough, the son of Thomas Borough, chamberlain to Queen Anne Boleyn. (134) Her first husband was in poor health and died in 1533. The relationship was childless. (135)
Catherine's mother had died two years previously so at the age of twenty-one she was an orphan as well as being a widow. In 1534 she married John Neville, 3rd Baron Latimer. Aged forty-one, Latimer had been married twice before and had two young children. Lord Latimer died on 2nd March 1543. Catherine, still childless, secured a position in the household of Princess Mary. (136) Mary's father, Henry VIII, had been married five times, and his latest wife, Catherine Howard, had been beheaded for infidelity the previous year.
After the death of her second husband, Catherine fell in love with Thomas Seymour, the brother of Queen Jane Seymour and Edward Seymour. It has been pointed out by David Starkey, the author of Six Wives: The Queens of Henry VIII (2003): "Edward Seymour was dashing and rather dangerous. That Catherine found him so attractive suggests hidden emotional depths. Or rather, perhaps, very human shallows after a lifetime of doing what she ought, as a daughter and a wife, a little of what she fancied might have seemed irresistibly appealing." (137)
It would seem that Catherine was on the verge of marrying Seymour when she met Henry VIII. He was immediately attracted to Catherine. Susan E. James has argued: "Print and film alike have represented Catherine as an ageing, plain-faced, pious widow with few attractions, selected by the king for her talents as a nurse. This is a misleading image that does not hold up beneath the weight of contemporary evidence. She was of medium height, with red hair and grey eyes. She had a lively personality, was a witty conversationalist with a deep interest in the arts, and an erudite scholar who read Petrarch and Erasmus for enjoyment. She was a graceful dancer, who loved fine clothes and jewels, particularly diamonds, and favoured the colour crimson in her gowns and household livery. Catherine also conveyed a sense of her own value, independent of the marital relationship, which was rare for a woman of this period." (138)
Henry asked Catherine to become his sixth wife. She was in a difficult position. Although she was deeply in love with Thomas Seymour, it was made clear to her, that her reluctance to accept the king as her husband was to defy God's will. Catherine wrote to Seymour "my mind was fully bent the other time I was at liberty to marry you before any man I know". However she decided to marry Henry. Jane Dunn, the author of Elizabeth & Mary (2003) has pointed out: "In marrying the King rather than this love, Catherine Parr had sacrificed her heart for the sake of duty." (139) It has also been suggested that Catherine accepted his proposal for religious reasons: "She was marrying Henry at God's command and for His purpose. And that purpose was no less than to compete the conversion of England to Reform." (140)
Catherine Parr married Henry VIII on 12th July, 1543, at Hampton Court with eighteen people in attendance. A few days later, the King and Queen left on what turned out to be a protracted honeymoon that kept them away from London for the rest of the year. First they travelled into Surrey to visit some of Henry's favourite hunting parks at Oatlands, Woking, Guildford and Sunninghill. They spent several months at Ampthill Castle, the former home of Thomas Wolsey. The plague was particularly virulent in London that summer and autumn and they did not return to the capital until December.
Catherine inherited three step-children, Mary (27), Elizabeth (9) and Edward (6). Queen Catherine became an excellent step-mother. Antonia Fraser, the author of The Six Wives of Henry VIII (1992) points out: "It is greatly to her credit that she managed to establish excellent loving relations with all three of her step-children, despite their very different needs and ages (the Lady Mary was twenty-one years older than Prince Edward). Of course she did not literally install them under one roof: that is to misunderstand the nature of sixteenth-century life when separate households were more to do with status than inclination. At the same time, the royal children were now all together on certain occasions, under the auspices of their stepmother... But the real point was that Catherine was considered by the King - and the court - to be in charge of them, an emotional responsibility rather than a physical one." (141)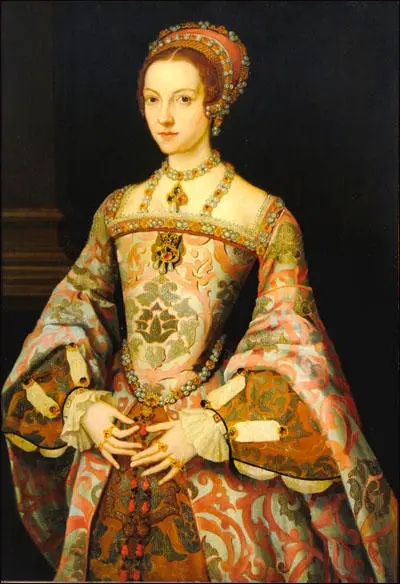 Elizabeth did not see very much of her father. On 31st July 1544, she wrote to Catherine asking if she could spend time with the royal couple at Hampton Court. "Inimical fortune, envious of all good and ever revolving human affairs, has deprived me for a whole year of your most illustrious presence, and, not thus content, has yet again robbed me of the same good; which thing would be intolerable to me, did I not hope to enjoy it very soon. And in this my exile I well know that the clemency of your Highness has had as much care and solicitude for my health as the King's Majesty himself. By which thing I am not only bound to serve you, but also to revere you with filial love, since I understand that your most illustrious Highness has not forgotten me every time you have written to the King's Majesty, which, indeed, it was my duty to have requested from you. For heretofore I have not dared to write to him. Wherefore I now humbly pray your most excellent Highness, that, when you write to his Majesty, you will condescend to recommend me to him, praying ever for his sweet benediction, and similarly entreating our Lord God to send him best success, and the obtaining of victory over his enemies, so that your Highness and I may, as soon as possible, rejoice together with him on his happy return. No less pray I God that he would preserve your most illustrious Highness; to whose grace, humbly kissing your hands, I offer and recommend myself." (142)
During the summer of 1544 Henry VIII led a military expedition to France. "During his absence Henry appointed his queen regent-general, together with a regency council dominated by the queen's fellow religionists.... This assumption of power, not merely by a woman but by a woman who only a year before had been a Yorkshire housewife, made the queen enemies, particularly among the religious conservatives who resented her evangelical beliefs." (143) While he was away Catherine wrote him several letters about events at home. According to Antonia Fraser they were "remarkably well-written." (144) Catherine took this opportunity to bring Princess Elizabeth back to court. From the middle of July until the middle of September she kept the royal children with her at Hampton Court.
Henry VIII formed an alliance with Charles V. In 1545 a treaty between the two kings included the proposal that Prince Edward marry Charles V's daughter, Maria and that Mary would marry Charles V himself. Elizabeth's future was also discussed and it was suggested that she should marry Charles V's son and heir, Philip of Spain, although that failed to go beyond the initial stages of negotiation. It is claimed that during discussions "Charles was polite, but not encouraging." (145)
Henry, who was in poor health (although it was treason to say so), had agreed a new Act of Succession that stated that in the case of his death the throne would pass to his son Edward and his heirs, but, if Edward died without children, Princess Mary would succeed to the throne. If she, too, died without heirs, the throne would pass to Princess Elizabeth. He excluded his elder sister, Margaret Tudor (she had died in 1541) and her heirs, who were the royal family of Scotland. This included her granddaughter, Mary Stuart.
Catherine Parr wrote several small books on religious matters. It has been pointed out that Catherine was one of only eight women who had books published in the sixty-odd years of the reigns of Henry VII and Henry VIII. These books showed that she was an advocate of Protestantism. In the book, The Lamentation of a Sinner Catherine describes Henry as being "godly and learned" and being "our Moses" who "hath delivered us out of the captivity and bondage of Pharaoh (Rome)"; while the "Bishop of Rome" is denounced for "his tyranny".
As David Loades, the author of has pointed out, The Six Wives of Henry VIII (2007): "The Queen meanwhile continued to discuss theology, piety and the right use the bible, both with her friends and also with her husband. This was a practice, which she had established in the early days of their marriage, and Henry had always allowed her a great deal of latitude, tolerating from her, it was said, opinions which no one else dared to utter. In taking advantage of this indulgence to urge further measures of reform, she presented her enemies with an opening." (146)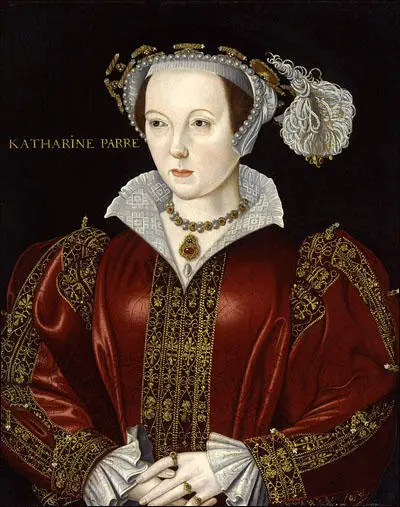 Catherine also criticised legislation that had been passed in May 1543 that had declared that the "lower sort" did not benefit from studying the Bible in English. The Act for the Advancement of the True Religion stated that "no women nor artificers, journeymen, serving men of the degree of yeomen or under husbandmen nor labourers" could in future read the Bible "privately or openly". Later, a clause was added that did allow any noble or gentlewoman to read the Bible, this activity must take place "to themselves alone and not to others". Catherine ignored this "by holding study among her ladies for the scriptures and listening to sermons of an evangelical nature". (147)
In July 1544 Catherine Parr arranged for John Cheke to become tutor to Prince Edward. (148) John Guy has argued the "reformed cause" was revived at Court after Henry VIII married his sixth wife: "Catherine used her influence to mitigate the Act of Six Articles in several cases. Her immediate circle was centred on the royal nursery, where John Cheke, Richard Cox, Anthony Cooke, and other 'reforming' humanists were appointed tutors to Prince Edward and Princess Elizabeth." (149) It has been suggested that Cheke was an humanist scholar in the tradition of Desiderius Erasmus but it was possible that he was a supporter of Martin Luther and this could explain Edward's support for religious reform. (150) Cheke also arranged for Princess Elizabeth to be taught by William Grindal and Roger Ascham. (151)
In February 1546 conservatives, led by Stephen Gardiner, bishop of Winchester, began plotting to destroy Catherine. Bishop Gardiner had established a reputation for himself at home and abroad as a defender of orthodoxy against the Reformation. (152) On 24th May, Gardiner ordered the arrest of Anne Askew and Sir Anthony Kingston, the Constable of the Tower of London, was ordered to torture Askew in an attempt to force her to name Catherine and other leading Protestants.
The Lord Chancellor Thomas Wriothesley and his assistant, Richard Rich took over operating the rack, after Kingston complained about having to torture a woman. Despite suffering a long period on the rack, Askew refused to name those who shared her religious views. According to Askew: "Then they did put me on the rack, because I confessed no ladies or gentlemen, to be of my opinion... the Lord Chancellor and Master Rich took pains to rack me with their own hands, till I was nearly dead. I fainted... and then they recovered me again. After that I sat two long hours arguing with the Lord Chancellor, upon the bare floor... With many flattering words, he tried to persuade me to leave my opinion... I said that I would rather die than break my faith." (153) On 16th July, 1546, Askew "still horribly crippled by her tortures but without recantation, was burnt for heresy". (154)
Bishop Stephen Gardiner had a meeting with Henry VIII and raised concerns about Catherine's religious beliefs. Henry, who was in great pain with his ulcerated leg and at first he was not interested in Gardiner's complaints. However, eventually Gardiner got Henry's agreement to arrest Catherine and her three leading ladies-in-waiting, "Herbert, Lane and Tyrwhit" who had been involved in reading and discussing the Bible. (155)
David Loades has explained that "the greatest secrecy was observed, and the unsuspecting Queen continued with her evangelical sessions". However, the whole plot was leaked in mysterious circumstances. "A copy of the articles, with the King's signature on it, was accidentally dropped by a member of the council, where it was found and brought to Catherine, who promptly collapsed. The King sent one of his physicians, a Dr Wendy, to attend upon her, and Wendy, who seems to have been in the secret, advised her to throw herself upon Henry's mercy." (156)
Catherine told Henry that "in this, and all other cases, to your Majesty's wisdom, as my only anchor, Supreme Head and Governor here in earth, next under God". He reminded her that in the past she had discussed these matters. "Catherine had an answer for that too. She had disputed with Henry in religion, she said, principally to divert his mind from the pain of his leg but also to profit from her husband's own excellent learning as displayed in his replies." (157) Henry replied: "Is it even so, sweetheart? And tended your arguments to no worse end? Then perfect friends we are now again, as ever at any time heretofore." (158) Gilbert Burnett has argued that Henry put up with Catherine's radical views on religion because of the good care she took of him as his nurse. (159)
The next day Chancellor Thomas Wriothesley arrived with a detachment of soldiers to arrest Catherine. Henry told him he had changed his mind and sent the men away. Glyn Redworth, the author of In Defence of the Church Catholic: The Life of Stephen Gardiner (1990) has disputed this story because it relies too much on the evidence of John Foxe, a leading Protestant at the time. (160). However, David Starkey, the author of Six Wives: The Queens of Henry VIII (2003) has argued that some historians "have been impressed by the wealth of accurate circumstantial detail, including, in particular, the names of Catherine's women." (161)
Henry's health continued to cause concern. Dr. George Owen, the royal physician, who was paid £100 a year to treat the king, told the Privy Council in December, 1546, that he was dying. The Privy Council, now under the control of religious radicals such as John Dudley, Edward Seymour and Thomas Seymour decided to keep the news secret. On 24th December, Catherine took Mary and Elizabeth to stay at Greenwich Palace for the holidays. On their return they were told that Henry was too ill to see them. (162)
Henry VIII died on 28th January, 1547. The following day Edward and his thirteen year-old sister, Elizabeth, were informed that their father had died. According to one source, "Edward and his sister clung to each other, sobbing". Edward VI's coronation took place on Sunday 20th February. "Walking beneath a canopy of crimson silk and cloth of gold topped by silver bells, the boy-king wore a crimson satin robe trimmed with gold silk lace costing £118 16s. 8d. and a pair of 'Sabatons' of cloth of gold." (163)
Edward was only nine years old and was too young to rule. In his will, Henry had nominated a Council of Regency, made up of 16 nobles and churchman to assist him in governing his new realm. His uncle, Edward Seymour, Duke of Somerset, emerged as the leading figure in the government and was given the title Lord Protector. He was now arguably the most influential person in the land. (164)
His brother, Thomas Seymour, although he was in his late thirties, proposed to the Council that he should marry the 13-year-old, Elizabeth, but he was told this was unacceptable. He now set his sights on Catherine Parr. At the time he was described as "being gifted with charm and intelligence... and a handsome appearance". (165) Just a few weeks after Henry's death Catherine wrote to Seymour: "I would not have you think that this mine honest good will toward you to proceed from any sudden motion of passion; for, as truly as God is God, my mind was fully bent, the other time I was at liberty, to marry you before any man I know. Howbeit, God withstood my will therein most vehemently for a time, and... made that possible which seemed to me most impossible." (166)
The historian, Elizabeth Jenkins, believes that the "Queen Dowager, released from the sufferings of her marriage to Henry VIII, behaved like an enamoured girl." (167) Seymour wanted to marry Parr but realised the Council would reject his proposal, as it would be pointed out that if she became pregnant, there would have been uncertainty about whether the child was Seymour's or Henry's. (168) Seymour married Parr in secret in about May 1547.
Seymour visited Parr in her home in Chelsea before the news of their marriage was announced. This created extra problems as Elizabeth and Lady Jane Grey were also living with Parr at this time. (169) It has been pointed out that "Elizabeth was still only thirteen when her stepmother, of whom she was most fond, married for love. The young Princess remained in her care, living principally with her at her dower houses at Chelsea and Hanworth. Ever curious and watchful, Elizabeth could not fail to have noted the effects of the sudden transformation in Catherine Parr's life. From patient, pious consort of an ailing elderly king she had been transmuted into a lover, desired and desiring." (170) Parr also appointed Miles Coverdale as her almoner. (171)
Catherine Parr, who was now thirty-five, became pregnant. Although she had been married three times before, it was her first pregnancy. It came as a great shock as Catherine was assumed to be "barren". (172) Thomas Seymour now began paying more attention to Elizabeth. Katherine Ashley, Elizabeth's governess, later recorded: "Seymour... would come many mornings into the Lady Elizabeth's chamber, before she were ready, and sometimes before she did rise. And if she were up, he would bid her good morrow, and ask how she did, and strike her upon the back or on the buttocks familiarly, and so go forth through his lodgings; and sometime go through to the maidens and play with them, and so go forth... If Lady Elizabeth was in bed, he would... make as though he would come at her. And he would go further into the bed, so that he could not come at her." On one occasion Ashley saw Seymour try to kiss her while she was in bed and the governess told him to "go away for shame". Seymour became more bold and would come up every morning in his nightgown, "barelegged in his slippers". (173)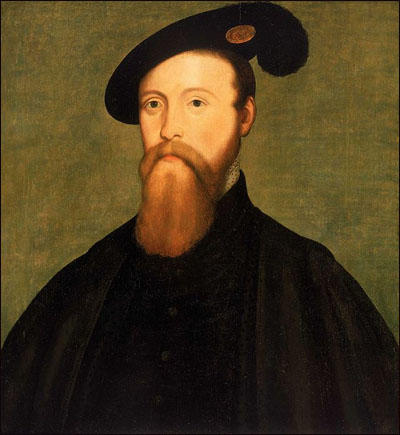 According to Elizabeth Jenkins, the author of Elizabeth the Great (1958): "Queen Dowager took to coming with her husband on his morning visits and one morning they both tickled the Princess as she lay in her bed. In the garden one day there was some startling horse-play, in which Seymour indulged in a practice often heard of in police courts; the Queen Dowager held Elizabeth so that she could not run away, while Seymour cut her black cloth gown into a hundred pieces. The cowering under bedclothes, the struggling and running away culminated in a scene of classical nightmare, that of helplessness in the power of a smiling ogre... The Queen Dowager, who was undergoing an uncomfortable pregnancy, could not bring herself to make her husband angry by protesting about his conduct, but she began to realize that he and Elizabeth were very often together." (174)
Jane Dunn has controversially argued that Elizabeth was a willing victim in these events: "Although not legally her step-father, Thomas Seymour assumed his role as head of the household and with his manly demeanour and exuberant animal spirits he became for the young Princess a charismatic figure of attraction and respect. Some twenty-five years her senior, Seymour in fact was old enough to be her father and the glamour of his varied heroic exploits in war and diplomatic dealings brought a welcome worldly masculinity into Elizabeth's cloistered female-dominated life.... Elizabeth was also attractive in her own right, tall with fair reddish-gold hair, fine pale skin and the incongruously dark eyes of her mother, alive with unmistakable intelligence and spirit. She was young, emotionally inexperienced and understandably hungry for recognition and love. She easily became a willing if uneasy partner in the verbal and then physical high jinks in the newly sexualised Parr-Seymour household." (175)
Anna Whitelock, the author Elizabeth's Bedfellows: An Intimate History of the Queen's Court (2013) dismisses this idea but admits that it is not easy understanding Catherine Parr's motivation in these events. "On two mornings, at Hanworth in Middlesex, another of Catherine's residences, the queen dowager herself joined Seymour in his visit to Elizabeth's Bedchamber and on this occasion they both tickled the young princess in her bed. Later that day, in the garden, Seymour cut Elizabeth's dress into a hundred pieces while Catherine held her down. The involvement of Catherine here is even more puzzling than that of the others. She had fallen pregnant soon after the marriage, so perhaps this made her jealousy more intense and her behaviour more reckless; maybe she was seeking to maintain Seymour's affection and interest in her by joining in his 'horseplay'. Perhaps she feared that Elizabeth was developing something of a teenage infatuation with her stepfather." (176)
Sir Thomas Parry, the head of Elizabeth's household, later testified that Thomas Seymour loved Elizabeth and had done so for a long time and that Catherine Parr was jealous of the fact. In May 1548 Catherine "came suddenly upon them, where they were all alone, he having her (Elizabeth) in his arms, wherefore the Queen fell out, both with the Lord Admiral and with her Grace also... and as I remember, this was the cause why she was sent from the Queen." (177) Later that month Elizabeth was sent away to stay with Sir Anthony Denny and his wife, at Cheshunt. It has been suggested that this was done not as punishment but as a means of protecting the young girl. Philippa Jones, the author of Elizabeth: Virgin Queen (2010) has suggested that Elizabeth was pregnant with Seymour's child. (178)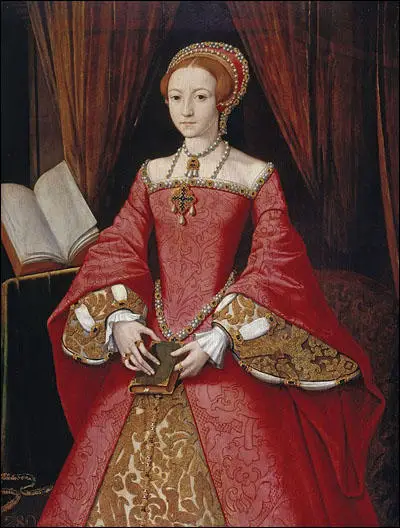 Elizabeth wrote to Catherine soon after she left her home: "Although I could not be plentiful in giving thanks for the manifold kindness received at your highness' hand at my departure, yet I am something to be borne withal, for truly I was replete with sorrow to depart from your highness, especially leaving you undoubtful of health. And albeit I answered little, I weighed it more deeper when you said you would warn me of all evils that you should hear of me; for if your grace had not a good opinion of me, you would not have offered friendship to me that way that all men judge the contrary. But what may I more say than thank God for providing such friends to me, desiring God to enrich me with their long life, and me grace to be in heart no less thankful to receive it than I now am glad in writing to show it. And although I have plenty of matter, here I will stay for I know you are not quiet to read." (179)
Catherine Parr gave birth to a daughter named Mary on 30th August 1548. After the birth, Catherine developed puerperal fever. Her delirium took a painful form of paranoid ravings about her husband and others around her. Catherine accused the people around her of standing "laughing at my grief". She told the women attending her that her husband did not love her. Thomas Seymour held her hand and replied "sweetheart, I would do you no hurt". Seymour is reported to have lain down beside her, but Catherine asked him to leave because she wanted to have a proper talk with the physician who attended her delivery, but dared not for fear of displeasing him. (180)
The fever eventually went and she was able to dictate her will calmly, revealing that Thomas Seymour was the "great love of her life". Queen Catherine, "sick of body but of good mind", left everything to Seymour, only wishing her possessions "to be a thousand times more in value" than they were. Catherine, thirty-six years old, died on 5th September 1548, six days after the birth of her daughter. (181)