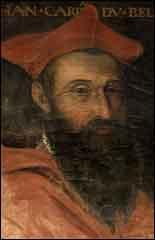 Jean Du Bellay, the second son of Louis Du Bellay and Marguerite de la Tour-Landry, was born at Glatigny, in 1498. As a young man he studied at the University of Angers, the Collège de Navarre, and the University of Orléans, where he studied law. (1)
In 1526 he was appointed Bishop of Bayonne. Like many of his fellow bishops, he did not reside in his diocese, but merely drew its revenues while living at court. In November 1527 he became the French ambassador in London. He reported on the state of the royal marriage and in the autumn of 1528 he claimed that Henry VIII spent the night with Catherine of Aragon in a room where they "only had one bed". (2) However, in December 1528 he wrote about Henry's relationship with his new mistress, Anne Boleyn. (3)
During this period Jean du Bellay was an important source of information on senior figures in the government such as Cardinal Thomas Wolsey. He enjoyed a good relationship with Henry VIII and they often went hunting together. (4) He also became close to Anne Boleyn and she gave him "numerous presents, including hunting clothes, and a hat, a special horn and a greyhound". (5)
Du Bellay close relationship with the couple enabled him to report to King François I that Henry was so infatuated with Anne that only God "could abate his madness". (6) Du Bellay also pointed out that Boleyn was not popular with Henry's subjects: "The people remain quite hardened (against Boleyn) and I think they would do more if they had more power." (7)
According to his biographer, Robert Knecht, Jean du Bellay's main objective was to prevent Henry VIII from breaking with Rome. (8) Henry asked Du Bellay to help him to persuade Pope Clement VII to allow him to divorce Catherine of Aragon. "Wolsey and the King appeared to desire very much that I should go over to France to get the opinions of learned men there on the Divorce." (9)
On 25th January, 1529, Jean du Bellay told King François that Cardinal Thomas Wolsey "is in grave difficulty, for the affair has gone so far that, if it do not take effect, the King his master will blame him for it, and terminally". Du Bellay also suggested that Anne Boleyn was plotting against Wolsey who was in dispute with Sir Thomas Cheney. He pointed out that Cheney "had given offence" to Wolsey "within the last few days, and, for that reason, had been expelled from the Court." However, "the young lady (Boleyn) has put Cheney in again." (10)
As David Starkey has pointed out: "Hitherto, whatever Anne may have thought about Wolsey in private, her public dealings with him had been correct, even warm. Now she had broken with him with deliberate, public ostentation. It can only have been because she had decided that his initiatives in Rome were doomed to failure... For the King, formally at least, was giving his full backing to his minister. Who would be proved right: the mistress or the minister? And where would that leave Henry?" (11)
In May 1529 Jean du Bellay reported that Queen Catherine of Aragon had the support of the majority of women living in England at the time. "If the matter were to be decided by women, he (Henry VIII) would lose the battle, for they did not fail to encourage the queen (Catherine of Aragon) at her entrance and departure by their cries, telling her to care for nothing, and other such words." (12) Bishop Stephen Gardiner now seemed to be Henry VIII's main adviser. Du Bellay commented that he had the talent to become another Wolsey. (13)
Jean du Bellay and Anne Boleyn
He supported his divorce from Catherine and appeared to be sympathetic to the evangelical cause. His biographer argued: "In August 1530 Jean Du Bellay returned to London, remaining there until September, when he hastily went back to France. The reports which he sent back to the French king or his chief minister are an invaluable source of information on Wolsey and Henry VIII's divorce. Meanwhile, a group of theologians of the University of Paris, who had opposed the divorce, spread a false rumour to the effect that Du Bellay had been charged with heresy by the parlement of Paris. Although the rumour was shown to be false, Du Bellay insisted on his name being cleared." (14)
According to Jasper Ridley, the author of Henry VIII (1984), in the summer of 1532, Henry VIII "paid great attention to the French ambassador, Jean du Bellay.... and arranged for him to see a great deal of Anne Boleyn." Henry invited Du Bellay to go on his tours of the country and they spent a whole day hunting together at Ampthill in July. "Henry left Anne and Du Bellay in a place where they could shoot together with their crossbows at the deer as Henry and the huntsmen drove them past." (15)
In September 1532 Jean du Bellay became Bishop of Paris, and as such accompanied King François I to his meeting with Henry VIII at Boulogne. The following year he accompanied François to Marseilles for his meeting with Pope Clement VII. Du Bellay failed in his attempts to have Henry VIII's excommunication deferred for six months. In November 1533 he was accused of neglecting to prosecute heretics in France.
Jean du Bellay now became a much more active opponent of religious reform and he was rewarded in May 1535 by being created a cardinal by Pope Paul III. In July 1536, following the outbreak of war he took charge of the defence of Paris as the king's lieutenant-general in the capital. In September 1544 he was a plenipotentiary appointed to make peace with England. He kept his place in the king's council after the accession of King Henri II in March 1547. (16)
Jean du Bellay died in Rome on 16th February 1560.

in the summer of 1532, Henry paid great attention to the French ambassador, Jean du Bellay, the Bishop of Bayonne, and arranged for him to see a great deal of Anne Boleyn. He invited Du Bellay to accompany him on his progress, and Henry, Anne and Du Bellay spent a whole day hunting together at Ampthill in July. Henry left Anne and Du Bellay in a place where they could shoot together with their crossbows at the deer as Henry and the huntsmen drove them past.

The French ambassador in England, Jean du Bellay, enjoyed a warm relationship not only with King Henry, but also with the Lady Anne. It was partly on the basis of his master's notional approval, partly because du Bellay expressed these sympathies personally: a friendly French presence at court, where Chapuys was a hostile imperialist one. In his despatches du Bellay boasted of his intimacy, how he was taken hunting by the English King and "Madame Anne", often finding himself quite alone with King Henry, listening to him discussing his affairs.

Then Madame Anne had given him numerous presents, including hunting clothes, and a hat, a special horn and a greyhound: they would be found side by side, each one with an attendant bowman, waiting for the deer to be driven past. Sometimes it would turn out that du Bellay would be alone not so much with the King as with Madame Anne. His master might wonder at such closeness - was it proper for his ambassador to be 'tant aime des dames' (so beloved by the ladies)? - but King Frangois need have no fears. All this was merely to express the growing friendship King Henry felt for him. As for Madame Anne, everything she does "is entirely by the commandment of the said King" (a significant comment from an observant man who knew both King and Lady well).

It was du Bellay who had the delicate task of getting King François actually to request the presence of Madame Anne at the impending celebrations so that he could both see her and "la festoyer" (entertain her). Nothing would give his brother King greater pleasure, wrote du Bellay, than if this should seem to be King François' own idea, and after all two such gallant sovereigns would not wish to be together "without company of ladies". The task was delicate, not only because of Madame Anne's status - what exactly was it, if it was not that of the King's wife, which it clearly was not, but also because the new Queen of France was the niece of Queen Catherine.