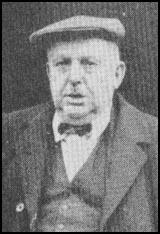 Herbert Smith was born in the workhouse at Great Preston, Kippax, in Yorkshire, on 17th July 1862. His father had been killed in a mining accident a few days earlier and his mother died shortly afterwards. (1) He remained at the workhouse until he was adopted by a childless couple, Samuel Smith, also a miner, and his wife, Charlotte Smith. (2)
At ten years of age he started work in the mine at Glass Houghton. He became active in the union. Smith was also a talented boxer and was "a title-holding prize fighter during his youth in the Yorkshire coalfields". (3)
At a conference on 26th November 1889, Herbert Smith, Keir Hardie, Thomas Burt, Ben Pickard, Sam Woods, Thomas Ashton and Enoch Edwards formed the Miners' Federation of Great Britain (MFGB). Officers elected included Pickard (president), Woods (vice-president), Edwards (treasurer) and Ashton (secretary). It initially had 36,000 members. (4)
In 1894 Herbert Smith was chosen as checkweighman by the miners, and as a delegate to the Yorkshire Miners' Association. In 1897 Smith joined the Independent Labour Party and in 1902 he was appointed to the joint board of the South and West Yorkshire Coalowners and Workmen. He became president of the Yorkshire Miners' Association in 1906. Smith stood unsuccessfully as a Labour Party candidate at the general election in January 1910. (5)
Herbert Smith, the President of the M.F.G.B. since 1921, was temperamentally and politically the antithesis of Cook. Where Cook was emotional and voluble, Smith was dour and short of words. He was an old-style union leader, used to dominating the miners in Yorkshire. Like Cook, he played up to his public image: he always wore a cloth cap to emphasize that he was a plain pitman, and he used language to match. He was caricatured in the press as never saying anything except 'nowt doing', but this was a gross exaggeration, although he certainly believed in blunt speaking. He was deeply concerned about safety in the pits and improving the lot of the miners... His approach was always pragmatic and he had a contempt for theorizing, but he was intensely class-conscious and aggressively ready to fight for his members...

Relations between Smith and Cook were not always harmonious; neither of them really trusted the other's judgement, but each could respect that the other was dedicated to serving the miners. Neither of them was a very good negotiator: Cook was too excitable, and Smith perhaps a little too defensive in his tactics.
The relationship between Cook and Smith is not easy to establish. After a wary start the two seem to have developed a mutual respect during their many hours of shared stress. By the middle of the lock-out, however, they seem to have drifted on to different. wavelengths. Undoubtedly Cook felt Smith's obstinacy to be impractical and damaging. Smith, however, as MFGB President, was the Federation's chief spokesman, and Cook could not officially or openly dissociate himself from Smith's position. The MFGB special conference had granted the officials unfettered negotiating power, but Smith seems to have grown more stubborn as the miners' bargaining position worsened. One may admire his spirit, but not his wisdom. It is likely that by this time Smith reflected a minority view within the Federation Executive, but as President his position was unchallengeable, and there was no public dissent at his inflexibility. Cook, meanwhile, had embraced a conciliatory, face-saving position: he was only too aware of the drift back to work in some areas; he saw the deteriorating condition of many miners and their families.
(29) The Samuel Report (11th March, 1926)
(31) Arthur J. Cook, speech (12th March, 1926)
(34) Kingsley Martin, diary entry (26th April, 1926)
(39) Ramsay MacDonald, diary entry (3rd May, 1926)
(41) The Times (17th June, 1938)
(53) John Reith, diary entry (10th May, 1926)
(56) Stanley Baldwin, BBC broadcast (8th May, 1926)
(71) A. J. Cook, The Miner (28th August, 1926)
(74) Beatrice Webb, diary entry (August, 1926)
(81) The Times (13th May, 1926)
(83) A. J. Cook, statement (28th November, 1926)