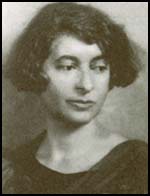 Anna Strunsky, the daughter of Elias Strunsky, a successful businessman, was born in Russia on 21st March, 1879. Her mother, Anna Horowitz Strunsky, had married her husband when she was only sixteen-years-old. Anna later recalled: "The only recollection of Russia for me was of a long village street and barefoot children and rambling hovels. I remembered myself a little child standing in a patch of sunlight and poking my fingers into a wall and finding it soft as sand." (1)
In 1885 the Strunsky family emigrated to the United States: "The Strunskys came to America carrying little beyond the family feather-beds and copperware. Like other hundreds of thousands, they made their first home on New York's Lower East Side, crowded into a tenement on Madison Street with the toilet in the backyard." (2)
The Strunsky's lived in New York City before moving to San Francisco in 1894. During her last year in high school, Anna joined the Socialist Labor Party (SLP). She later recalled: "You are born a socialist. You are born with music, or poetry or painting or science. You can't really become a socialist unless you're born that way." Her father, who had inspired her interest in politics, disagreed with her decision - "not because he grudged me to a great cause, but because he felt there was something amiss with the cause with which I had become infatuated." (3)
(1) Anna Strunsky, Revolutionary Lives, unpublished memoir (1942)
We had climbed the dusty stairs and had sat in the garish hall lighted by flickering gas-jets. We had looked about ... at the red-draped speaker's stand, the pictures on the walls of Marx, Engels, Liebknecht, Lassalle, at the black letters on white stretched across the platform: "Workers Unite! You have only your chains to lose, you have a world to gain!"

We had listened to the eloquence of the speaker, Austin Lewis, a London University man who brought something of an old-world culture to our Western movement. It was as if we were there in that Paris which we had never seen, in a time before we were born. We were by the side of the Communards on those barricades. In that hour we re-lived those days and nights of conflict and tragedy.... The speaking over, we rose and sang the Marseillaise and the International.

He was there that night.... He rose from a seat well towards the front and walked towards the platform. I too was on the way to the speaker."Do you want to meet him he is Jack London, a Comrade who has been speaking in the street in Oakland. He has been to the Klondyke and he writes short stories for a living."

He (Jack London) was proud, he said, that we had men like Austin Lewis with us. Already some of the best and finest had crossed the barriers of class to side with the people. Then he hurried away to catch the last ferry for Oakland where he lived with his mother.... Jack London seemed at once younger and older than his years. There was that about him that made one feel that one would always remember him. He seemed the incarnation of the Platonic ideal of man, the body of the athlete and the mind of the thinker....

The light played on his face. He had large blue eyes, dark lashes, a broad forehead over which a lock of brown hair fell and which he often brushed aside with his small, finely shaped hand. He was deep-chested, wide shouldered... Jack picked up a copy of Rudyard Kipling's Seven Seas, recently published, turned to the Song of the English and read it aloud. The Anglo-Saxons were the salt of the earth, he declared. He forgave Kipling his imperialism because he wrote of the poor, the ignorant, the submerged, of the soldier and sailor in their own language...

There was a fire in the grate and its light played on his face. He spoke of his marriage. He had acted with directness and conviction perhaps only because he had needed to be convinced. He had acted through what might be called defense psychology. He had arrived at sonic idea that it would be easy to trick his imagination, to harness his fancies. One had a purpose in marrying. One married for qualities. He would found his marriage on that friendship in which love resolves itself. It was as if he was saying he could be happy without happiness - this romantic youth.... He explained how he had worked it out-there was to be freedom within the frame of marriage... He thought it something new, modern, not realizing that he was being old-fashioned and living like the majority who do not aspire to the luxury of love.

(2) Jack London, letter to Anna Strunsky (21st December 1899)
Somehow I am like a fish out of water. I take to conventionality uneasily, rebelliously. I am used to saying what I think, neither more nor less. Soft equivocation is no part of me. As had I spoken to a man who came out of nowhere, shared my bed and board for a night, and passed on, so did I speak to you. Life is very short. The melancholy of materialism can never be better expressed than by Fitzgerald's "O make haste." One should have no time to dally. And further, should you know me, understand this: I, too, was a dreamer, on a farm, nay, a California ranch. But early, at only nine, the hard hand of the world was laid upon me. It was never relaxed. It has left me sentiment, but destroyed sentimentalism. It has made me practical, so that I am known as harsh, stern, uncompromising. It has taught me that reason is mightier than imagination; that the scientific man is superior to the emotional man. It has also given me a truer and a deeper romance of things, an idealism which is an inner sanctuary and which must be resolutely throttled in dealing with my kind, but which yet remains within the Holy of Holies, like an oracle, to be cherished always but to be made manifest or be consulted not on every occasion I go to market. To do this latter would bring upon me the ridicule of my fellows and make me a failure; to sum up, simply the eternal fitness of things:

All of which goes to show that people are prone to misunderstand me. May I have the privilege of not so classing you?

Nay, I did not walk down the street after Hamilton - I ran. And I had a heavy overcoat, and I was very warm and breathless. The emotional man in me had his will, and I was ridiculous.

I shall be over Saturday night. If you draw back upon yourself, what have I left ? Take me this way : a stray guest, a bird of passage, splashing with salt-rimed wings through a brief moment of your life - a rude and blundering bird, used to large airs and great spaces, unaccustomed to the amenities of confined existence. An unwelcome visitor, to be tolerated only because of the sacred law of food and blanket.
(3) Jack London, letter to Anna Strunsky (15th March, 1900)
Regarding box... please remember that I have disclosed myself in my nakedness - all those vain efforts and passionate strivings are so many weaknesses of mine which I put into your possession. Why, the grammar is often frightful, and always bad, while artistically, the whole boxful is atrocious. Now don't say I am piling it on. If I did not realize and condemn those faults I would be unable to try to do better. But - why, I think in sending that box to you I did the bravest thing I ever did in my life.

Say, do you know I am getting nervous and soft as a woman. I've got to get out again and stretch my wings or I shall become a worthless wreck. I am getting timid, do you hear? Timid! It must stop. Enclosed letter I received to-day, and it brought a contrast to me of my then 'unfailing nerve' and my present nervousness and timidity. Return it, as I suppose I shall have to answer it some day.
(4) Anna Strunsky, letter to Katia Strunsky (2nd September, 1904)
Jack has his divorce. There hasn't been much more unpleasantness for me though what there was was hard enough to bear. It was a plain case of blackmail. The divorce was obtained by his wife on the grounds of desertion. I am very glad he has his freedom at last. He has suffered bitterly. Further, I do not know.

I hide nothing from you dearest. I think we do not love each other but I may be slandering a supreme feeling in thinking so. I am too breathless from the race for happiness and do not know. After all, I have not raced very hard.
I have the Semitic temperament that gives up over readily and I have ever had a genius for giving up. I must be fought for gallantly to be won and I think lack would rather wait than fight. He, too, is tired. He is a pessimist and what has a pessimist to do with love? So, dearest, you know all.
Anna Strunsky, a young Russian Jewess with long, lustrous black hair.... Anna was from a Russian Jewish family that had escaped the pogroms roms in Russia and took pride in its connections with the notorious anarchist Emma Goldman and other radicals. Though she was just seventeen when she met Jack in autumn 1899 at a left-wing lecture, she was already called "the girl socialist of San Francisco". At Stanford University she had been suspended for "receiving a male visitor in her room instead of the parlour".

In Anna's eyes, Jack was "a young man with large blue eyes fringed with dark lashes, and a beautiful mouth which, opening in its ready laugh, revealed an absence of front teeth. The brow, the nose, the contour of the cheeks, the massive throat were Greek. His body gave the impression of grace and athletic strength. He was dressed in grey and was wearing a soft white shirt with collar attached, and black neck tie."

Jack was immediately infatuated with the romantic and spiritual Anna, even though he had developed an image of himself as a hard man who lived by the rule of cold logic. "He systematised his life," Anna later wrote. "Such colossal energy, and yet he could not trust himself! He lived by rule. Law, Order, and Restraint was the creed of this vital, passionate youth."

"I too was a dreamer," Jack confided to Anna shortly after his marriage to Bess: "But early, at only nine, the hard hand of the world was laid upon me. It was never relaxed. It has left me sentiment, but destroyed sentimentalism. It has made me practical, so that I am known as harsh, stern, uncompromising. It has taught me that reason is mightier than imagination; that the scientific man is superior to the emotional man." (letter from Jack to Anna 21st December, 1899)

As with many of his friends, the more Anna got to know Jack, the more concerned she became about his philosophy of life. Theirs would be a relationship of opposing minds. Time and again, as their friendship blossomed, Anna would combat his Spencerian belief that "all is law".

Our friendship can be described as a struggle - constantly I strained to reach that in him which I felt he was "born to be",' Anna later recalled. "I looked for the Social Democrat, the Revolutionist, the moral and romantic idealist; I sought the Poet. Exploring his personality was like exploring mountains and the valleys which stretched between troubled my heart ... He was a Socialist, but he wanted to beat the Capitalist at his own game. To succeed in doing this, he thought, was in itself a service to the Cause; to show them that Socialists were not derelicts and failures had certain propaganda value."

Anna warned Jack that to "pile up wealth, or personal success" was to play by the capitalists' rules. Such a game could only end one way - in the defeat of non-material ideals. She never doubted "the beauty and the warmth and the purity of his own nature". But she was afraid where his philosophy might lead him. "These ideas were not worthy of him," she thought. "They belittled him and eventually they might eat away his strength and grandeur."
If the new Political League succeeds in permanently driving every negro from office; if the white laborers get the Negro laborers' jobs; if masters of negro servants are able to keep them under the discipline of terror as I saw them doing in Springfield; if white shopkeepers and saloon keepers get their colored rivals' trade; if the farmers of neighboring towns establish permanently their right to drive poor people out of their community, instead of offering them reasonable alms; if white miners can force their negro fellow-workers out and get their positions by closing the mines, then every community indulging in an outburst of race hatred will be assured of a great and certain financial reward, and all the lies, ignorance and brutality on which race hatred is based will spread over the land....

Either the spirit of the abolitionists, of Lincoln and of Lovejoy must be revived and we must come to treat the negro on a plane of absolute political and social equality, or Vardaman and Tillman (two of the South's leading spokesmen on race) will soon have transferred the race war to the North....

The day these methods become general in the North every hope of political democracy will be dead, other weaker races and classes will be persecuted in the North as in the South, public education will undergo an eclipse, and American civilization will await either a rapid degeneration or another profounder and more revolutionary civil war, which shall obliterate not only the remains of slavery but all other obstacles to a free democratic evolution that have grown up in its wake.

Yet who realizes the seriousness of the situation, and what large and powerful body of citizens is ready to come to their aid.
Who that ever knew him can forget him (Jack London), and how will life ever forget one who was so indissolubly a part of her? He was youth, adventure, romance. He was a poet and a social revolutionist. He had a genius for friendship. He loved greatly and was greatly beloved. But how fix in words that quality of personality that made him different from everyone else in the world? How convey an idea of his magnetism and of the poetic quality of his nature? He is the outgrowth of the struggle and the suffering of the Old Order, and he is the strength and the virtue of all its terrible and criminal vices. He came out of the Abyss in which millions of his generation and the generation preceding him throughout time have been hopelessly lost. He rose out of the Abyss, and he escaped from the Abyss to become as large as the race and to be identified with the forces that shape the future of mankind.

His standard of life was high. He for one would have the happiness of power, of genius, of love, and the vast comforts and ease of wealth. Napoleon and Nietzsche had a part in him, but his Nietszchean philosophy became transmuted into Socialism--the movement of his time - and it was by the force of his Napoleonic temperament that he conceived the idea of an incredible success, and had the will to achieve it. Sensitive and emotional as his nature was, he forbade himself any deviation from the course that would lead him to his goal. He systematized his life. Such colossal energy, and yet he could not trust himself! He lived by rule. Law, Order and Restraint was the creed of this vital, passionate youth. His stint was a thousand words a day revised and typed. He allowed himself only four and one-half hours of sleep and began his work regularly at dawn for years. The nights were devoted to extensive reading of science, history and sociology. He called it getting his scientific basis. One day a week he devoted to the work of a struggling friend. For recreation he boxed and fenced and swam--he was a great swimmer--and he sailed--he was a sailor before the mast--and he spent much time flying kites, of which he had a large collection. Like Zola's, his first efforts were in poetry. This no doubt was the secret of the Miltonic simplicity of his prose which has made him the accepted model for pure English and for style in the universities of this country and at the Sorbonne. He had always wanted to write poetry, but poets proverbially starved - unless they or theirs had independent incomes--so poetry was postponed until that time when his fame and fortune were to have been made. Fame and fortune were made and enjoyed for over a decade, but yet the writing of poetry was postponed, and death came before he had remembered his promise to himself. Death came before he had remembered many other things. He was so hard at work--so pitifully, tragically hard at work, and it was a fixed habit by now.
A young Russian Jewess of San Francisco and myself have often quarrelled over our conceptions of love. She happens to be a genius. She is also a materialist by philosophy, and an idealist by innate preference, and is constantly being forced to twist all the facts of the universe in order to reconcile herself with her self. So, finally, we decided that the only way to argue the question out would be by letter.
I should like to have you meet Miss Anna Strunsky some time. She is well worth meeting.... She has her exoteric circles and her esoteric circles - by this I mean the more intimate and the less intimate. One may pass from one to the other if deemed worthy.... She loves Browning. She is deep, subtle, and psychological. She is neither stiff nor formal. Very adaptive. Knows a great deal. Is a joy and delight to her friends. She is a Russian, and a Jewess, who has absorbed the Western culture, and who warms it with a certain oriental leaven.
(10) Anna Strunsky, unpublished manuscript written in about 1915.
During the first few clays of my stay Mrs. London was very cordial and manifested great interest in our work, but, after a stay of five days, I became convinced that, for some reason, Mrs. London had begun to dislike me. She said nothing of any importance to make me feel out of place, but, judging from several little occurrences, I decided it was best for me to leave the London home. I carried out my resolve and left Piedinont, much against Mr. London's will.
Anna and I begin to see our lives together in a clearer light. We are talking of our love as much as ever but we begin to speak of our lives too now. This means some very great changes on the part of both. Neither of our lives followed ordinary channels and the adjustment means a great deal. Often it is the woman that does most of the adjusting. With us it is not so. Anna is a personality and a personage in her work and the beautiful and noble influence she must have on the world means as much to me as it does to her. To-day for the first time I have even urged some of her work on her-though I know that must usually be left to her own conscience and inspiration. But I can, must and will help her. I am sufficiently differently constituted to do this and too sympathetic to utter a word that might hinder her in any way.
We at once discovered, to our amazement, that Springfield had no shame." English wrote later. He and Anna were treated to "all the opinions that pervade the South-that the negro does not need much education, that his present education even has been a mistake, that whites cannot live in the same community with negroes except where the latter have been taught their inferiority, that lynching is the only way to teach them, etc." They even interviewed loan of Arc, one Kate Howard, who proudly said that she drew her inspiration from the South and showed off the buckshot wounds in her arms."
(13) Anna Strunsky, diary entry (12th September, 1916)
The last remark English made last night in bed was "Who ever got any service out of you?"

"What about my serving the babies day and night,"' I remonstrated and I might have added had I not followed my new plan of avoiding as much as possible personal conversation, even when it begins most pleasantly because lie always makes it end speedily in disaster - I might have added "I have served all my life unstintingly - when I taught English to foreigners for nothing all through my girlhood, when I sat up nights correcting other people's articles and stories, when I helped workingmen friends prepare for Regents exams, when I nursed momma, suffered because I was not allowed to do more for my motherless nieces; when in the Socialist Party, I did endless drudgery like being secretary of the Central Committee for over 2 years, and on other committees to which I gave my precious time - time for which my soul and my young fiery senses had other uses altogether. I have given, given, given and now in my babies I give a thousand fold more than ever." . . .

So this morning he refers to his leaving himself free to go or not to go to Boston. "I never tie myself up, it I can help it."

"That's splendid," I say to him. "I always tie myself up. I love freedom, but I have so many duties always."

"Well," he says deprecatingly, "You are like my father." I remonstrate. "I am anything but rigid in my plans; I have always broken my own appointments with myself, in order to keep the last least appointment with everybody. I lose my freedom through being so social, father through being so set on his own ways he tics himself up. I let others tie me up."

"You," says English, "are neither social nor individual. The one who possesses you gets nothing out of you, for you are tied up to the first person that comes along."

This is what I call a thought to cheer me on the way, to start the day upon.
Of course I think your proposal to attack in the back those who are giving up their lives for democracy, peace, and anti-militarism is criminal to the last degree. But the world is moving in spite of all you do to help the militarists and reactionaries. You are their accomplice and neither I nor mankind, nor the genuine idealists and revolutionaries of the world will ever forget or forgive what your kind has said and done in this great hour. If I fight it will be against the traitors to internationalism - I trust you will not be among them.
Not being a Junker you cannot turn me into one by saying so. It is as just to call my opposition to war Junkerism as it would be for me to say that because you do not always oppose war that you are cruel and blood-thirsty... by torturing and slaying people known to mankind!

You are not a militarist, and I am not a Junker.

A Revolutionist believes in the people and opposes the established order - my faith in the people and opposition to establishment law and order are deep and integral with my whole being. I am not a Junker because I not only give my consent to the rioters of the streets of Petrograd for what they did, but had I not you and our children I would not have hesitated, even at this distance to join them and fall by their side for a regenerated Russia. As it is, rich and wonderful as my life is with you and my children I do not at all feel that I belong wholly to myself and the time may come when I, the most passionate lover of life ever born, may go out to meet death for my Cause - as gallantly as any soldier ever did - but I will make sure that it is my Cause and not the Cause of my enemy.

Some day you will understand me as well as I understand you and then we will laugh together at our past sufferings. That is my day and night dream. It lies in your power to make it come true.

I have had a happy birthday.

I have capitulated to your point of view about this War. What else can we do with the enemy at the door of the Russian Revolution but give him battle and rout him? Until the German people revolt we have to repel their advance upon freedom and democracy with the edge of the sword....

I am forced to descend from my height "Above the Battle" freely to adopt new processes of thought and feeling altogether from those that have guided me for two and a half years. But you cannot dream how it tortures me to have been weak and sick all day to consent to war! I do finally "vote the money and the men" but I do not expect to survive it. In a sense I have already failed to survive it - so much has fallen together in me and died since this morning when my new conception was borne in upon me.

Ever since Rosalind English was born I have seen everybody as a little baby shining on a pillow or on a mother's breast; I have had a mother's tenderness towards the world of men and women; I could always see everybody as they were born to be, not as they were. I feel as if this, my motherhood, were slain this morning when I read the papers and read of the German danger to Russia and when I vicariously flew to arms.... You are more fortunately constituted than I am. You are never divided against yourself. Whatever you think is right and best you have strength for.
The black scourge of war in its devastating effect upon the human mind has never been better illustrated than in the ravings of the American Socialists, Messrs. Russell, Stokes, Sinclair, Walling, et al.... As to English Walling, he was the reddest of the red. Though muddled mentally he was always at white heat emotionally as syndicalist, revolutionist, dissenter, etc.

With Charles Edward Russell as the conferee of Root, English Walling is the colleague of the New York Times, and Stokes, Simons, Sinclair, Poole, etc. are still waiting for the reward from Washington....

One might overlook the renegacy of a Charles Edward Russell. Nothing else need ever be expected from a journalist. But for men like Stokes and Walling to thus become the lackeys of Wall Street and Washington, is really too cheap and disgusting.
I once knew a revolutionist who thought that he loved Humanity but for whom Humanity was merely a club with which to break the shins of the people he hated. He hated all who were comfortable and all who conformed. He hated the people he opposed and he hated those who opposed his opponents in a manner different from his. Zeal for the cause was his excuse for hating, but really he was in love with hate and not with any cause.

The war came, and this vibrant, humorless man, this neurotic idealist who was almost a genius, found a wider vent for his emotion. His hatred, without changing its character, changed its incidence. He learned to hate Germans, Bolshevists, and radicals. He completed the full circle and soon was consorting most incongruously with those whom he had formerly attacked. Today nothing is left of his radicalism or his always leaky consistency; nothing is left but his hatred. At times he hates himself. He would always hate himself could he find no one else to hate. He is becoming half-reactionary, half-cynical. He will end - But who knows how anyone will end?
(17) Anna Strunsky, diary entry (27th September, 1933)
I was wrong when I fell in love with him and began my life with him. I was never safe in his hands. He worked against me in the dark with my children, his mother, so passionately dear to me, my friends and family. He did worse - he worked against me in the dark with himself, in his own heart, for he never gave me a chance to explain, to defend myself.
Hutchins Hapgood... paid conventional tribute to Anna's sincerity and constancy, but he implied her ineffectuality as well, with the inevitable insinuation that she had been much diminished by her marriage.

It was true that she had fallen far short of her aspirations. Although she never renounced her faith in a vaguely cooperative, utopian socialism, doctrine hardly played a greater role in her later life than, say, theology among suburban Christians. Once she had made her true lifetime commitment, to marriage, she retained her freedom of opinion but gave up freedom in her economic environment. She lacked the will and the urgent circumstances of the women she portrayed in her account of the revolution to make her own life truly revolutionary.


(1) Anna Strunsky, unpublished manuscript written in about 1906.
(3) Anna Strunsky, unpublished manuscript written in about 1915.
(5) Anna Strunsky, unpublished manuscript written in about 1915.
(7) Anna Strunsky, The Masses (July 1917)
(8) Jack London, letter to Elwyn Irving Hoffman (6th January, 1901)
(12) Anna Strunsky, unpublished manuscript written in about 1915.
(14) Jack London, letter to Cloudesley Johns (17th October, 1900)
(16) Bessie London, quoted from divorce statement (June, 1904)
(17) Anna Strunsky, unpublished manuscript written in about 1915.
(21) Anna Strunsky, letter to George Platt Brett (3rd June, 1903)
(22) Anna Strunsky, notebook (23rd September, 1903)
(23) Jack London, letter to Anna Strunsky (5th September, 1903)
(24) Anna Strunsky, letter to Jack London (29th September, 1903)
(25) Jack London, letter to Anna Strutsky (25th August, 1902)
(27) Bessie London, quoted from divorce statement (June, 1904)
(30) Anna Strunsky, letter to Katia Strunsky (2nd September, 1904)
(36) Anna Strunsky, unpublished manuscript written in about 1915.
(37) Anna Strunsky, letter to Hyman Strunsky (3rd March, 1906)
(38) Anna Strunsky to Elias Strunsky (19th January 1906)
(39) William English Walling, letter to Willoughby Walling and Rosalind English Walling (26th January, 1906)
(40) Anna Strunsky, letter to Jack London (22nd February, 1906)
(41) Anna Strunsky, letter to Hyman Strunsky (31st March 1906)
(42) Anna Strunsky, letter to Rosalind English Walling (April 1906)
(43) Anna Strunsky, letter to Rosalind English Walling (April 1906)
(44) William English Walling, letter to Rosalind English Walling (23rd March, 1906)
(47) Anna Strunsky, letter to Max Strunsky (9th July, 1906)
(48) Anna Strunsky, unpublished manuscript written in about 1915.
(51) Anna Strunsky, diary entry (13th September, 1936)
(52) Anna Strunsky, letter to parents (18th February, 1908)
(53) Anna Strunsky, letter to Rosalind English Walling (25th February, 1908)
(55) William English, letter to William English Walling (1st July, 1908)
(56) William English Walling, Race War in the North (3rd September 1908)
(59) Anna Strutsky to William English Walling (10th February, 1909)
(64) Inez Gilmore, diary entry (14th April 1908)
(65) William English Walling, letter to Rosalind English Walling (18th November, 1913)
(66) Emma Goldman, letter to Anna Strunsky (8th July, 1916)
(69) William English Walling, letter to Henry M. Hyndman (18th November 1909)
(70) H. G. Wells, New Review (August 1914)
(71) William English Walling, letter to Jack London (28th January, 1915)
(72) William English Walling, New Review (February, 1915)
(74) Emma Goldman wrote to Anna Strunsky (2nd June, 1915)
(75) William English Walling, letter to Willoughby Walling (22nd August, 1915)
(76) Rosalind English Walling to Anna Strunsky (22nd December, 1916)
(78) Anna Strunsky, letter to William English Walling (21st March, 1917)
(82) William English Walling, The Independent (10th November, 1917)
(83) William English Walling, letter to Willoughby Walling (19th May, 1919)
(84) Anna Strunsky, letter to Rifat Tirana (14th November 1932)
(85) Anna Strunsky, diary entry (27th September, 1933)