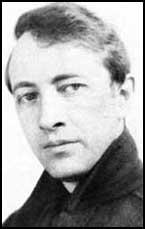 Floyd Dell was born on 28th June, 1887 in Barry, Illinois. His father, Anthony Dell, found it difficult to find regular work and the family experienced a great deal of poverty. In his autobiography, Homecoming (1933), he remembered: "That year my father and mother didn't say a word about Christmas. And once, when I spoke of it, there was a strange, embarrassed silence; so I didn't say anything more about it. I knew why I hadn't gone to school that fall - why I hadn't any new shoes - why we had been living on potato soup all winter. All these things, and others, many others, fitted themselves together in my mind, and meant something."
At school Dell developed a love of reading. He later claimed that it was books by William Morris and Frank Norris helped convert him to socialism. "Frank Norris's novel, The Octopus stirred my mind. And that spring, down in a small park near my home, I heard a man make a Socialist speech to a small and indifferent crowd. Afterwards I talked to him; he was a street-sweeper." At sixteen, he joined the Socialist Party and gave speeches on street-corners about his political beliefs. He also produced material for a small Socialist monthly, Tri-City Workers' Magazine.
After a spell as an apprentice candy-maker Dell worked as a cub-reporter for the Davenport Times. He later moved to the Chicago Evening Post and by 1911 was editor of the newspaper's Friday Literary Review. Over the next few years Dell promoted the work of writers such as Frank Norris, Jack London, Charles Edward Russell, David Graham Phillips, Upton Sinclair, Theodore Dreiser, Stephen Crane, George Gig Cook, Susan Glaspell, Arnold Bennett, George Bernard Shaw, Hillaire Belloc and G. K. Chesterton. Dell believed that the everyday life of the middle and working classes provided subjects worthy of serious literary treatment. Dell valued authenticity and accuracy of detail and welcomed those like Russell and Phillips who wanted to use literature to bring about social reform.
In 1913 Dell published Women as World Builders: Studies in Modern Feminism. In the book he argued that "feminism is going to make it possible for the first time for men to be free". The following year he moved to New York City and joined Max Eastman in helping edit the radical journal, The Masses. "I was paid twenty-five dollars a week for helping Max Eastman get out the magazine. My job on The Masses was to read manuscripts, bring the best of them to editorial meetings to be voted on, send back what we couldn't use, read proof, and make up the magazine - all duties with which I was familiar; and also to help plan political cartoons and persuade the artists to draw them. I could submit my stories and poems anonymously to the editorial meetings, hear them discussed, and print them if they were accepted." Dell wrote articles on several issues including support for Margaret Sanger and her birth control campaign. He also recruited promising writers such as Sherwood Anderson, Dorothy Day and Carl Sandburg to write for the journal.
Barbara Gelb has argued in So Short a Time (1973): "He (Floyd Dell) had been a Socialist since he was fourteen, and his ambition was to write novels, though he had tried his hand at playwriting. He was tall and slender, with a broad forehead and pointed chin, and wore long sideburns."
A group of left-wing writers including Floyd Dell, John Reed, George Gig Cook, Mary Heaton Vorse, Susan Glaspell and Louise Bryant, who lived in Greenwich Village, often spent their summers in Provincetown. In 1915 several members of the group established the Provincetown Theatre Group. A shack at the end of the fisherman's wharf was turned into a theatre. Later, other writers such as Eugene O'Neill and Edna St. Vincent Millay joined the group. Dell's King Arthur's Socks was the first play to be performed by the group. Later he wrote The Angel Intrudes for the group.
Dell, like most of the people working with The Masses, was opposed to USA involvement in the First World War. After the USA declared war on the Central Powers in 1917, The Masses came under government pressure to change its policy. When it refused to do this, the journal lost its mailing privileges.
In July, 1917, it was claimed by the authorities that articles by Dell and Max Eastman and cartoons by Art Young, Boardman Robinson and H. J. Glintenkamp had violated the Espionage Act. Under this act it was an offence to publish material that undermined the war effort.
Dell argued in court: "There are some laws that the individual feels he cannot obey, and he will suffer any punishment, even that of death, rather than recognize them as having authority over him. This fundamental stubbornness of the free soul, against which all the powers of the state are helpless, constitutes a conscious objection, whatever its sources may be in political or social opinion." The legal action that followed forced The Masses to cease publication. In April, 1918, after three days of deliberation, the jury failed to agree on the guilt of Dell and his fellow defendants.
The second trial was held in January 1919. John Reed, who had recently returned from Russia, was also arrested and charged with the original defendants. Dell wrote in his autobiography, Homecoming (1933): "While we waited, I began to ponder for myself the question which the jury had retired to decide. Were we innocent or guilty? We certainly hadn't conspired to do anything. But what had we tried to do? Defiantly tell the truth. For what purpose? To keep some truth alive in a world full of lies. And what was the good of that? I don't know. But I was glad I had taken part in that act of defiant truth-telling." This time eight of the twelve jurors voted for acquittal. As the First World War was now over, it was decided not to take them to court for a third time.
In 1918 the same people who produced The Masses, including Dell, Max Eastman, John Reed, Art Young, Robert Minor and Boardman Robinson went on the publish a very similar journal, The Liberator. The author of A Dreamer's Paradise Lost (1995) pointed out: "Floyd Dell's spirited literary columns continued to highlight figures like Sherwood Anderson, to uphold the sheer beauty of poetry, and to engage in an eclectic variety of literary proposals."
People who contributed to the journal included Crystal Eastman, Art Young, Claude McKay, Boardman Robinson, Roger Baldwin, Louis Fraina, Norman Thomas, John Reed, Louise Bryant, Bertrand Russell, Dorothy Day, Robert Minor, Stuart Davis, Maurice Becker, Helen Keller, Cornelia Barns, Louis Untermeyer, K. R. Chamberlain and William Gropper.
After the war Floyd Dell published the best-selling autobiographical novel, Moon-Calf (1920). Other novels such as The Briary-Bush (1921), Janet Marsh (1923) and Runaway (1925), were less successful. As well as writing for the left-wing magazines such as the New Masses (1924-39) Dell produced several non-fictional works including Upton Sinclair (1927), Love in the Machine Age (1930) and an autobiography, Homecoming (1933).
Linda Ben-Zvi has argued: "Today Floyd Dell is considered by critics to be a minor writer and is virtually unknown to the general reading public; but during the first decades of the century, it was impossible to read national newspapers, literary magazines, or book reviews without coming across his name. If anyone could be said to be the early chronicler of modernism in America and of the great migration of writers and artists from the Midwest to Greenwich Village, it was Floyd Dell."
Floyd Dell died in Maryland near Washington on 23rd July 23, 1969.