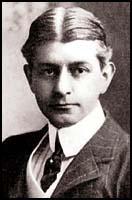 Benjamin Franklin Norris was born in Chicago in 1870. At the age of 14 Norris and his family moved to San Francisco. After studying at San Francisco University (1890-94) Norris travelled to South Africa where he attempted to establish himself as a travel writer. He wrote about the Boer War for the San Francisco Chronicle but was deported from the country after being captured by the Boer Army.
Norris returned to San Francisco where he joined the staff of the magazine, The Wave. A sea story written by Norris was serialized in the magazine and was later published as a novel, Moran of the Lady Letty (1898). During this period he worked for the publishers Doubleday.
Norris continued to work as a journalist and reported the Spanish-American War for McClure's Magazine. This was followed by a couple of novels, McTeague: A Story of San Francisco (1899) and A Man's Woman (1900). Norris, who had been greatly influenced by the work of Emile Zola, also began work on a trilogy, The Epic of Wheat. The first book, The Octopus (1901), described the struggle between farming and railroad interests in California. In August 1902, Everybody's Magazine published an article by Norris, A Deal in Wheat, exposing corrupt business dealings in agriculture.
William Dean Howells was a great supporter of the work of Frank Norris: "What Norris did, not merely what he dreamed of doing, was of vaster frame, and inclusive of imaginative intentions far beyond those of the only immediate contemporary to be matched with him, while it was of as fine and firm an intellectual quality, and of as intense and fusing an emotionality. In several times and places, it has been my rare pleasure to bear witness to the excellence of what Norris had done, and the richness of his promise. The vitality of his work was so abundant, the pulse of health was so full and strong in it, that it is incredible it should not be persistent still."
Frank Norris died of peritonitis following an appendix operation on 25th October, 1902. He was only 32. He is buried in Mountain View Cemetery in Oakland, California. The second book in the trilogy, The Pitt, about the manipulation of the wheat market, was published posthumously in 1903. The third part, The Wolf, was never written. Sinclair Lewis.
Also published posthumously was The Responsibility of the Novelist (1903). The book argues for naturalistic writing based on actual experience and observation. This book, and his novels, influenced a generation of writers including Upton Sinclair, who argued: "Frank Norris had a great influence upon me because I read The Octopus when I was young and knew very little about what was happening in America. He showed me a new world, and he also showed me that it could be put in a novel."
Floyd Dell was another writer who was converted to socialism by Norris' books: "Frank Norris's novel, The Octopus stirred my mind. And that spring, down in a small park near my home, I heard a man make a Socialist speech to a small and indifferent crowd. Afterwards I talked to him; he was a street-sweeper.... And my long-slumbering Socialism woke up." Other writers who claimed that they were deeply influenced by the work of Norris include David Graham Phillips, Theodore Dreiser, Charles Edward Russell and Sinclair Lewis.