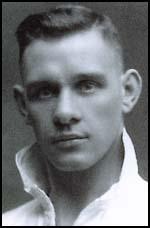 Henry Lowe was born in Skemersdale on 19th February 1907. Lowe, a left-back, played local football before joining Southport in 1927. After playing 72 games for the Third Division side Lowe joined Everton.
Lowe failed to obtain a regular place and after playing only five games for the club, in 1932 he was transferred to Preston North End.
Lowe joined a talented team that included Robert Kelly, Bill Shankly, Frank Gallimore, Ted Harper, Jimmy Milne, Billy Hough, Bill Tremelling, John Palethorpe, John Pears, George Holdcroft, George Fitton, Frank Beresford and George Bargh.
George Stephenson and Jimmy Dougal, joined the club in the 1933-34 season. Preston at last achieved promotion to the First Division when they finished runners-up to Grimsby Town. Stephenson had a great season scoring 16 goals in 25 games.
Preston had a good FA Cup run in the 1936-37 season. However, Andrew Beattie had displaced him and he did not feature in the final against Sunderland. Lowe also missed the 1938 FA Cup Final victory over Huddersfield Town.
Henry Lowe's football career was brought to an end by the Second World War. Over a six year period he played 182 games for Preston North End.
Henry Lowe died in 1975.