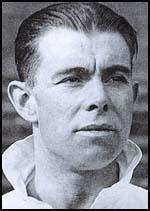 John Pears was born in Ormskirk on 23rd February 1907. He played for Skelmersdale United and Burscough Rangers before joining Liverpool in 1927. Pears failed to make the first team and in 1928 moved to Rotherham United.
An outside left, Pears scored 7 goals in 21 games for Rotherham. Later that season he moved to Accrington Stanley where he scored 8 goals in 21 games.
Pears joined Oldham Athletic in 1930. He stayed three years scoring 34 goals in 92 games.
In 1933 Pears signed for Preston North End. Pears joined a talented squad that included Robert Kelly, Bill Shankly, Jimmy Dougal, Frank Gallimore, Ted Harper, Jimmy Milne, Billy Hough, Bill Tremelling, John Palethorpe, Frank Beresford, Henry Lowe, George Fitton, George Holdcroft and George Bargh.
He only played in the last seven games of the season but scored some vital goals and helped Preston North End finish second to Grimsby Town and therefore gain promotion to the First Division.
In the 1933-34 season Pears only played 11 games before moving to Sheffield United. The following season he played for Swansea Town. He also played for Hull City and Rochdale before retiring from professional football on the outbreak of the Second World War.