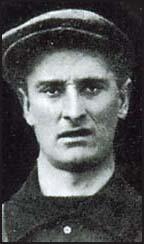 Harry Moger was born in Southampton in September 1879. He worked as a fitter but also played football for Forest Swifts and Freemantle before signing for Southampton FC in the Southern League in 1898.
In May 1903 Ernest Mangnall managed to persuade Moger to join Manchester United. Although a talented goalkeeper he suffered from nerves when playing for the first team and it was feared that he would never make the grade.
It was not until the 1904-05 season that this 6ft 3in goalkeeper established himself in the first-team. That year he played in 32 games.
In the 1905-06 season Manchester United won promotion to the First Division when they finished second to Bristol City. The club scored 90 goals in 38 games and top scorers were John Picken (20), John Peddie (18) and Charlie Sagar (16). Manchester United's defence was also impressive and only let in 28 goals that season. Moger played in 27 games.
Manchester United started off the 1907-08 season with three straight wins. They were then beaten 2-1 by Middlesbrough. However, this was followed by another ten wins and United quickly built up a good advantage over the rest of the First Division. Although Liverpool beat them 7-4 on 25th March, 1908, Manchester United went on to win the title by nine points. Top scorers were Sandy Turnbull (25), George Wall (19), Jimmy Turnbull (10) and Billy Meredith (10).
Ernest Mangnall had created an impressive team that was solid in defence and exciting in attack. Harry Moger played in 38 league games that season. Dick Holden (26) or George Stacey (18) competed for the right-back position whereas Herbert Burgess (27) was the left-back. It has been argued that the half-back line of Dick Duckworth (35), Charlie Roberts (32) and Alec Bell (35) was the heart-beat of the side. Billy Meredith (37) and George Wall (36) were probably the best wingers playing in the Football League at the time and provided plenty of service for the inside trio of Sandy Turnbull (30), Jimmy Turnbull (26) and Jimmy Bannister (36). The championship winning team included four players purchased from Manchester City at an auction at the Queen's Hotel in October 1906.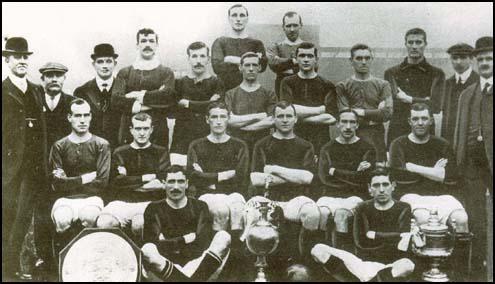 The following season Manchester United enjoyed a good run in the FA Cup. They beat Brighton & Hove Albion (1-0), Everton (1-0), Blackburn Rovers (6-1), Burnley (3-2) and Newcastle United (1-0) to reach the final. Newcastle, who went onto win the league that season, was obviously disappointed by being prevented from winning the double. However, the whole of the Newcastle team waited for 15 minutes in torrential rain aboard an open coach so they could applaud their conquerors after the game.
Jimmy Turnbull (5), Harold Halse (4) and Sandy Turnbull (3) got the goals during the successful cup run that got them to the final at Crystal Palace against Bristol City. As both clubs usually wore red, Bristol played in blue whereas Manchester United played in white shirts with a deep red "V". The game was disappointing and Sandy Turnbull scored the only goal in the 22nd minute. In two years Moger had won league championship and FA Cup winning medals.
In June 1910 Ernest Mangnall purchased Enoch West from Nottingham Forest. He replaced Jimmy Turnbull in the attack and had a great season scoring 19 goals in 35 games. West formed a great partnership with Sandy Turnbull and together they scored more than half of the team's goals. On the last Saturday of the season Aston Villa led Manchester United by one point. United had to play third-place Sunderland at Old Trafford whereas Aston Villa had to go to Liverpool.
Manchester United won their game 5-1. Charlie Roberts told the Manchester Saturday Post what happened next: "At the end of the game our supporters rushed across the ground in front of the stand to wait for the final news from Liverpool. Suddenly a tremendous cheer rent the air and was renewed again and again and we knew we were the champions once again." Aston Villa had been beaten 3-1 and Manchester United had won their second championship in four years. Moger played in 25 games that season.
The following season Moger lost his first-team place and in 1912 he decided to retire. Over a nine year period he played 264 league a cup games. After he left the game he worked as a commission agent in Manchester.
Harry Moger died in June 1927.