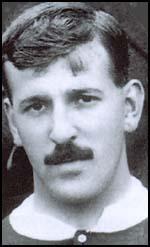 George Stacey was born in Rotherham in 1887. He worked as a coal miner but also played football for Thorpe Hesley. An extremely good left-back, he was signed by Sheffield Wednesday in May 1902.
Stacey failed to make the first-team and in August 1905 joined Barnsley. Over the next year he played in 64 games for his new club.
Ernest Mangnall purchased Stacey for £200 as an understudy for Herbert Burgess, the Manchester United left-back, in April 1907.
United started off the 1907-08 season with three straight wins. They were then beaten 2-1 by Middlesbrough. However, this was followed by another ten wins and United quickly built up a good advantage over the rest of the First Division. Although Liverpool beat them 7-4 on 25th March, 1908, Manchester United went on to win the title by nine points. Top scorers were Sandy Turnbull (25), George Wall (19), Jimmy Turnbull (10) and Billy Meredith (10). Stacey played 18 times and won a Football League championship medal in his first season at the club.
In 1908 Dick Holden, United's right-back, suffered a serious knee injury that resulted in a cartilage operation. Stacey replaced him and played in 32 games that season. He also won a FA Cup winners' medal against Bristol City on 24th April 1909. Stacey held on to his first-team place and he hardly missed a match over the next few seasons.
In June 1910 Ernest Mangnall purchased Enoch West from Nottingham Forest. He replaced Jimmy Turnbull in the attack and had a great season scoring 19 goals in 35 games. West formed a great partnership with Sandy Turnbull and together they scored more than half of the team's goals. On the last Saturday of the season Aston Villa led Manchester United by one point. United had to play third-place Sunderland at Old Trafford whereas Aston Villa had to go to Liverpool.
Manchester United won their game 5-1. Charlie Roberts told the Manchester Saturday Post what happened next: "At the end of the game our supporters rushed across the ground in front of the stand to wait for the final news from Liverpool. Suddenly a tremendous cheer rent the air and was renewed again and again and we knew we were the champions once again." Aston Villa had been beaten 3-1 and Stacey had won his second championship in four years.
Although known by his team-mates as "Silent" Stacey he was appointed captain after Charlie Roberts left to join Oldham Athletic in 1913.
The First World War brought an end to Stacey's football career. He had made 267 league and cup matches for Manchester United. After running a small business in Barnsley he returned to his old job as a coal miner.