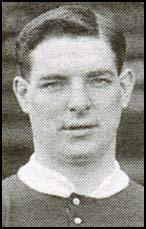 Enoch West was born in Hucknall Torkard, Nottinghamshire, on 31st March, 1886. He worked as a coal-miner and played local football until signing for Sheffield United in 1903. He failed to make the first-team and so in June 1905 joined Nottingham Forest in the Second Division of the Football League.
In his first season with his new club he scored 14 goals. The following season he contributed the same number and played an important role in helping Nottingham Forest win the Second Division championship.
West was in outstanding form in the 1907-08 season. That year he was the First Division leading scorer with 26 goals in 35 games. West's total included four goals in one match against Southampton and hat-tricks against Chelsea and Blackburn Rovers. Over a five year period West had scored 100 goals in 183 cup and league appearances.
In June 1910 West signed for Manchester United. He replaced Jimmy Turnbull in the attack and had a great season scoring 19 goals in 35 games. West formed a great partnership with Sandy Turnbull and together they scored more than half of the team's goals. On the last Saturday of the season Aston Villa led Manchester United by one point. United had to play third-place Sunderland at Old Trafford whereas Aston Villa had to go to Liverpool.
Manchester United won their game 5-1. Charlie Roberts told the Manchester Saturday Post what happened next: "At the end of the game our supporters rushed across the ground in front of the stand to wait for the final news from Liverpool. Suddenly a tremendous cheer rent the air and was renewed again and again and we knew we were the champions once again." Aston Villa had been beaten 3-1 and Manchester United had won their second championship in four years.
In April 1911 West was involved in an incident at Aston Villa. As a result he was suspended for the first four matches of the 1911-12 season. He scored two goals on his first game on 30th September against Blackburn Rovers. Despite missing these games he was once again leading scorer with 23 goals in 38 cup and league games. However, his fellow strikers, Sandy Turnbull and Harold Halse, were disappointing and Manchester United finished in only 13th position.
West was again the club's leading scorer in the 1912-13 season. His 21 league goals helped Manchester United to finish in 4th place. However, he lost form and only scored 6 in 30 (1913-14) and 9 in 33 (1914-15).
On 2nd April, 1915, Manchester United beat Liverpool 2-0. Afterwards, bookmakers claimed that they had taken a great deal of money on the 7-1 odds offered on a 2-0 United victory. They suspected that the game had been fixed and pointed out that late in the game, the Liverpool player, Jackie Sheldon, missed a penalty. The bookmakers decided not to pay out on the result and offered a £50 reward for information that would unmask the conspirators.
The Sporting Chronicle newspaper took up the story and claimed that they discovered evidence that players on both sides had got together to concoct a 2-0 scoreline. The newspaper also argued that some of the players had large bets on the result.
The Football League announced it would carry out its own investigation into the case. It published its report in December 1915. It concluded that "a considerable amount of money changed hands by betting on the match and... some of the players profited thereby." Three players in the Manchester United squad were banned for life: Enoch West, Sandy Turnbull and Arthur Whalley. Only West actually played in the game. The same sentence was imposed on four Liverpool players: Jackie Sheldon, Tom Fairfoul, Tommy Miller and Bob Pursell. An eighth player, Laurence Cook, who played for Stockport County, was also convicted of being a member of the betting ring.
It was suggested that if the men joined the armed forces their punishment would be rescinded. All the men, except for Enoch West, who protested his innocence, signed up. After the war six of the men were allowed to play football in the Football League. The exception was Sandy Turnbull who had been killed on the Western Front in 1917. Arthur Whalley was seriously wounded at Passchendale but recovered to play in 23 games in the 1919-20 season.
Enoch West contested the sentence several times in court, but the ban was only lifted in 1945 as part of a general amnesty, when he was 59 years old.