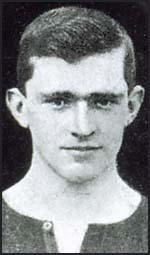 Richard Holden was born in Middleton, Manchester, on 12th June 1885. He played local football as an outside right with Parkfield Central in the Oldham & District League.
In 1903-04 he played as right-back for Tonge. However, in May 1904, Holden joined Manchester United. He spent his first year in the reserves but became a regular in the first-team in the 1905-06 season.
In the 1905-06 season Manchester United won promotion to the First Division when they finished second to Bristol City. The club scored 90 goals in 38 games and top scorers were John Picken (20), John Peddie (18) and Charlie Sagar (16). Manchester United's defence was also impressive and only let in 28 goals that season.
Manchester United started off the 1907-08 season with three straight wins. They were then beaten 2-1 by Middlesbrough. However, this was followed by another ten wins and United quickly built up a good advantage over the rest of the First Division. Although Liverpool beat them 7-4 on 25th March, 1908, Manchester United went on to win the title by nine points. Top scorers were Sandy Turnbull (25), George Wall (19), Jimmy Turnbull (10) and Billy Meredith (10).
Ernest Mangnall had created an impressive team that was solid in defence and exciting in attack. The former Southampton player, Harry Moger, was a reliable goalkeeper who played in 38 league games that season. Dick Holden (26) or George Stacey (18) competed for the right-back position whereas Herbert Burgess (27) was the left-back. It has been argued that the half-back line of Dick Duckworth (35), Charlie Roberts (32) and Alec Bell (35) was the heart-beat of the side. Billy Meredith (37) and George Wall (36) were probably the best wingers playing in the Football League at the time and provided plenty of service for the inside trio of Sandy Turnbull (30), Jimmy Turnbull (26) and Jimmy Bannister (36).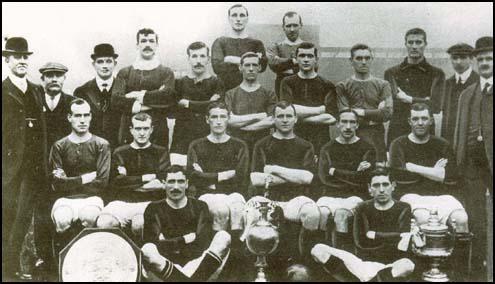 In 1908 Holden suffered a serious knee injury that resulted in a cartilage operation. He took a long time to recover from the injury and missed out on a FA Cup winners' medal in 1909. He recovered his place in the 1910-11 season but another knee injury meant that he was robbed of a second Football League championship medal.
In October 1910 he was granted a £300 benefit. He remained at the club until the outbreak of the First World War when he joined the Royal Flying Corps. He played 117 league and cup matches for Manchester United.