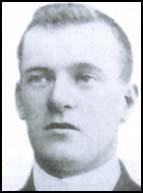 John Peddie was born in Glasgow on 21st March 1877. He was apprenticed as an engineer but also played football for Third Lanark in the Scottish League and was described by Scottish Sport in June 1895 as a forward who is "a neat dribbler with a swift and sure shot, but is most aggravatingly slow in his actions."
Peddie signed for Newcastle United in 1897. In his first full season he was top scorer with 16 league goals and helped the club win promotion to the First Division.
Peddie was also top scorer in 1898-99 (18), 1899-1900 (15) and 1900-01 (16). However, as Paul Joannou points out in his book, The Black 'n' White Alphabet: "Peddie... was often in trouble with the club's hierarchy for a number of misdemeanours; refusing to play, being absent from training and ultimately being suspended sine-die in 1900 (later lifted)."
Over a four year period he scored 73 goals in 125 matches. However, a local newspaper report pointed out that the fans had mixed views on his abilities: "Peddie is the most highly praised and roundly abused man on the club's books. A player of moods... his nonchalant ways and easy going methods are less inspiring than his shooting."
Peddie joined Manchester United in 1902. In his first season he was the club's top scorer with 11 goals. He then moved to Plymouth Argyle but returned to Manchester for the 1904-05 season. Once again he finished up as top scorer with 17 goals.
In the 1905-06 season Manchester United won promotion to the First Division when they finished second to Bristol City. The club scored 90 goals in 38 games and Peddie got 18 of them. His fellow strikers, John Picken (20) and Charlie Sagar (16) also made major contributions that year. Manchester United's defence was also impressive and only let in 28 goals that season. Charlie Roberts played at centre-half and he was flanked by two outstanding wing-halves, Dick Duckworth and Alec Bell.
Peddie returned to Scotland in 1906 to play for Heart of Midlothian. The following year he emigrated to Canada.
John Peddie died in Detroit, USA, in October 1928.