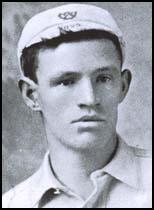 Rab Howell, the son of a tinker, was born in a caravan, in Sheffield on 12th October 1869. He played football for Ecclesfield and Rotherham Swifts before joining Sheffield United for a fee of £250 in June 1890.
The club joined the Second Division of the Football League in 1892. In their first season the club was promoted to the First Division.
The team included William Foulke and Ernest Needham, who were both to go on to win international caps for England. Foulke was considered to be the best goalkeeper in Britain.
On 9th March 1895, Howell won his first international cap playing for England against Ireland. It was the first time that a full-blooded gypsy to represent his country. The England team that day also included Billy Bassett, Steve Bloomer, Jimmy Crabtree, John Goodall, Bob Holmes and John Sutcliffe. England won the game 9-0.
In the book, Famous Association Footballers (1895), Howell is described as: "Formerly he played centre-half, but for his present club he has always occupied the position of right half with conspicuous success. He is small, but for his size he has not many equals. Very quick in his movements, he never tires, and plays equally well to the end of the game."
In the 1896-97 season Sheffield United were runners-up behind the double-winning Aston Villa. The team conceded just 29 goals throughout the campaign and the club had easily the best defensive record in the Football League.
Sheffield United, led by Ernest Needham, won the First Division championship of the Football League in the 1897-1898 season. However, Howell fell out with the management of the club and was sold to Liverpool for £200 in April 1898. During his time at the club he had scored 11 goals in 240 games.
Howell only missed 4 games in the 1898-99 season. He was also a regular first-team player until he suffered a serious knee injury. Liverpool won the First Division championship in 1900-01. The stars of the side included Sam Raybould, John Walker, John Robertson, Jack Cox, Alex Raisbeck and William Dunlop.
After playing 68 matches for Liverpool Howell was sold to Preston North End in June 1901. He broke his leg in a game against Burnley in September 1903. His colleagues were aware that it was a career ending injury and a collection was immediately arranged, raising £29.
Rab Howell died in 1937.