Alexander Raisbeck was born in Wallacestone, Scotland, on 26th December 1878. He played for Larkhall Thistle and Royal Albert before joining Hibernian in the Scottish League.
Raisbeck signed for Stoke City in the Football League in March 1898. Two months later he joined Liverpool for a fee of £350. He made his debut for the club in a 4-0 win over Sheffield Wednesday in September 1898.
Liverpool won the First Division championship in 1900-01. The stars of the side included Raisbeck, Sam Raybould, John Walker, John Robertson, Jack Cox, Rab Howell and Billy Dunlop.
Tony Matthews argues in Who's Who of Liverpool that: "Alex Raisbeck was quick in recovery, smart in the tackle, brilliant in the air and a clean kicker of the ball - a commanding figure generally."
Raisbeck won his first international cap for Scotland against England on 7th April 1900. Scotland won the game 4-1.
Liverpool finished 11th (1901-02), 5th (1902-03) and 17th (1903-04). Once again Liverpool was relegated into the Second Division of the Football League.
In 1904 Liverpool signed Ted Doig from Sunderland for a fee of £150. In his first season with the club he helped them gain promotion to the First Division of the Football League. Liverpool won the First Division title in the 1905-06 beating Preston North End by four points.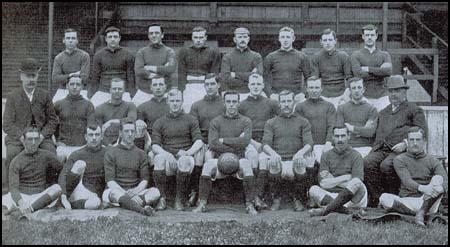 Alex Raisbeck won his last international cap for Scotland against England on 6th April 1907. Over a seven year period he was selected eight times for his country, five of them as captain.
Raisbeck joined Partick Thistle in the Scottish League for a fee of £500 in June 1909. During his time at Liverpool he scored 21 goals in 340 games.
In April 1914 Raisbeck became secretary-manager of Hamilton Academical. He held similar posts at Bristol City (1921-1929), Halifax Town (1930-1936) and Chester City (1936-1938). After the Second World War Raisbeck worked as a scout for Liverpool.
Alex Raisbeck died in Liverpool on 12th March 1949.