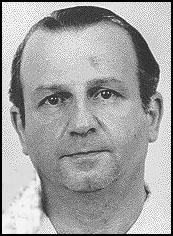 Jacob Rubenstein (Jack Ruby), the fifth of eight children, was born in Chicago on 25th March, 1911. Both his parents were born in Poland but had emigrated to the United States in the early 1900s. His father, Joseph Rubenstein, a carpenter, was a violent man and was frequently arrested for assault and battery charges.
Jack caused trouble at school and at the age of eleven was sent to the Institute of Juvenile Research for psychiatric treatment. It was decided that Jack was not receiving proper parental care and Chicago's Juvenile Court sent him to a foster home. His mother was eventually diagnosed as suffering from psychoneurosis and admitted to Elgin State Hospital.
After leaving school in 1927 Jack did various odd jobs and is rumoured to have worked for Al Capone. He also spent time in Los Angeles and San Francisco. He eventually returned to Chicago and a friend, Leon Cooke, arranged for him to work for the Scrap Iron and Junk Handlers Union. On 8th December, 1939, Cooke was shot dead by John Martin, the president of the union. As a result of this killing Jack Ruby left this job and found employment as a salesman. This included selling plagues commemorating Pearl Harbor.
In May, 1943, Jack Ruby, was called up into the armed services. He served in the United States Army Air Forces at various airbases in America. His behaviour was fairly good but on a couple of occasions he got into fights after comments were made about him being Jewish. Jack Ruby attained the rank of private first class and was honorably discharged on 21st February, 1946.
Jack Ruby returned to Chicago and found work selling small cedar chests for a company owned by his brother, Earl Ruby. In 1947 Ruby moved to Dallas where he managed the Singapore night-club for his sister, Eva Grant. In October, 1947, he was arrested by the Bureau of Narcotics. Steve Guthrie, the sheriff of Dallas, later claimed that Ruby had been sent to criminals in Chicago to manage illegal gambling activities in the city. However, Jack Ruby was eventually released without charge.
Jack Ruby remained in Dallas and after borrowing money from a friend he purchased the Silver Spur Club. He also acquired the Bob Wills Ranch House, a western-style nightclub. These clubs were not successful and in 1954 he became a part-owner of the Vegas Club. His attempts to establish another nightclub, the Sovereign Club, also ended in failure. Ruby now opened the Carousel Club. He employed a master of ceremonies, a small band and four strippers.
In August 1959 Jack Ruby was invited to visit Cuba by the Dallas nightclub owner, Lewis McWillie. At that time McWillie was supervising gambling activities at Havana's Tropicana Hotel. Later, McWillie was involved in the campaign to have Fidel Castro overthrown after he had taken power from Fulgencio Batista.
Ruby's workers were members of the American Guild of Variety Artists (AGVA). Ruby had a record of not paying his workers on time and for dismissing them for unreasonable reasons. This behaviour resulted in several disputes with the AGVA. In June 1963 Jack Ruby visited New Orleans where he obtained the services of a stripper known as Jada. After three months she was also dismissed and this caused further union problems. It is claimed that as a result of his problems with the AGVA Ruby made contact with associates of Mafia leaders, Carlos Marcello and Santos Trafficante, during the summer of 1963.
On 22nd November, 1963, President John F. Kennedy arrived in Dallas. It was decided that Kennedy and his party, including his wife, Jacqueline Kennedy, Vice President Lyndon B. Johnson, Governor John Connally and Senator Ralph Yarborough, would travel in a procession of cars through the business district of Dallas. A pilot car and several motorcycles rode ahead of the presidential limousine. As well as Kennedy the limousine included his wife, John Connally, his wife Nellie, Roy Kellerman, head of the Secret Service at the White House and the driver, William Greer. The next car carried eight Secret Service Agents. This was followed by a car containing Lyndon Johnson and Ralph Yarborough.
At about 12.30 p.m. the presidential limousine entered Elm Street. Soon afterwards shots rang out. John Kennedy was hit by bullets that hit him in the head and the left shoulder. Another bullet hit John Connally in the back. Ten seconds after the first shots had been fired the president's car accelerated off at high speed towards Parkland Memorial Hospital. Both men were carried into separate emergency rooms. Connally had wounds to his back, chest, wrist and thigh. Kennedy's injuries were far more serious. He had a massive wound to the head and at 1 p.m. he was declared dead.
Soon afterwards Lee Harvey Oswald was arrested. Oswald worked at the Texas Book Depository. They also discovered his palm print on the Mannlicher-Carcano rifle that was found earlier that day. Other evidence emerged that suggested that Oswald had been involved in the killing of John F. Kennedy. Oswald's hand prints were found on the book cartons and the brown paper bag. Charles Givens, a fellow worker, testified that he saw Oswald on the sixth floor at 11.55 a.m. Another witness, Howard Brennan, claimed he saw Oswald holding a rifle at the sixth floor window.
The police also discovered that the Mannlicher-Carcano rifle was purchased under the name A. Hiddell. When he was arrested, the police found that Oswald was carrying a forged identity card bearing the name Alek Hiddell. The rifle had been sent by the mail order company from Chicago to P.O. Box 2915, Dallas, Texas. The Post Office box belonged to Oswald.
While being interrogated by the Dallas Police, Oswald denied he had been involved in the killing of Kennedy. He claimed that he was a "patsy" (a term used by the Mafia to describe someone set up to take the punishment for a crime they did not commit).
On 24th November, 1963, the Dallas Police decided to transfer to Oswald to the county jail. As Oswald was led through the basement of police headquarters Jack Ruby rushed forward and shot him in the stomach. The gunman was quickly arrested by police officers. Lee Harvey Oswald died soon afterwards.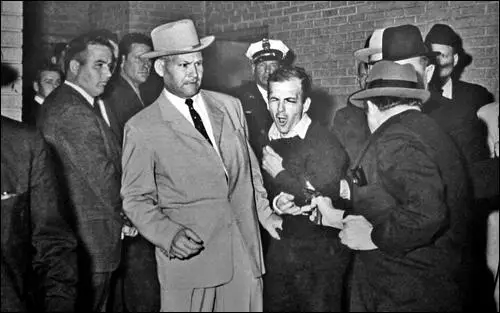 After the death of John F. Kennedy, his deputy, Lyndon B. Johnson, was appointed president. He immediately set up a commission to "ascertain, evaluate and report upon the facts relating to the assassination of the late President John F. Kennedy." The seven man commission was headed by Chief Justice Earl Warren and included Gerald Ford, Allen W. Dulles, John J. McCloy, Richard B. Russell, John S. Cooper and Thomas H. Boggs.
Larry Craford testified before the Warren Commission that on 23rd November, 1963, he went with Ruby and George Senator to photograph an "Impeach Earl Warren" billboard in Dallas. Ruby said he wanted to photograph the billboard because of its similarity to an anti-Kennedy advert that appeared in newspapers on the day of the assassination. This information created some interest as it had not been mentioned before by either Ruby or Senator.
Nancy Perrin Rich worked for Ruby at his Carousal Club. She told the Warren Commission that Ruby had instructed her to supply free drinks to the Dallas Police Department. Rich added "I don't think there is a cop in Dallas that doesn't know Jack Ruby. He practically lived at that (police) station. They lived in his place."
Ruby told Earl Warren that he would "come clean" if he was moved from Dallas and allowed to testify in Washington. He told Warren "my life is in danger here". He added: "I want to tell the truth, and I can't tell it here." Warren refused to have Ruby moved and so he refused to tell what he knew about the assassination of John F. Kennedy.
The journalist Dorothy Kilgallen had a source within the Warren Commission. This person gave her an 102 page segment dealing with Jack Ruby before it was published. She published details of this leak and so therefore ensuring that this section appeared in the final version of the report. The Federal Bureau of Investigation investigated the leak and on 30th September, 1964, Kilgallen reported in the New York Journal American that the FBI "might have been more profitably employed in probing the facts of the case rather than how I got them".
Kilgallen's reporting brought her into contact with Mark Lane who had himself received an amazing story from the journalist Thayer Waldo. He had discovered that Jack Ruby, J. D. Tippet and Bernard Weismann had a meeting at the Carousel Club eight days before the assassination. Waldo, who worked for the Fort Worth Star-Telegram, was too scared to publish the story. He had other information about the assassination. However, he believed that if he told Lane or Kilgallen he would be killed. Kilgallen's article on the Tippit, Ruby and Weissman meeting appeared on the front page of the Journal American. Later she was to reveal that the Warren Commission were also tipped off about this gathering. However, their informant added that there was a fourth man at the meeting, an important figure in the Texas oil industry.
During his trial Ruby claimed he had killed Lee Harvey Oswald because he "couldn't bear the idea of the President's widow being subjected to testifying at the trial of Oswald". Later he changed his mind claiming that his lawyer, Tom Howard, had put him up to saying it. He now pleaded guilty by reason of insanity. On March 14, 1964, the jury convicted Jack Ruby of killing Oswald and sentenced him to death.
In October, 1964, the Warren Commission reported that it "found no evidence that either Lee Harvey Oswald or Jack Ruby was part of any conspiracy, domestic or foreign, to assassinate President Kennedy". It also stated that there was no "significant link between Ruby and organized crime". This information came from friends of Ruby, including Dave Yarras, a Mafia hit man.
Kilgallen was keen to interview Jack Ruby. She went to see Ruby's lawyer Joe Tonahill and claimed she had a message for his client from a mutual friend. It was only after this message was delivered that Ruby agreed to be interviewed by Kilgallen. Tonahill remembers that the mutual friend was from San Francisco and that he was involved in the music industry. Kennedy researcher, Greg Parker, has suggested that the man was Mike Shore, co-founder of Reprise Records.
The interview with Ruby lasted eight minutes. No one else was there. Even the guards agreed to wait outside. Officially, Kilgallen never told anyone about what Ruby said to her during this interview. Nor did she publish any information she obtained from the interview. There is a reason for this. Kilgallen was in financial difficulties in 1964. This was partly due to some poor business decisions made by her husband, Richard Kollmar. The couple had also lost the lucrative contract for their radio show Breakfast with Dorothy and Dick. Kilgallen also was facing an expensive libel case concerning an article she wrote about Elaine Shepard. Her financial situation was so bad she fully expected to lose her beloved house in New York City.
Kilgallen was a staff member of Journal American. Any article about the Jack Ruby interview in her newspaper would not have helped her serious financial situation. Therefore she decided to include what she knew about the assassination of John F. Kennedy in Murder One. She fully expected that this book would earn her a fortune. This is why she refused to tell anyone, including Mark Lane, about what Ruby told her in the interview arranged by Tonahill. In October, 1965, told Lane that she had a new important informant in New Orleans.
Kilgallen began to tell friends that she was close to discovering who assassinated Kennedy. According to David Welsh of Ramparts Magazine Kilgallen "vowed she would 'crack this case.' And another New York show biz friend said Dorothy told him in the last days of her life: "In five more days I'm going to bust this case wide open." Aware of what had happened to two other journalists working on the case: Bill Hunter (murdered on 23rd April 1964) and Jim Koethe, (murdered 21st September, 1964), Kilgallen handed a draft copy of her chapter on the assassination to her friend, Florence Smith.
On 8th November, 1965, Kilgallen, was found dead in her New York apartment. She was fully dressed and sitting upright in her bed. The police reported that she had died from taking a cocktail of alcohol and barbiturates. The notes for the chapter she was writing on the case had disappeared. Her friend, Florence Smith, died two days later. The copy of Kilgallen's article were never found.
Jack Ruby's original conviction was later overturned, but he died from cancer on 3rd January, 1967, while waiting for a new trial.