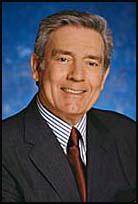 Dan Rather was born in Wharton, Texas, on 31st October, 1931. He studied journalism at the Sam Houston State College. After graduating he worked for the United Press International (1950-52), KSAM Radio in Huntsville (1950-53) and The Houston Chronicle (1954-55). He became news director of KTRH in 1956 and a reporter for KTRK-TV Houston in 1959.
In 1963 he became chief of the CBS Southern Bureau in New Orleans. He was with John F. Kennedy when he visited Dallas on 22nd November, 1963. However, he was in the press bus outside Dealey Plaza. Rather had not even heard the assassination taking place. He told another journalist: "Keep in mind that I had heard no shots. I didn't know what was wrong. I only knew that something appeared to be very wrong... and so I began running, flat out running, sprinting as hard as I could the four blocks to our station... I got through to Parkland Hospital . And the switchboard operator was not panicked but not calm. And very quickly she told me it was her understanding that the President had been shot, and was perhaps dead. And I'll never forget her saying that. And I followed up with that, and tried to talk to one of the doctors and a priest at the hospital, both of whom said that the President was dead. But nobody had said this officially." Rather was a strong supporter of the lone gunman theory and along with Walter Cronkite made a controversial television series supporting the accuracy of the Warren Commission.
As a television newsman Rather covered the Vietnam War (1966-73). He made the news himself on 27 th August when he was beaten up while on the floor of the Democratic National Convention in Chicago. 1981 Rather became the anchor man on CBS Evening News. In August 1990 carried out an interview with Saddam Hussein about the invasion of Kuwait.
Rather hosted a CBS program on the JFK movie. Rather pointed out that he had reported the Kennedy assassination at the time. He went on to argue: "Long after Oliver Stone has gone onto his next movie and long after a lot of people who have been writing about this now have stopped, I'm going to keep coming on this one." Rather suggested that a journalist was much more reliable than a film director for interpreting the past: "We do know a lot and there is much to support the Warren Commission's conclusions, but unanswered questions also abound. Not all of the conspiracy theories are ridiculous… They explain the inexplicable, neatly tie up the loose ends, but a reporter should not, cannot find refuge there. Facts, hard evidence are the journalist's guide."
In the interview that Rather carried out for the CBS documentary, he asked Oliver Stone: "I don't understand why you include the press as either conspirators or accomplices to the conspiracy". Stone replied: "Dan, when the House Report came out implying that there was a probable conspiracy in the murder of both Kennedy and King, why weren't you running around trying to dig into the case again? I didn't see you, you know, rush out there and look at some of these three dozen discrepancies that we present in our movie." Stone added that "whether you accept my conclusion is not the point, we want people to examine this… subject".
Rather created a great deal of controversy when he said on BBC Newsnight (16th May, 2002): "It is an obscene comparison - you know, I am not sure I like it - but you know there was a time in South Africa that people would put flaming tires around people's necks if they dissented. And in some ways the fear is that you will be necklaced here, you will have a flaming tire of lack of patriotism put around your neck. Now it is that fear that keeps journalists from asking the toughest of the tough questions, and to continue to bore in on the tough questions so often. And again, I am humbled to say, I do not except myself from this criticism."
As well as appearing on CBS Evening News he is currently heard reporting on more than 300 radio stations across the country. Books by Rather include The Palace Guard (1974), The Camera Never Blinks (1977), Dan Rather and Other Rough Drafts (1987), The Further Adventures of a Television Journalist (1991), I Remember (1992), Deadlines and Datelines (1999), Profiles in Journalism (2000) and The American Dream: Stories from the Heart of Our Nation (2002).