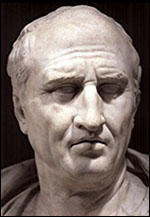 Marcus Tullius Cicero was born in Arpinum, near Rome in 106 BC. Cicero was the elder son of a wealthy landowner. In about 95 BC the Ciceros bought a house in Rome so that Marcus and his younger brother, Quintus, should have the best education possible. Cicero studied rhetoric under the two most famous orators of the day, Lucius Licinius Crassus and Marcus Antonius. (1)
In 88 BC Cicero served under Lucius Cornelius Sulla during the Social War. The following year Gaius Marius occupied Rome and murdered his opponents. Cicero continued his studies in the city until Sulla recaptured the city in 82 BC and was appointed as dictator to revise the constitution. A series of reforms was introduced, which aimed to improve administrative efficiency and to guarantee the power of the senatorial establishment. This included suppressing the powers of the tribunes. (2)
According to Allan Massie: "He (Sulla) did no more than refurbish the Senate, claiming that this gave it renewed legitimacy, before retiring into private life to die, reputedly of the effects of debauchery, the following year (78 BC). He had solved nothing; his measures were no more than a palliative. Yet Sulla's actions had one long-term effect: he had shown how power might be concentrated in a single person." (3)
(1) Cicero describing collecting taxes in Sicily in a letter to Atticus (75 BC)
There can be no hope of either private individuals or even state officials being free for much longer. Yet amid all this oppression there is more free speech than ever, at any rate at social gatherings and parties. Indeed, people's indignation is beginning to outweigh their fright; though on all sides there is nothing but utter despair.
(2) Cicero, Pro Balbo (62 BC)
Almost no one dances sober, unless he is insane.
(3) Cicero, letter to Atticus (June 59 BC)
There can be no hope of either private individuals or even state officials being free for much longer. Yet amid all this oppression there is more free speech than ever, at any rate at social gatherings and parties. Indeed, people's indignation is beginning to outweigh their fright; though on all sides there is nothing but utter despair.
(4) Cicero, letter to Atticus (June 56 BC)
My views have been alienating Pompey from me? It has to stop. Since the powerless do not want to be my friends, I must make sure that the powerful are! You will say: "I wish you had done so long ago." I know that you wanted me to, and that I have been an utter fool. But now it is high time for me to be friends with myself and my own interests, since I cannot possibly be with the other lot.
The wild-beast hunts, two a day for five days were magnificent... But what pleasure can it possibly be to a man of culture, when either a puny human being is mangled by a most powerful beast, or a splendid beast is killed with a hunting spear? The last day was that of the elephants, and on that day the mob and crowd was greatly impressed, but expressed no pleasure. Indeed the result was a certain compassion and a kind of feeling that this huge beast has a fellowship with the human race.
As you know very well, there are many sorts of letter. But there is one unmistakable sort, which actually caused letter-writing to be invented in the first place, namely the sort intended to give people in other places any information which for our or their sakes they ought to know. But you certainly do not expect that sort of letter from me; since for your personal affairs you have your own private correspondents and messengers, while my own affairs can produce absolutely nothing new to report.

There are two other sorts of letter which I like very much, one intimate and humorous, the other serious and profound. I am not sure which of these genres would be more inappropriate than the other for me to employ in writing to you. Am I to send you letters full of jokes? I really do not think there is a single Roman who could make jokes in these times. And in serious vein what could Cicero possibly write about to Curio except politics? But on this subject my situation is that I dare not write what I feel and have no desire to write what I do not feel.

Since, then, there is no theme left for me to write about, I shall fall back upon my customary peroration and urge you to aim at the highest honours. True, you are faced by a formidable rival here; by which I mean the quite outstandingly optimistic expectations that people have of you. And there is only one way in which you can overcome this rival, and that is by deliberately developing, with continuous effort, the qualities needed for the great deeds which will achieve your purpose.
Do you know of any man who... can speak better than Caesar? Or anyone who makes so many witty remarks? Or whose vocabulary is so varied and yet so exact?
If you have a garden and a library, you have everything you need.
Would you ever have believed it possible that words would fail me, and not only those words you public speakers use but even my humble sort of language! But they do fail me, and this is why: because I am extraordinarily nervous about what is going to be decreed concerning the provincial governorships. My longing for Rome is quite unbounded! you could not believe how I long for my friends and most of all for yourself.

My province, on the other hand, bores me completely. This may be because the degree of distinction which I feel I have already attained in my career makes me not so much ambitious to add to it as fearful of impairing it. Or perhaps it is because the whole business is unworthy of my capacities, in comparison with the heavier burdens which I can bear and often do bear in the service of my country. Or it may be because we are menaced by the horror of a major war in these parts, which I seem likely to avoid if I leave the province on the appointed day.

The matter of the panthers is being carefully attended to by my orders through the agency of the men who make a practice of hunting them. But there are surprisingly few of the animals; and those that there are, I am told, complain that in my province they are the only living creatures for whom traps are laid! So rumour has it that they have decided to evacuate the province and live in Caria.
When I read your letter - passed to me by our friend Furnius - in which you requested me to come near Rome, it did not surprise me that you wanted to utilize my "advice and position". But I asked myself what you meant by also referring to my "influence" and "support". However, my hopes - and I based them on your outstanding and admirable statesmanship - made me conclude that what you aimed at was peace, and agreement and harmony among Romans: and for that purpose I felt that both my character and my background suited me well.

If I am right in my interpretation, and if you are at all disposed to protect our friend Pompey and reconcile him to yourself and the state, you will certainly find no one better adapted to that aim than myself. In speaking both to him and to the Senate I have always advocated peace ever since I first had the opportunity of doing so; and I have taken no part in the hostilities from their outset. My considered opinion was that the war involved an infringement 1 of your rights in view of the opposition by unfriendly and envious persons to a distinction the Roman people had conferred on you. But in just the same way as at that time I upheld your rightful position myself and also urged everyone else to help you, so now I am deeply concerned for the rightful position of Pompey.

A good many years have passed since I first chose you and him as the men whom, above all others, I proposed to support and have as my friends - as I do. So I ask you, indeed I pray and entreat you with all urgency, to spare some time - among your many grave cares - to consider this problem: how, by virtue of your kindness, can I best be enabled to behave decently, gratefully, and dutifully to Pompey, so as not to be oblivious of his great kindness towards myself? If this was a matter relating to myself alone, I should still hope that you would grant my request. However, I suggest that your honour and the national interest are also at stake; and what they demand is that I, who am a friend of peace and of you both, should receive every protection from you in my efforts to achieve a reconciliation between yourself and Pompey, and peace for the people of Rome.

I thanked you on another occasion for saving Lentulus, as he had saved me; and now, when I read the truly thankful letter in which he told me of your generosity and kindness, I feel that in rescuing him you rescued me at the same time. If you appreciate the reasons why I am under a grateful obligation to him, I beg you to give me the opportunity of fulfilling my obligation to Pompey as well.
(11) Cicero, speech (c. 43 BC)
Her (Cleopatra) way of walking... her clothes, her free way of talking, her embraces and kisses, her beach parties and dinner-parties, all show her to be a tart.
(12) Cicero describing collecting taxes in Sicily in a letter to his friend Atticus (c. 40 BC)
Everywhere I heard the same tale. People could not pay their taxes: they were forced to sell what they owned... However, the poor towns are relieved that they have had to spend nothing on me... For you must know that I not only refused to accept pay... but that none of us will take firewood or anything beyond our beds and a roof.
Laena (under instructions from Antony) cut off Cicero's head... He also cut off the hand with which Cicero had written his attacks on Antony... The head and hand of Cicero were suspended for a long time from the rostra in the forum where formerly he had made speeches.
(40) Cicero, letter to Atticus (June, 59 BC)
(45) Cicero, letter to Atticus (May, 56 BC)
(56) Cicero, speech in the Senate (66 BC)
(57) Cicero, letter to Atticus (May, 56 BC)
(66) Cicero, speech (c. 43 BC)
(68) Cicero, speech in the Senate (c. 45 BC)
(72) Cicero, speech in the Senate (c. September, 44 BC)
(83) Cicero, On Duties (44 BC) Book I, section III
(84) Cicero, On Duties (44 BC) Book I, section IV
(86) Cicero, On Duties (44 BC) Book I, section VII
(87) Cicero, On Duties (44 BC) Book II, section VII
(88) Cicero, On Duties (44 BC) Book III, section III