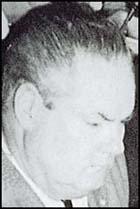 Tom Howard was born in 1917. After qualifying as a lawyer he settled in Dallas. Jack Ruby murdered Lee Harvey Oswald on 24th November, 1963. Ruby asked Howard if he would take the case. Howard had a good record and none of his clients had been executed.
On 24th November, 1963, Bill Hunter (Long Beach Independent Press Telegram) and Jim Koethe (Dallas Times Herald) interviewed George Senator. Also there was the attorney Tom Howard. Earlier that day Senator and Howard had both visited Jack Ruby in jail. That evening Senator arranged for Koethe, Hunter and Howard to search Ruby's apartment.
It was Howard who came up with the idea that Ruby should say in court that he killed Oswald because he "couldn't bear the idea of the President's widow being subjected to testifying at the trial of Oswald". Howard told friends he intended to put Ruby on the stand. Howard planned to argue that killing Oswald was like "another ****** murder case" and after pleading guilty to murder without malice would get "five years in prison at most". Ruby was not convinced by this approach and replaced Howard with Melvin Belli.
On 23rd April 1964, Bill Hunter was shot dead by Creighton Wiggins, a policeman in the pressroom of a Long Beach police station. Wiggins initially claimed that his gun fired when he dropped it and tried to pick it up. In court this was discovered that this was impossible and it was decided that Hunter had been murdered. Wiggins finally admitted he was playing a game of quick draw with his fellow officer. The other officer, Errol F. Greenleaf, testified he had his back turned when the shooting took place. In January 1965, both were convicted and sentenced to three years probation.
Jim Koethe decided to write a book about the assassination of Kennedy. However, he died on 21st September, 1964. It seems that a man broke into his Dallas apartment and killed him by a karate chop to the throat.
Tom Howard died of a heart-attack, aged 48, on 27th March, 1965.
(1) Penn Jones, Jr, Disappearing Witnesses included in The Rebel (22nd November, 1983)
Shortly after dark on Sunday night, November 24, 1963, after Ruby had killed Lee Harvey Oswald, a meeting took place in Jack Ruby's apartment in Oak Cliff, a suburb of Dallas, Texas. Five persons were present. George Senator and Attorney Tom Howard were present and having a drink in the apartment when two newsmen arrived. The newsmen were Bill Hunter of the Long Beach California Press Telegram and Jim Koethe of the Dallas Times Herald. Attorney C.A. Droby of Dallas arranged the meeting for the two newsmen, Jim Martin, a close friend of George Senator's, was also present at the apartment meeting. This writer asked Martin if he thought it was unusual for Senator to forget the meeting while testifying in Washington on April 22, 1964, since Bill Hunter, who was a newsman present at the meeting, was shot to death that very night. Martin grinned and said: "Oh, you're looking for a conspiracy."

I nodded yes and he grinned and said, "You will never find it."

I asked soberly, "Never find it, or not there?"

He added soberly, "Not there."

Bill Hunter, a native of Dallas and an award-winning newsman in Long Beach, was on duty and reading a book in the police station called the "Public Safety Building." Two policemen going off duty came into the press room, and one policeman shot Hunter through the heart at a range officially ruled to be "no more than three feet." The policeman said he dropped his gun, and it fired as he picked it up, but the angle of the bullet caused him to change his story. He finally said he was playing a game of quick draw with his fellow officer. The other officer testified he had his back turned when the shooting took place.

Hunter, who covered the assassination for his paper, the Long Beach Press Telegram had written:

"Within minutes of Ruby's execution of Oswald, before the eyes of millions watching television, at least two Dallas attorneys appeared to talk with him."

Hunter was quoting Tom Howard who died of a heart attack in Dallas a few months after Hunter's own death. Lawyer Tom Howard was observed acting strangely to his friends two days before his death. Howard was taken to the hospital by a "friend" according to the newspapers. No autopsy was performed.

Dallas Times Herald reporter Jim Koethe was killed by a karate chop to the throat just as he emerged from a shower in his apartment on Sept. 21, 1964. His murderer was not indicted.

What went on in that significant meeting in Ruby's and Senator's apartment?

Few are left to tell. There is no one in authority to ask the question, since the Warren Commission has made its final report, and the House Select Committee has closed its investigation.
(2) David Welsh, Ramparts (November, 1966)
Howard was a friend of District Attorney Henry Wade, although they often opposed each other in court, and it was not uncommon for them to meet for a sociable drink after court adjourned. He was also close to Ruby and others on the fringes of the Dallas underworld.

Like Jack Ruby, Howard's life revolved around the police station, and it was not surprising when he and Ruby (toting his gun) showed up at the station on the evening of the assassination. Nor was it unusual when Howard arrived there shortly after Ruby shot Oswald, two days later, asking to see his old friend.

Howard was shown into a meeting room to see a bewildered Ruby, who had not asked for any lawyer, and for the next few days - until Ruby's brother Earl soured on Howard and had him relieved - he was Jack's chief attorney and public spokesman. Howard took to the publicity with alacrity, called a press conference, wheeled and dealed. He told newsmen the case was a "conce-in-a-lifetime chance" and that "speaking as a private citizen," he thought Ruby deserved a congressional medal. He told the Houston Post that Ruby had been in the police station Friday night with a gun. He dickered with a national magazine about an Oswald-murder story. He got hold of a picture showing the President's brains flying and tried to sell it to Life. Ruby's sister even accused him of leaking information to the DA. All told, it was never quite clear whether Howard was working for Ruby or against him.

Howard met frequently with his client in the days immediately following the death of Oswald. From this, along with his ties with both police and hoodlum circles in Dallas, and his presence at the Ruby-Senator apartment meeting that fateful Sunday, one would assume he was the repository of a wealth of privileged information about the events of November 1963. And we know he was an irrepressible talker, privy to the intrigues of petty criminality but hardly one to be trusted with any secrets surrounding the Kennedy assassination.

On March 27, 1965, Howard was taken to the hospital by an unidentified person and died there. He was 48. The doctor, without benefit of an autopsy, said he had suffered a heart attack. Some reporter friends of Howard's are not so sure. They observed that for three days before his death, the normally gregarious Howard seemed preoccupied and uncommunicative, and did not appear to recognize friends. One Dallas reporter says flatly that Howard was bumped off; others are more circumspect. "As far as I'm concerned the case is closed," one of them says. "You're not going to catch me messing in that hornet's nest."