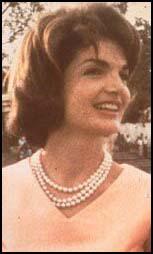 Jacqueline Bouvier, the daughter of a New York City financier, was born in Southampton, New York, was born in 1929. She worked as a photographer with the Washington Times before marrying John F. Kennedy in 1953. Over the next few years four children were born but only two, Caroline and John, survived infancy.
In 1960 Kennedy, the Democratic Party candidate, was elected president when he defeated Richard Nixon, the Republican Party candidate, by 34,226,925 votes to 34,108,662.
On 22nd November, 1963, Kennedy was assassinated in Dallas, Texas. Within two hours of the killing, a suspect, Lee Harvey Oswald, was arrested. Throughout the the time Oswald was in custody, he stuck to his story that he had not been involved in the assassination. On 24th November, while being transported by the Dallas police from the city to the county jail, Oswald was shot dead by Jack Ruby.
In 1968 Jackie Kennedy married the Greek shipping magnate, Aristotle Onassis. Later she worked as an editor for the publishers, Viking (1975-1977) and Doubleday (1978-82).
Jacqueline Kennedy Onassis died on 19th May 1994.