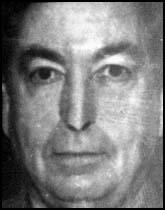 Douglas Caddy was born in 1938. He was educated at Georgetown University School of Foreign Service (B.S. degree) and New York University School of Law (J.D. degree).
While a student he developed right-wing opinions and as a teenager became a strong supporter of Barry Goldwater. In 1960 Caddy established the "Youth for Goldwater" organization. Caddy came under the influence of Marvin Liebman, a former member of the American Communist Party who had been dishonorably discharged from the United States Army for homosexuality.
In September, 1960, Caddy, Liebman and William F. Buckley established the far right group, Young Americans for Freedom (YAF). The first meeting was held at Buckley's home in Sharon, Connecticut. Caddy became YAF's first president. Its first national council included eleven members of the John Birch Society. The main mission of the YAF was to "prepare young people for the struggle ahead with Liberalism, Socialism and Communism".
After graduating from New York University School of Law in 1966 Caddy went to work for General Foods Corporation in White Plains, New York. In 1969 Caddy was transferred to corporate headquarters in Washington. According to Caddy: "The corporate plan was to open an office for Washington representation a year later. Meanwhile, I was ordered as an employee to work out of the public affairs firm of Robert Mullen and Co., which General Foods had retained for decades." Caddy met E. Howard Hunt after he joined the staff of Robert Mullen, being recommended by Richard Helms, then director of the CIA.
Caddy left General Foods and joined the Washington Law firm of Gall, Lane, Powell and Kilcullen. In 1970 E. Howard Hunt became a client of the company. When Charles Colson invited Hunt to join the White House staff in 1971, Caddy provided him with a character reference.
Caddy, who was an active member of the Republican Party, did volunteer legal work for Richard Nixon. In March 1972 he had a meeting with John Dean. Over the next four months he performed a number of legal tasks connected with Nixon presidential campaign assigned to him by Dean's office. Caddy also did work for G. Gordon Liddy, the counsel for the finance committee of the Committee to Re-elect the President (CREEP).
On the 17th June, 1972, Frank Sturgis, Virgilio Gonzalez, Eugenio Martinez, Bernard L. Barker and James W. McCord were arrested while in the Democratic Party headquarters in Watergate. Soon afterwards, E. Howard Hunt and G. Gordon Liddy contacted Caddy for help. Caddy arranged for another attorney, Joseph Rafferty, to meet him in the next morning in the courtroom. Later that day Caddy and Rafferty arranged to represent Sturgis, Gonzalez, Martinez, Barker, McCord, Hunt and Liddy.
Eleven days later Caddy was instructed to appear before the Grand Jury. Caddy answered some of the questions but refused to reply to those he claimed "involved the attorney-client, which protects confidential and legitimate communications between an attorney and his client."
On 10th July, 1972, Earl J. Silbert filed a "motion to Compel Testimony of Grand Jury Witness Michael Douglas Caddy. At issue were 38 key questions that Caddy refused to answer. According to Caddy, these "38 questions was to attempt through my lips as their defense attorney to implicate and incriminate Hunt and Liddy in the break-in." On 13th July, Caddy once again refused to answer these questions and therefore John J. Sirica sent him to prison.
Caddy was soon released and on 19th July, 1972, Caddy appeared before the Grand Jury and answered all the questions he was asked. He was surprised that he was never questioned about his relationship with John Dean, G. Gordon Liddy, E. Howard Hunt and the White House before the Watergate break-in.
Strangely he was never asked to testify before Sam Ervin and the Senate Watergate Committee. However, when Herbert W. Kalmbach was interviewed it was discovered that Caddy had rejected attempts by Anthony Ulasewicz to pay "hush money" to his clients.
In 1984 Caddy became a lawyer for Billie Sol Estes. On 9th August, 1984, Caddy wrote to Stephen S. Trott at the U.S. Department of Justice. In the letter Caddy claimed that Estes, Lyndon B. Johnson, Mac Wallace and Cliff Carter had been involved in the murders of Henry Marshall, George Krutilek, Harold Orr, Ike Rogers, Coleman Wade, Josefa Johnson, John Kinser and John F. Kennedy. Caddy added: "Mr. Estes is willing to testify that LBJ ordered these killings, and that he transmitted his orders through Cliff Carter to Mac Wallace, who executed the murders."
In recent years Douglas Caddy has moved to the left. He describes himself as a "progressive-liberal" who supported Al Gore for President in 2000 and Howard Dean for President in 2004 and belongs to People for the American Way (ACLU).