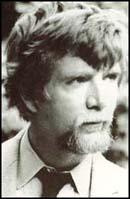 Jim Hougan was born in Brooklyn, New York, in 1942. After graduating from the University of Wisconsin he became Washington editor of Harper's Magazine.
He is the author of three nonfiction books: Decadence: Radical Nostalgia, Narcissism, and Decline in the Seventies (1975), Spooks: Private Use of Secret Agents (1979), about the American intelligence community; and Secret Agenda (1984) about Watergate.
With his wife, Carolyn Hougan, he has written five thrillers under the pseudonym John Case: The Genesis Code (1998), Trance State (2002), The Eighth Day (2003), The First Horseman (2004), The Murder Artist (2004). Other books by Hougan include Kingdom Come (1995) and The Magdalene Cipher (2006).
Jim Hougan has also reported for National Public Radio's All Things Considered and produced documentary films for Frontline, 60 Minutes, A&E, and the Discovery Channel.