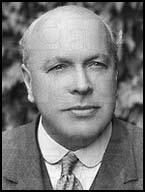 Arnold Stephenson Rowntree, the son of John Stephenson Rowntree, was born in York on 28 November 1872. His mother Elizabeth Rowntree was killed in a carriage accident while the family were on holiday in 1875. He was cared for during the next three years by Maria Cadbury, who was his aunt. In 1878, on their father's remarriage, he returned to York.
Rowntree was ducated as a Quaker at the Bootham Friends' School. On leaving school in 1889 he joined his father's grocery business. However, in 1891 he was invited by his uncle Joseph Rowntree to join his company. He was eventually placed in charge of the advertising department.
In 1906 Rowntree married Mary Katharine Harvey (1876-1962). Over the next few years she gave birth to three sons and three daughters. Rowntree was a member of the Liberal Party and in 1907 he was one of those who founded the Nation. Rowntree was elected the MP for York in the 1910 General Election. A strong critic of the foreign policy of Herbert Asquith and Sir Edward Grey, Rowntree was opposed to Britain's involvement in the First World War.
In 1914 Rowntree joined with Charles Trevelyan, E.D. Morel, George Cadbury, Ramsay MacDonald, Arthur Ponsonby, to form the Union of Democratic Control (UDC). The founders of the UDC produced a manifesto and invited people to support it. Over the next few weeks several leading figures joined the organisation. This included J. A. Hobson, Charles Buxton, Ottoline Morrell, Philip Morrell, Frederick Pethick-Lawrence, Morgan Philips Price, George Cadbury, Helena Swanwick, Fred Jowett, Tom Johnston, Bertrand Russell, Philip Snowden, Ethel Snowden, David Kirkwood, William Anderson, Mary Sheepshanks, Isabella Ford, H. H. Brailsford, Israel Zangwill, Margaret Llewelyn Davies, Konni Zilliacus, Margaret Sackville and Olive Schreiner.
The UDC became the leading anti-war organisation in Britain. However, under pressure from the Liberal Party, Rowntree decided to leave the UDC. Like other anti-war MPs, Rowntree was defeated in the 1918 General Election. Rowntree returned to the business world and became a director of Rowntree & Company, Westminster Press and Associated Papers. According to his biographer, Elfrida Vipont, the author of Arnold Rowntree (1955), Rowntree was a "shrewd common sense, business ability and reconciling influence' and were marked by the fact that people mattered to him more than administration".
Arnold Rowntree died on 21st May, 1951.