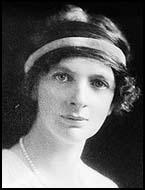 Margaret Sackville, the daughter of Reginald Windsor Sackville, 7th Earl De La Warr, was born at 60 Grosvenor Street, Mayfair on 24th December, 1881. She was second cousin to Vita Sackville-West. Her father died when she was fourteen.
Sackville wrote poetry at an early age and at sixteen she was discovered by Wilfrid Scawen Blunt and with his encouragement she had her early poems published in periodicals such as The English Review, The Englishwoman's Review, Country Life, The Nation, The Spectator and the Pall Mall Gazette.
Sackville's first book of poetry, Floral Symphony, was published in 1900. This was followed by a volume of children's verse, Poems ( 1901), Fairy Tales for the Old and Young (1909). In 1910 she edited A Book of Verse by Living Women. In the introduction she pointed out that poetry was one of few arts in "which women were allowed to engage without opposition". Her next book was Bertrud and other Poems (1911).
Harriet Blodgett has argued that Sackville was "famous for her gracious manner and her classic beauty". She moved in literary circles and became friends with Ottoline Morrell and W. B. Yeats. In 1912 Sackville formed a friendship with Ramsay MacDonald. According to his biographer, David Marquand, she was his mistress for fifteen years. In one letter MacDonald wrote: "Dearest beloved, it is such a beautiful morning that you ought to be here and we should be walking in the garden. And if we were walking in the garden, what more should we do where the bushes hid us?"
Under the influence of Ramsay MacDonald, Sackville became a socialist and a pacifist. The surviving letters, which date from 1913, show that MacDonald proposed at least three times to Sackville. She turned him down each time. Patrick Barkham has pointed out: "It was a passion they could not make public, a love doomed to be declared in scribbled letters or stolen moments when they walked together. Ramsay MacDonald was the ambitious, illegitimate son of a farm labourer who became the first Labour prime minister. Lady Margaret Sackville was the youngest child of the seventh Earl de la Warr, a poet and a society beauty who became his lover. They were separated not only by class but by religion. Born in Lossiemouth, Morayshire, MacDonald was raised in the Presbyterian church and, as an adult, joined the Free Church of Scotland. Born in Mayfair, London, and nearly 15 years his junior, Lady Margaret was Roman Catholic."
On the outbreak of the First World War she joined the anti-war, Union of Democratic Control. In 1916 she published a collection of poems called The Pagent of War (1916). It included the poem Nostra Culpa, denouncing women who betrayed their sons by not speaking out: "We mothers and we murderers of mankind". Her aunt, Muriel De La Warr and her uncle, Herbrand Sackville, ninth Earl De La Warr, were also involved in the peace movement. Her brother, Gilbert Sackville, the 8th Earl De La Warr, died during the conflict in 1915.
After the war Sackville published Selected Poems (1919). Wilfrid Scawen Blunt suggested in a preface that Sackville was an "exemplar of the classic tradition in form and dignity". Her biographer, Harriet Blodgett, has argued that Sackville was "unimpressed by the modernists, she employed traditional forms and looked back to Swinburne, William Morris, and the Romantics". Sackville moved to Edinburgh and became the first president of the Scottish PEN and a fellow of the Royal Society of Literature.
When Ramsay MacDonald became prime minister following the 1923 General Election he invited Margaret Sackville to stay the night with him at Chequers, the premier's official residence in Buckinghamshire. He had little time now for romance and their meetings became more infrequent. In 1925 he wrote that she owed him a letter. "Perhaps you are dead; perhaps you are playing chess; perhaps you have fallen in love; but whatever has happened to you, I had better be wary and not intrude without sending in my card."
In 1936 she went to live at 22 Lansdowne Terrace in Cheltenham. After the Second World War she produced several illustrated books in which poems are matched to pictures. This included Lyrical Woodlands (1945) and Miniatures (1947).
Margaret Sackville, who never married, died of a heart condition at Rokeby Nursing Home in Cheltenham on 18 April 1963.