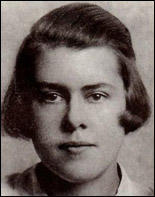 Melita Sirnis was born at 402 Christchurch Road, Bournemouth, on 25th March, 1912. Her father, Alexander Sirnis (1881–1918), had been born in Latvia and had worked for Leo Tolstoy, before being exiled overseas. He became estate manager for Vladimir Chertkov, Tolstoy's literary executor, who was living in the small Hampshire village of Tuckton.
Simis joined the Social Democratic Federation, a small Marxist group formed by Henry M. Hyndman. During the First World War he became disillusioned with conventional politics and in 1917 he became a strong supporter of the Russian Revolution. He died of tuberculosis in November 1918. (1)
In 1923 Melita Sirnis won a scholarship to Itchen School, a secondary school near Southampton, where in 1928 she became school captain. In 1930 she went to Southampton University College. She disliked her course and left in 1931 and for a year she lived in Heidelberg where she became involved in anti-fascist activities. On her return to England she joined the Independent Labour Party.
Melita Norwood - Soviet Spy
In 1932 she started work as a secretary with the British Non-Ferrous Metals Research Association (BN-FMRA), where she became an organizer for the Association of Women Clerks and Secretaries. During this period she married Hilary Nussbaum (he later changed his name to Norwood). (2) According to Christopher Andrew she was also a secret member of the Communist Party of Great Britain. Melita Norwood became friends with Andrew Rothstein, who recruited her to work for the NKVD in 1935. Her codename was HOLA. She was initially involved with a spy ring operating inside the Woolwich Arsenal, whose three leading members were arrested in January 1938. MI5 failed to identify Norwood and after a few months "on ice" was reactivated in May 1938. (3)
During the Second World War Norwood's work with BN-FMRA made her an important spy. In 1943 she began working for the director of BN-FMRA, G. L. Bailey, who was a member of the advisory committee of Tube Alloys, Britain's atomic bomb project. In March 1945, after BN-FMRA won a contract from Tube Alloys, Norwood gained access to documents that Moscow Centre described as being "of great interest and a valuable contribution to the development of the work in this field." It has been claimed by David Burke that "the information she supplied on the behaviour of uranium metal at high temperatures permitted the Soviet Union to test an atomic bomb four years earlier than British and American intelligence thought possible". (4) Christopher Andrew has claimed that Norwood was "both the most important British female agent in KGB history and the longest serving of all Soviet spies in Britain." (5) The KGB recorded that Norwood was a "committed, reliable and disciplined agent, striving to be of the utmost assistance." (6)
It is believed that her controller was Ursula Beurton. In 1939 Ursula moved to Britain and married Len Beurton. Posing as a Jewish refugee from Nazi Germany she established a Soviet spy-ring (codenamed SONYA) and by 1941 she was running a string of agents that included Klaus Fuchs. (7) Ursula Beurton later recalled: "Klaus and I never spent more than half an hour together when we met. Two minutes would have been enough but, apart from the pleasure of the meeting, it would arouse less suspicion if we took a little walk together rather than parting immediately. Nobody who did not live in such isolation can guess how precious these meetings with another German comrade were." (8)
Beurton was visited by MI5 twice in 1947 and had been questioned about her links with Soviet intelligence. "According to Ursula, she had refused to discuss the matter and the officials had showed no interest in Fuchs." Fearing that she was about to be arrested she now fled to East Germany. (9) Fuchs was not arrested until 1950. He made a full confession but by this time Beurton was safely behind the Iron Curtain. As a result of these events, Norwood was put "on ice" for fear that she might have been compromised. Contact was resumed in 1951. For security reasons Norwood usually met her controllers only four or five times a year, normally in the suburbs of south-east London, to hand over the documents she had been collecting. (10)
Melita Norwood moved to the London borough of Bexleyheath. In 1958 she joined the Campaign for Nuclear Disarmament, and was awarded the order of the Red Banner by the KGB. In 1960 the KGB offered her a pension of £20 a month which she declined. The KGB archives show that she continued to work undercover and in 1967 she recruited a civil servant codenamed HUNT, who provided extensive scientific, technical, and other intelligence on British arms sales. She retired from both the BN-FMRA and the KGB in 1973. (11)
In November, 1992, Vasili Mitrokhin, a former KGB agent arrived in London with several thousand documents concerning Soviet spies in Britain. Over the next few months MI6 shared details of its archive with other intelligence services. (12) MI6 decided that they would allow the publication of some of the Mitrokhin archive. In late 1995 Mitrokhin was introduced to Christopher Andrew, the official historian of MI5. As Andrew points out a "few months later, we began writing a lengthy volume, based chiefly on the material he had smuggled out of Yasenevo." (13)
Melita Norwood was exposed as a spy by The Times newspaper on 11 September 1999, shortly before the publication of the The Mitrokhin Archive (1999). The article pointed out that Norwood, now an 87-year-old great-grandmother, had been betraying British secrets to the Soviet Union for 40 years. The case caused great controversy when the government decided that it could not prosecute her so long after the event. (14) Norwood told the BBC: "I did what I did, not to make money, but to help prevent the defeat of a new system which had, at great cost, given ordinary people food and fares which they could afford, a good education and a health service." (15)
Melita Norwood died of cancer and heart disease at New Cross Hospital, Wolverhampton, on 2nd June 2005.
(15) BBC News (20 September, 1999)