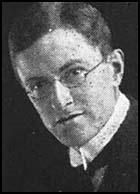 Charles Buxton, the third son of Thomas Fowell Buxton, was born on 27th November 1875.
Educated at Harrow and Trinity College, Cambridge, he worked as a lawyer and edited the Independent Review (1906-07) and the Albany Review (1907-08). Buxton was also Principal of Morley College (1902-10).
A member of the Liberal Party, Buxton was elected to the House of Commons for Ashburton in 1910. Defeated after only ten months in Parliament.
Buxton joined the Labour Party and was elected to represent Accrington in November 1922. Defeated in 1923 and 1924 he returned to represent the Elland division of Leeds in the 1929 General Election.
Buxton was defeated in the 1931 General Election and was also unsuccessful in the 1935 General Election. Charles Buxton died on 16th December 1942.